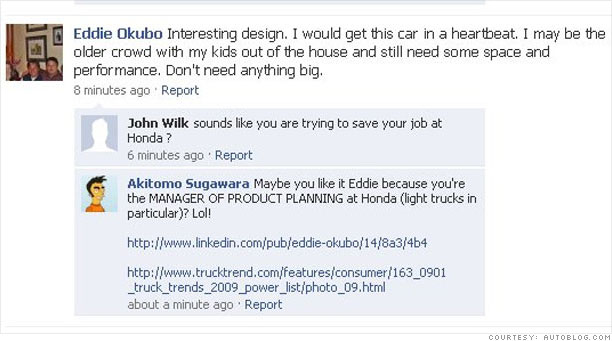 In preparation for the release of its Accord Crosstour, Honda launched a Facebook page to solicit feedback on the car.
It backfired. Scores of respondents posted negative comments about the soon-to-be released coupe. But one Facebook user, Eddie Okubo, appeared to love the Crosstour. He wrote: "Interesting design. I would get this car in a heartbeat."
One response asked Okubo whether he was "trying to save" his job at Honda. But the second reply was a doozy: "Maybe you like it Eddie because you're the MANAGER OF PRODUCT PLANNING at Honda..." The post also included a link to Okubo's LinkedIn page.
Honda later removed Okubo's post, but not before influential car site Autoblog reported on the story, complete with screenshots of the exchange.
The following day, Honda issued a response explaining that Okubo's comments had been removed because of his failure to disclose his affiliation with the company.
Incredibly, the Okubo comment was the last item in Honda's five-point response to the Facebook flap. Honda instead focused on talking up the Crosstour: "There are more photos on the way. Maybe it's like a bad yearbook photo or something, and we think the new photos will clear things up."
NEXT: Kenneth Cole's new look: tasteless
Last updated April 07 2011: 9:33 AM ET