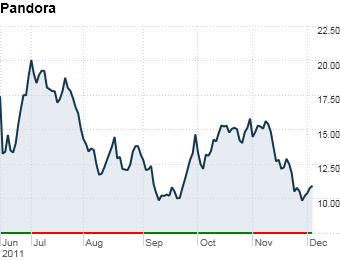 Ticker: P
IPO date: June 15
IPO price: $16
Now trading at: $11
Revenue for 9 months ended 10/31/11: $168 million
Loss for first 9 months ended 10/31/11: $12 million
Pandora's IPO paperwork warned investors that it expected to continue losing money "through at least fiscal 2012." But demand still seemed high -- so after Pandora set a target price range of $7 to $9 per share in June, it quickly upped the range to $10 to $12 per share and eventually priced at $16.
Noted analyst Rich Greenfield of BTIG panned the Pandora IPO before it even happened, writing in a note to clients: "As consumers we love Pandora [but] investing in Pandora is a whole different story." He had concerns about Pandora's audience reach and its profitability, and recommended that investors take a pass.
When the stock began trading on June 15, it initially shot up 63% to $26. But trading cooled as the day went on, and shares closed near the day's low, at $17.42.
Pandora's stock fell 20% in July and 12% in August, then began clawing back a bit in September and October.
On November 23, Pandora reported that it earned 2 cents per share on a non-GAAP basis, excluding stock-based compensation expenses. That beat analysts' expectations of a 1-cent loss. But forecasts for next quarter came in lower than expected, and shares dropped 11% that day. Overall, Pandora's stock lost more than 33% in November.