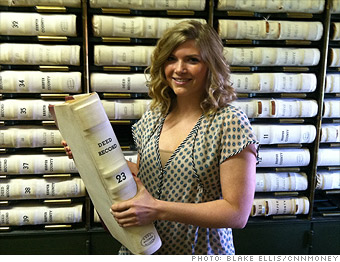 Age: 23
Occupation: Land(wo)man
First boom: Douglas, Wyo.
Currently working: Anthony, Kan.
I first started in Douglas, Wyo., which is pretty busy. There was a lot of [oil] production there, so there were a lot of landmen scrambling around, much like this place. We're put in all these different counties and we have to get ourselves familiarized with the courthouses everywhere we go.
We figure out who owns the minerals under the ground and we contact those people and try to lease out their minerals [to oil drilling companies].
When I call myself a landman, a lot of people are really confused. It is predominantly men working in this field so it can be harder to be a woman. You almost have to work harder -- you have to show that you understand what you're doing, that you're capable and that you can handle it.
We're basically told a day or two before we have to be somewhere that we need to check out of our hotel and go wherever [my firm, which is contracted by oil companies] tells us we need to go. It's totally not up to us, so we have no idea [how long we'll be in one place]. And I don't think our bosses even know. It really just depends on our client and how long they need us to work there.
I'm definitely a nomad. I don't have a house anymore in Oklahoma City -- I let go of my rental place. I have a storage shed, so that's been pretty complicated, basically trying to keep your life together while you're on the road. It can be kind of lonely but it's also very exciting, and I feel like this is a good time in my life to be doing this kind of work since I don't have any sort of obligations or responsibilities back in Oklahoma.
I have an Xbox that I travel around with, and I have a computer monitor that I keep in my hotel room that I use for work purposes. But that's about it -- two suitcases, and I leave everything else in my storage shed.
For privacy reasons, Casey asked that her last name not be included in this story.