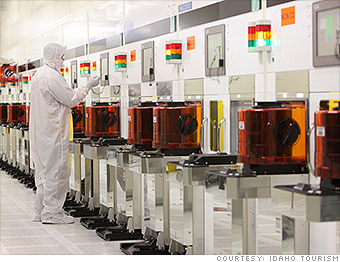 2011 startup rate: 380 per 100,000 adults
Technology companies have long had a love affair with Idaho. Nestled between a mountain and a desert, Boise's geographic isolation appeals to a certain breed of innovators who prefer not to be distracted by urban sprawl.
Its capital city Boise has grown into a technology hub, hosting Micron Technology's headquarters as well as a large Hewlett-Packard campus focused on R&D.
The recession led to layoffs at tech companies around the state, and those who lost their jobs often were inspired to start their own businesses. The fastest growing startups are in nanotechnology, renewable energy and IT.
For cost-conscious startups, high personal income and business taxes can be a turnoff. But entrepreneurs do enjoy lower electricity costs -- Idaho is a strong hydro power state -- and low overall living costs. Growing businesses also are offered tax credits for adding new jobs and expanding facilities.
Idaho also backs innovative businesses through programs such as the Idaho Global Entrepreneurial Mission (IGEM), which gives away $5 million annually in startup grants and funding for technology research in universities.