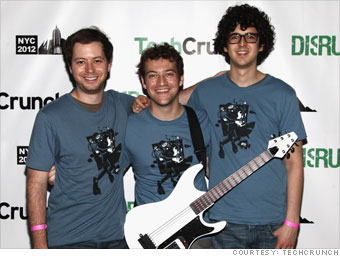 Headquarters: Santa Clara, Calif.
Launched: May 2012
Mission: Give everyone the ability to play guitar regardless of prior experience
It's time-consuming and difficult to pick up an instrument, but a company called Incident wants to help you learn quickly with positive reinforcement.
Enter its new digital guitar, gTar.
Dock your iPhone into the guitar, load up gTar's app, and you can begin "playing" an array of songs.
The guitar lights up with interactive LEDs that signal users what strings to play and when. Don't worry about messing up -- the app has a feature called "SmartPlay" that silences incorrect string strokes. Users can choose between easy, medium, and hard, depending on their experience level.
Founder Idan Beck was a software development engineer at Microsoft before shifting gears to build the digital guitar. Beck worked on the device for three years, building seven prototypes in his garage before moving to an office. The crew launched gTar on crowdfunding site Kickstarter this month and surpassed their $100,000 funding goal within a day.
The devices are available now for $449.