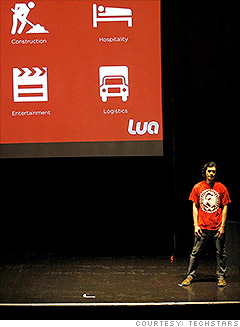 "Lua" is a form of Hawaiian martial arts. It's now also the name of a mobile workforce app that aims to make it easier for work teams to connect on the go.
CEO Michael DeFranco says his goal is to replace coordination tools like walkie talkies and stacks of paper with an all-digital platform that lets people communicate in various ways. Groups can use Lua to swap messages and share documents, but the app's secret sauce is its security and management features. Administrators can configure workgroups and set limits on who can view sensitive information.
Lua is backed by $2.5 million in venture capital and already has a handful of high-profile clients. American Idol and the Mets use the app as well as Atlas Productions, a production crew that worked on Batman "The Dark Knight Rises." Atlas has adopted the app to help streamline on-set communication for future production.