Like this job? Now Like CNNMoney on Facebook for career tips, plus the latest business news and features on Personal Finance, the Economy, Markets, Technology, and more.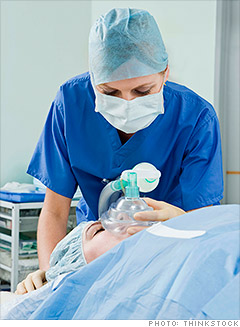 Median pay: $286,000
Top pay: $384,000
10-year job growth: 24.4%
Total jobs*: 691,000

What they do all day?
Anesthesiologists are the doctors who make sure you're blissfully unaware that you're about to go under the knife. They administer the anesthetic, monitor the patient during surgery and advise on any post-procedure reactions. The job requires four years of residency -- in addition to med school -- but the median salary is $286,000.
--J.A.
Quality of life ratings
:
| | | | |
| --- | --- | --- | --- |
| Personal satisfaction | Low stress | Benefit to society | Flexibility |
| A | D | A | C |