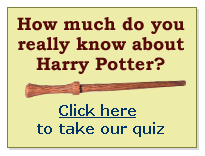 NEW YORK (CNN/Money) -- If Harry Potter villain Lord Voldemort were an investor, he'd probably be a short seller.

And if You-Know-Who shorted Scholastic this year, the publisher of the Harry Potter books in the U.S., he and his loyal Death Eaters would have a lot of money to finance their evil crusade against Harry and the rest of his Hogwarts crew. Shares of Scholastic (SCHL: Research, Estimates) have tumbled more than 17 percent year-to-date due to disappointing sales and earnings.

But with the "Harry Potter and the Prisoner of Azkaban" movie coming out Friday, could Potter buzz cause Scholastic's stock to take off like a Firebolt broomstick? (Of course, Potter is also important for CNN/Money parent Time Warner, which owns Warner Bros., the studio that is distributing the movie.) We take a look in CNN/Money's new biweekly feature, "Hot or Not?"


---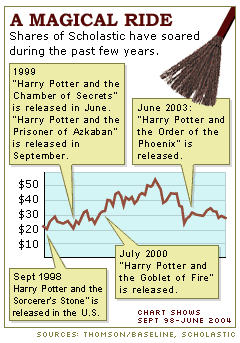 Wingardium Leviosa! Harry Potter has certainly been a wizardly presence on Wall Street. Since the first book was published in the U.S., shares of Scholastic have outperformed the Dow, S&P 500 and Nasdaq.

The first four books came out in rapid fire fashion. And strong sales of them helped Scholastic's stock soar to double digit percentage gains in 2000 and 2001, a truly remarkable feat given how poorly the overall market did in those years.


---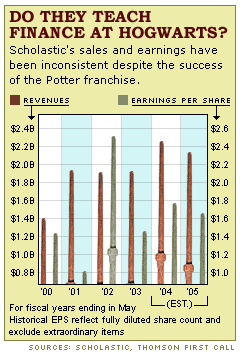 A bad spell Book publishing is a tough business. And even though Scholastic has well-known children's franchises such as Clifford the Big Red Dog and Goosebumps in addition to Harry Potter, revenues and profits have fluctuated during the past few years.

Without another new Potter installment to sell, the new movie probably won't be a big boost for Scholastic. To that end, the company's president of children's book publishing and distribution said in March that retailers already have a "proper amount" of Potter inventory.

It's no wonder then that analysts are predicting a decline in sales in the company's next fiscal year.


---

Sorting through the tea leaves Scholastic reported an overall loss of 15 cents per share in its latest quarter -- analysts were expecting a slight profit. The company indicated that the national Do Not Call list has made it tougher to sell books over the phone. That's bad news since more than 10 percent of Scholastic's total sales last year came from its so-called Direct-to-Home division.

Sure, the publication of the eagerly awaited sixth volume of the Harry Potter series will probably spur a big jump in sales for Scholastic. But when will author J.K. Rowling finish it? There was a nearly three year gap between the fourth and fifth books.

So buying the stock now on the hopes of a sales increase in say, 2006 or 2007, is probably not the best of ideas. We doubt it's something that the sage Headmaster Dumbledore would advise Harry to do.


---