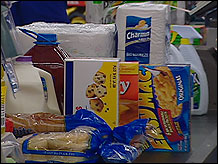 Consumers are looking for ways to alleviate higher gas prices. CNN's Allan Chernoff reports (August 23)
Play video

NEW YORK (CNN/Money) - To cope with rising gas prices, some people are driving less -- or changing vehicles.
Some are cutting back elsewhere in their budgets. Some are taking more drastic measures.
And with gasoline rising to an average of about $2.60 a gallon -- and oil prices staying high -- it doesn't look like prices at the pump will retreat anytime soon.
CNN/Money invited readers to write in and share stories about how they are coping.
Here's a sampling of Wednesday's responses (see Tuesday's gripes here):
Lighten up and cross your fingers..."To increase the fuel economy of my minivan I now store the third row (removable) seats and full size spare in my garage. I figure I'm getting 3 percent or 4 percent extra MPG not carting the extra bulk around every day. When was the last time I got a flat tire anyway? (Jinx !)" -- Jonathan A.
Gas jumps, time to move..."I moved to a new apartment so that I could walk to work, and shorten my wife's drive. We've gotten our daily mileage down from 80 to 20, but we live in a more dangerous and noisy neighborhood." -- Doug M.
"I loved the space and privacy of living outside town. I drive a Toyota so I get pretty good gas mileage. But as gas prices kept climbing, I found myself with less and less money to pay more important bills. Last month I moved back to the city. I miss my country home." Lori G.
No more guzzling..."I went from an SUV at 15-18 miles to the gallon to an Escort Station Wagon at 30-35 miles to the gallon. I doubled my miles and still get where I am going on time. SUV is parked for the time being." -- Vera
"I have a 2002 GMC 4-wheel drive pickup truck that we took anytime we needed to go somewhere. Now, we always take the wife's 1991 Ford Festiva. Unlike the truck, it doesn't have air or cruise or a CD player, but 45 miles per gallon trumps the amenities."
Banding together..."Gas prices a problem? I'm way ahead of the game! I commute 80 miles per day and use about 1/2 gal of gas per day and at least half the time I read or take a nap! How do I do it? I van-pool with six others. We are trying to find three others so we can fill a Dodge Sprinter diesel passenger van and burn bio-diesel." -- Charlie S.
Slimming down..."To cope with ridiculous gas prices, I have cut back on how much I eat. And I no longer buy soft drinks but now drink tap water only. If it goes much higher, I will walk to the grocery store and give up on going to Costco." -- Ron G.
Going hybrid..."I recently got a new job for which I have to commute almost 90 miles everyday. Initially, we had Acura giving us 30 to 33 miles/gallon. But looking at gas-prices, we decided to go for a Toyota-Prius hybrid car. It's the best decision we ever made. I just have to make one trip per week to the gas station as I am getting almost 51 miles/gallon. Every time I drive by a SUV or a Hummer, I think, poor guys must be spending a fortune every week just to show off. -- Nitu C.
Check back for more reader responses. And send us your story at gasprices@cnn.com.
------------------------
Click here for some safe cars that save on gas.
Click here to read about the new fuel economy rules.
Wanna bet on $3 gasoline? Click here.