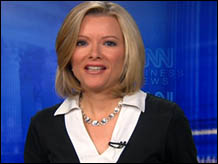 CNN's Gerri Willis shares five tips on beating sky-high heating costs this winter. (September 29)
Play video

NEW YORK (CNN/Money) - Just as prices at the gas pump are generally starting to retreat around the nation, consumers could be in for a much bigger case of sticker shock when they see their home heating bills this winter.
Prices for natural gas, used to heat about three-quarters of U.S. households, and heating oil, used in just 8 percent of homes nationwide but used heavily in the Northeast, are both near record highs. Both have spiked since hurricanes Katrina and Rita hit oil platforms and pipelines in the Gulf and along the Texas and Louisiana coasts.
"The focus is on gasoline prices and all this gouging stuff. But the larger worry as far as I'm concerned is winter fuel," said Bob Tippee, editor of Oil & Gas Journal, an industry publication.
Heating a typical home with natural gas in colder parts of the country is now expected to cost $1,568 this winter, up 64 percent from $957 last year, according to estimates from the National Energy Assistance Directors' Association, which coordinates energy relief for lower-income families.
The news is not much better for homes using heating oil. This winter's heating bill could rise by nearly a third, to $1,666, from $1,263 last winter, the group said. Its forecasts are based on estimates made after Hurricane Katrina but before Rita.
For many consumers, the increases in heating bills will bite harder than higher gasoline prices in the months ahead, even if pump prices stabilize and don't fall further.
The extent of damage to natural gas platforms, pipelines and terminals is still not certain, a month after Katrina and almost a week after Rita, the latter of which hit natural gas facilities particularly hard.
But the Natural Gas Supply Association, which represents producers, said Wednesday that the hurricanes will cause a dip in domestic output this year, rather than the 2 percent increase it expected before the storms hit.
And there might not be much relief in sight.
Analysts and economists say that while imports helped bring gasoline prices back below $3 a gallon in many areas, there's not much room to import natural gas or heating oil from overseas.
Energy Department estimates shows residential natural gas and heating oil prices staying near current levels through the end of 2006 -- as far as the department's published forecasts run.
Part of the reason for the run-up in natural gas prices was a hot summer, which boosted electricity use for air conditioning. About 10 percent of the nation's natural gas is used to generate electricity.
But economists say the key reason for natural gas rises of the last year, before the hurricanes, is there is virtually no excess capacity to meet growing demand.
"Right now we have a supply picture that is fully utilized, even with record wells drilled, record rigs," said Chris McGill, managing director of policy analysis at the American Gas Association.
He said that it'll take a warm winter, and a quick recovery from hurricane related damage, to bring some price relief, but it is far too soon to predict either of those things will occur.
Richard Wolfe, natural gas analyst at Zacks Investment Research, said he could see spot prices for natural gas falling nearly a third from current levels by the end of the winter heating season with a break in the weather.
But that would still leave prices near historically high levels, the equivalent of oil at almost $50 a barrel.
Mark Wolfe, executive director of the energy assistance group and no relation to Richard Wolfe, said consumers better prepare to pay more for heating for some time to come.
"If you look at underlying supply and demand, there are no new major sources of supply," he said.
"Prices can go down if we get a significant increase in liquefied natural gas facilities, but do you want one in your backyard? The other way is to drill, but that takes time. The prices are not going back to where they were four years ago."
As for heating oil, with four oil refineries still down from Katrina and numerous refineries likely to be down a month or more from Rita, refiners nationwide might not be as quick to make the seasonal shift this year from gasoline to heating oil and its twin product, diesel fuel.
Oil & Gas Journal's Tippee noted that most people aren't paying heating bills yet so the issue hasn't hit home. But that isn't likely to last long.
"You just have to worry about the availability of winter fuels," he said. "With all the refineries down, they're worried about keeping the gasoline markets supplied, so they're delaying their seasonal turnaround.
"That's understandable, but they're not squirreling away the heating oil that they normally do."
For a look at what Hurricane Rita meant to oil exploration efforts, click here.
To see the debate if the oil bubble ready to burst, click here.