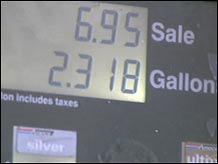 CNN's Ali Velshi says the holiday season economic forecast, pressed by rising energy and food prices, looks gloomy. (October 17)
Play video

NEW YORK (CNN/Money) - Oil prices tumbled again Wednesday, and industry experts say $70-a-barrel oil is going the way of warm days and green leaves as crude stocks swell and Gulf refineries start to recover in earnest from last month's devastating storms.
But the experts cautioned that a return to cheap oil -- or even $40 a barrel oil -- is unlikely any time soon.
Oil has tumbled nearly $10 a barrel from the record highs hit in late August after Hurricane Katrina. Light crude for November delivery sank about 2 percent Wednesday alone after a government report said crude supplies rose more than twice what was expected.
"The market has been kind of playing Russian roulette with the weather," said Mike Fitzpatrick vice president of energy risk management at Fimat U.S.A. in New York. "If the weather stays mild and continues to cooperate, $55 to $56 a barrel is probably reasonable."
Many in the industry put oil's target price over the next three months at somewhere in the mid $50s to mid $60s, but most also said underlying fundamentals such as strong worldwide demand are unlikely to let prices slip too much further.
They added, though, that prices could rise in the second half of the winter as heating fuel supplies tighten.
"It won't be before the February contract," said Nauman Barakat, a trader at Refco in New York, when asked if crude will again touch $70. "But unless we see a continued cold spell, this market will be under downward pressure."
U.S. light crude for November delivery sank $1.40 to $61.80 a barrel Wednesday, a drop of 2.2 percent on the New York Mercantile Exchange, following the stockpile report.
Wednesday's fall in crude prices comes after oil fell more than a $1 after forecasters said Hurricane Wilma should bypass most Gulf oil facilities. The storm is now expected to track near southern Florida.
The Energy Information Administration (EIA) said the nation's crude supplies rose by 5.6 million barrels for the week ended Oct. 14, while distillates, or heating oil and other products, fell by 1.9 barrels. Analysts were looking for a 2 million build in crude stocks and a 1.7 million barrel drop in distillates, according to Reuters.
The report also said demand for all petroleum products fell by 3.2 percent form the same period last year, with demand for gasoline falling 2.2 percent and demand for distillates falling 4 percent.
"Overall it was a pretty bearish report," said Brian Hicks, co-manager of the Global Resources Fund at San Antonio-based U.S. Global Investors. "It looks like the refineries are starting to come back."
Hicks said that October is also a traditional slack time of year of petroleum demand, coming just after the summer driving season and just before winter heating season.
Signs that high energy costs are crimping demand, along with an emergency release of global oil stocks, have helped push crude prices down from a record-high of $70.85 in late August following Hurricane Katrina.
But Hicks warned not to read too much into the numbers showing falling demand, saying much of the drop was due to disruptions caused by the recent Gulf Coast hurricanes and not a sign of customers reacting to high prices nationwide.
Other analysts noted that even though energy prices will remain high, conservation efforts are unlikely to make a big dent in consumption.
"Demand will stay strong enough that new non-OPEC supply won't be able to keep up," said Doug MacIntyre, senior oil market analyst with the EIA.
Barry Hyman, an equity market strategist at the New York investment firm Ehrenkrantz King Nussbaum, said falling oil prices could take some inflationary pressure out of the economy and result in a boost for stocks, but added that "energy is still a viable sector" for some investors.
Refineries rebound
Distillates, which include heating oil and other refined products, were hit hard after Katrina knocked out much of the nation's refining capacity along the Gulf of Mexico.
That production is starting to come back, with ExxonMobil (Research) restarting units at a Texas plant on Tuesday. Five plants or nearly 8 percent of U.S. refining capacity remain shut, Reuters reported Wednesday.
The reopening of refineries has pushed gasoline lower. Pump prices fell nearly 2 cents Wednesday to an average of 2.723 cents for a gallon of regular, according to AAA.
But crude production in the Gulf still remains scant, with 65.5 percent of the region's 1.5 million barrel a day production offline, the U.S. Minerals Management Service said in its latest report.
The Gulf is home to one quarter of all U.S. domestic oil production.
_______________________
Pains ease at the pump, click here.