NEW YORK (CNNMoney.com) -- Stocks recovered Wednesday from the previous session's brutal selloff, helped by comments from Federal Reserve Chairman Ben Bernanke.
The 30-share Dow industrials (up 52.39 to 12,268.63, Charts) gained 0.4 percent, but finished off its session high. The broader S&P 500 (up 7.78 to 1,406.82, Charts) added 0.6 percent and the Nasdaq (up 8.29 to 2,416.15, Charts) gained 0.3 percent.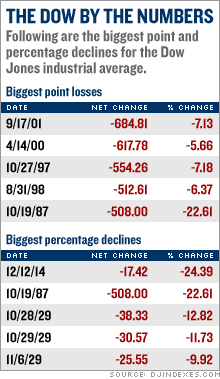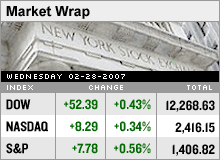 For the month, the Dow finished down 2.8 percent - the biggest monthly decline since April 2005. The S&P 500 lost 2.2 percent in February and the Nasdaq declined 1.9 percent during the month.
Trading was volatile. Stocks edged higher after the opening bell and then reversed course, only to turn higher when Bernanke commented on the market in his appearance on Capitol Hill.
The gains come on the heels of a massive selloff on Wall Street. The Dow tumbled 416 points Tuesday, or 3.3 percent, its largest single-day point loss since the day the stock market reopened after the Sept. 11, 2001 attacks.
Bernanke calmed investors after he told a House panel that the markets seem to be "working well" and are functioning normally. He also said the selloff hasn't altered the Fed's view on U.S. economic growth. (Watch Bernanke comment on the markets.)
The Dow soared more than 100 points on Bernanke's comments, but pared some of those gains early in the afternoon.
Tuesday's market meltdown was triggered by a sharp fall in Chinese shares and signs of economic weakness. A computer glitch also impacted the reporting of the Dow Jones industrial average, making the big decline in the United States appear even more dramatic.
While analysts debated whether the selloff was the start of a broader market correction, some bargain hunters were ready to jump back into stocks on Wednesday. (Stocks: Buy on the cheap? Not so fast)
"The underlying sentiment still seems to be bullish," said Charles Rotblut, senior market analyst at Zacks Investment Research. "But now that the upward trend has been broken, it's put people on the sidelines a bit," he added.
On the economic front, a report showed new home sales tumbled 16 percent in January, the latest sign of weakness in the battered real estate market. Economists had forecast a narrower drop.
The Commerce Department said gross domestic product, the broadest measure of the nation's economic activity, rose 2.2 percent in the fourth quarter, versus an earlier estimate of 3.5 percent growth. The reading was just a shade below average forecasts.
Global stock markets struggled to bounce back. Markets in Japan, Hong Kong and Europe remained under pressure, although the Shanghai and Shenzhen indices climbed almost 4 percent in China.
The bloodbath on Wall Street has brought risk back into focus for many investors, which means more choppy trading ahead for investors.
"There is a rising awareness of risk, and there is probably going to be a certain amount of volatility in the marketplace now that wasn't there before," said Edgar Peters, chief investment officer at PanAgora Asset Management.
He expects to see swings in both directions as investors react to fresh economic news and earnings.
On tap for Thursday is the Commerce Department's report on personal income and spending, which includes a closely watched inflation gauge.
Readings on construction spending, auto sales and nationwide manufacturing activity also are scheduled to be released.
What moved?
In the Dow, 17 components rose and 13 fell. All 30 stocks on the blue-chip index declined on Tuesday.
The biggest gainer in the Dow Wednesday was Procter & Gamble (up $2.24 to $63.49, Charts), which soared nearly 4 percent.
Drugmaker Merck (Charts) rose 2 percent after it raised its full-year earnings forecast.
Another winner was American Express (up $1.28 to $56.87, Charts), which jumped 2.3 percent after Friedman, Billings, Ramsey raised its rating on the company to "outperform" from "market perform."
Elsewhere, Sprint Nextel (up $0.85 to $19.30, Charts) climbed 5 percent after the company reported earnings in line with analysts' estimates and as takeover rumors continued to circulate.
Home builder shares sank amid concerns about the housing slump. Hovnanian Enterprises (Charts), KB Home (Charts) and Toll Brothers (Charts) all declined.
Market breadth was positive. On the New York Stock Exchange, winners topped losers by a margin of 5 to 3 on volume of 2.2 billion shares. On the Nasdaq, advancers beat decliners by a margin of 8 to 7 as 2.7 billion shares changed hands.
U.S. light crude oil for April delivery rose 33 cents to settle at $61.79 a barrel on the New York Mercantile Exchange.
Treasury prices, which soared Tuesday as equities plunged, retreated. The yield on the benchmark 10-year note rose to 4.56 percent, up from 4.51 percent late Tuesday. Bond prices and yields move in opposite directions.
The dollar rebounded against the euro and the yen.
---
Technical glitches plague Wall Street