NEW YORK (CNNMoney.com) -- The Dow Jones industrial average climbed about 100 points Wednesday after Federal Reserve Chairman Ben Bernanke said markets are working well, helping stocks recover from one of their worst days ever.
The 30-share Dow industrials (Charts), the broader S&P 500 (Charts) and the Nasdaq (Charts) all rose nearly 1 percent more than an hour into the session.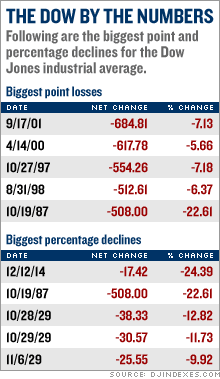 The gains come on the heels of a brutal day for Wall Street. The Dow tumbled 416 points Tuesday, or 3.3 percent, its largest single-day point loss since the day after the stock market reopened after the Sept. 11, 2001 attacks.
The markets seem to be "working well" and are functioning normally, Bernanke told a House panel. The selloff also hasn't altered the Fed's view on U.S. economic growth, he added.
Stocks took off and rose sharply on the Fed chief's comments after posting modest gains earlier in the session.
Stocks dived around the world Tuesday as investors eyed a big drop in Chinese shares and signs of economic weakness.
The Shanghai and Shenzhen indexes rebounded almost 4 percent in China Wednesday, though markets in Japan, Hong Kong and Europe remained under pressure.
Investors had plenty of economic news to sift through Wednesday. A report showed new home sales tumbled 16 percent in January, the latest sign of weakness in the battered real estate market.
The Commerce Department said gross domestic product, the broadest measure of the nation's economic activity, rose 2.2 percent in the fourth quarter, versus an earlier estimate of 3.5 percent growth. The reading was just a shade below average forecasts.
In the Dow, 21 components rose and 9 fell. All 30 stocks on the blue-chip index declined on Tuesday.
Market breadth was positive. On the New York Stock Exchange, winners topped losers by a margin of two to one on volume of 767 million shares. On the Nasdaq, advancers beat decliners by a margin of 4 to 3 as 1.04 billion shares changed hands.
U.S. light crude oil for April delivery fell 97 cents to $60.32 a barrel on the New York Mercantile Exchange.
Treasury prices, which soared Tuesday as equities plunged, retreated. The yield on the benchmark 10-year note rose to 4.56 percent, up from 4.51 percent late Tuesday. Bond prices and yields move in opposite directions.
The dollar rebounded against the euro and the yen in early trading.
---
Technical glitches plague Wall Street