NEW YORK (CNNMoney.com) -- Stocks were mixed Friday morning as investors welcomed AIG's stock buyback plan and took in stride Dell's ho-hum profit outlook, but remained wary at the end of a tough week on Wall Street.
The Dow Jones industrial average (Charts) was little changed nearly two hours into the session while the broader S&P 500 (Charts) index fell 0.1 percent.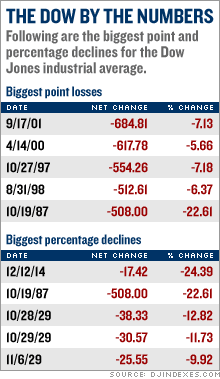 The Nasdaq (Charts) composite slipped about 0.2 percent.
All three major gauges slipped more heavily at the open, but managed to trim losses as the morning wore on.
Investors are still reacting to Tuesday's battering that sent the Dow down 416 points, its biggest one-day point loss since the day the market reopened after the Sept. 11, 2001 attacks.
That decline was sparked by a selloff in the Shanghai market that quickly spread around the world.
After taking a breather Wednesday, stocks fell anew Thursday though the selloff was modest as investors fought back from a steeper morning swoon.
Declines were even more minimal Friday morning, as the turmoil of the early week continued to ease.
Late Thursday, Dell (Charts) reported lower quarterly earnings that topped estimates on lower quarterly revenue that missed estimates. The company also cautioned that growth and profit margins will be limited over the next few quarters. The stock inched higher Friday morning.
AIG (up $2.05 to $69.46, Charts) reported higher quarterly earnings late Thursday that nonetheless missed analysts' forecasts. The Dow component also said it would buy back $5 billion in stock in 2007 as part of a broader $8 billion stock buyback plan. The shares rallied 3.3 percent Friday.
Novell (down $0.21 to $6.50, Charts) reported a quarterly loss late Thursday, down from a profit a year ago. Analysts were expecting a 1-cent a share profit, on average. Shares of the software maker sank 4 percent Friday morning.
Among other movers, a variety of Internet shares fell, including eBay (down $0.37 to $31.56, Charts), Yahoo! (down $0.31 to $30.55, Charts) and Google (down $3.84 to $444.39, Charts).
On the economic front, investors eyed the revised reading on February consumer sentiment from the University of Michigan. The index fell to 91.3 from the originally reported 93.3. Economists surveyed by Briefing.com thought it would hold steady.
Also in focus: comments from Fed speakers. St. Louis Federal Reserve Bank President William Poole, speaking at a business luncheon in Santiago, Chile, said the economy was not headed for a recession.
Poole's comments were in contrast to comments made by former Fed Chairman Alan Greenspan, who said earlier in the week that a recession was possible, though not likely, later this year.
Fed Chairman Ben Bernanke speaks at Stanford University in California this evening.
In currency trading, the dollar fell further versus the euro and the yen. The yen surged anew as investors continued to close out carry trades, or bets on riskier currencies bought by borrowing in the currencies of countries with low interest rates, like Japan.
Treasury prices inched higher, lowering the yield on the benchmark 10-year note to 4.54 percent from 4.55 percent late Thursday. Bond prices and yields move in opposite directions.
U.S. light crude oil for April delivery was little changed at about $62 a barrel on the New York Mercantile Exchange.
COMEX gold for April delivery slumped $10.60 to $654.50 an ounce.
Market breadth was negative. On the New York Stock Exchange, losers beat winners three to two on volume of 440 million shares. On the Nasdaq, decliners topped advancers four to three on volume of 630 million shares.
---
More on investing