(Business 2.0 Magazine) -- We all know the drill: To make sure you have enough green for your golden years, you're supposed to max out your 401(k) contributions, invest in index funds and growth stocks, and not - repeat, not - splurge on that top-of-the-line Ferrari. All sound advice.
But where's the fun in that? And what about now, when you're actually, you know, living your life?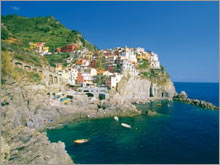 Live Rich, Retire Richer
It just may be possible to have it all. Our investment guide shows you how to live large now and bankroll your future.
Buy real estate in exotic locales.
Snap up rights to wind and solar sites.
Invest in unknown artists.
Cash in on these crops.
Be your own boss.

Video
A creative look at ways to invest for your retirement beyond the usual 401k strategy.
Well, we believe it's possible to both live the good life and turbocharge that retirement account. In the articles linked below, you'll find ideas for investments and startup opportunities you won't see reported in the business section of your daily newspaper.
Like locking up rights to wind-farm and solar-power sites and then leasing them back to renewable-energy companies. Or snapping up a sampling of the works of today's underground artists for a surprisingly quick and profitable payoff. Or investing in real estate in places where supermodels lounge on the sand and beach houses can still be had for six figures or less. Want a preview? Aim Google (Charts) Earth at Punta del Este, Uruguay.
Maybe you'd like to go into business for yourself, or just want to ride the next wave. Think organic fast food, online luxury-goods rentals, and pet health insurance. And take a look at cooking schools for kids and upscale retirement communities.
Sure, your accountant might raise her eyebrows, but that's OK - while you're waiting for your 401(k) balance to grow, nothing says you have to sit around and watch the grass grow too.
Consider these five options:
click here
.