NEW YORK (CNNMoney.com) -- It would seem to be one of the longest shots in sports, up there with catching Tiger Woods in a major on Sunday or outspending the Yankees: Taking on the NFL with a new football league.
Since the old American Football League merged with the National Football League in 1970, there have been no less than four rival leagues that kicked-off games, only to quickly be crushed like a 98-pound lineman.

CNN's Rusty Dornin reports two of NFL star Michael Vick's co-defendents pleaded guilty to dogfighting charges.
Play video

Is the NFL making it hard for retired players to get disability benefits? CNN's Larry Smith reports.
Play video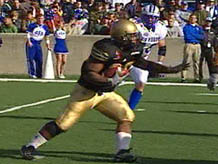 Hitting paydirt on the gridiron is becoming more environmentally friendly as more and more stadiums use FieldTurf, a blend of synthetics, sand and recycled tires.
Play video

So why should anyone other than Michael Vick, Pacman Jones or their agents really think some else should try?
Still, there are as many as three different groups looking at trying to start yet another league in the coming years. Two of the efforts would try to start leagues in the spring, when the NFL is in hibernation and some of the former leagues, like the USFL, briefly succeeded.
But the effort that is getting the most attention is the United Football League, or UFL. It is led by two well-respected and wealthy businessmen: Bill Hambrecht, who helped shake up how initial public offerings are done and Mark Cuban, the outspoken owner of the Dallas Mavericks basketball team who made his fortune on the Internet and is now running HDNet, a high definition television network.
And unlike some of the previous efforts, the NFL may have left just enough doors open for them to succeed this time.
Hambrecht declined to comment on his plans, although a spokesman confirmed basic details that have already been published. Games would air on Friday nights in the fall, a night with limited sports competition on television.
The anti-trust legislation that allowed the NFL to have a national television deal explicitly prohibits the league from playing on Friday as a way of protecting high school games, which often are played on Friday nights. Right now the law applies only to the NFL.
The Hambrecht/Cuban league would concentrate on mid-sized markets currently without an NFL franchise, most notably Las Vegas, Orlando and San Antonio, as well as Los Angeles, the only major metropolis without an NFL team.
The league also plans a team for Mexico City, which actually had the largest crowd ever to attend an NFL game when 103,467 fans watched the Arizona Cardinals play the San Francisco 49ers in 2005.
This proves that there is demand outside the U.S. for football. But is there demand for football that isn't the NFL? Cuban argues that the NFL's collective bargaining agreement, with its salary cap, will give an upstart league access to enough credible football talent to attract true fans of the game and provide a good quality of play.
"Their CBA structure is not designed for a competitive environment. Competition for top players, even if the UFL gets just a few, increases prices at the top end for all teams," he wrote on his blog recently. "Every star will get paid more, but still have to fit under the cap. That forces teams to use more low cost players, at the expense of signing the middle of the roster. That gives us access to quite a few very, very good NFL players."
This argument is the most compelling one I've seen for an idea that most football fans would be quick to dismiss, and it's enough convince me that these efforts aren't a Hail Mary pass.
Finding the right owners and right corporate partners will be tough. Finding good players and coaches for the new league won't be as tough as you think.
There is a faulty assumption by fans of all sports that the players in their leagues are the best the sport has to offer. But there isn't as big of a difference in talent than commonly believed between the vast majority of players and the players who don't get a chance in the major leagues.
The success in the NFL of some players from the failed leagues, as well as from Arena Football and NFL Europa, is proof of that.
But even Cuban admits that it's not clear how the NFL will respond to such a challenge. But some of the veterans of past efforts to take on the NFL said the NFL will be proactive.
"Don't think the NFL will stand aside and say 'This is just a fly buzzing around our head,'" said Chet Simmons, a former sports broadcast executive who was also a USFL commissioner. "They're very smart."
Simmons doesn't discount the chance of the upstart league if it is well financed. And given that there are more billionaires who would like to own a football team than there are those have had the opportunity to do so, they might be able to find the deep pockets they need.
In addition, Hambrecht expects to sell about a third of each team to its fans through public offerings, raising an extra $60 million of working capital and helping to cement fan interest.
Memphis attorney Steve Ehrhart, who has worked with teams in three of the failed leagues -- the USFL, the Canadian Football League's U.S. expansion efforts and the XFL, says he believes the growth of cable television and the demand for sports content since the previous efforts would allow at least one of the new leagues to find the right TV deal.
"It's the No. 1 sport that America has gravitated to. And it fits on television perfectly," he said.
The NFL has been smart enough to make sure to give a piece of their broadcast rights to the owners of the nation's four major television networks -- CBS (Charts, Fortune 500), General Electric's (Charts, Fortune 500) NBC, News Corp.'s (Charts, Fortune 500) Fox and Walt Disney (Charts, Fortune 500), which owns both ABC and ESPN.
But there are still other networks out there, like Versus, the upstart sports network owned by cable giant Comcast (Charts), that had hoped to get a piece of the NFL but lost out to the league-owned NFL Network.
As far as quality of play, Ehrhart and Simmons point out that some NFL Hall of Famers, such as Reggie White, Jim Kelly and Steve Young, all played in the USFL, and that the league won't have to depend on players like Vick or Jones who are currently suspended from playing in the NFL to generate fan interest.
"There's a plethora of outstanding players coming out of college every year looking to play, and there's an oversupply of quality coaches that grows every year," said Ehrhart.
He also believes that the key to success is finding the owners with the dollars and commitment to stick with the league through early losses.
"WWE (Charts) and NBC were only looking short-range," he said, referring to those companies' short-lived XFL."The USFL didn't have enough ammunition. I think there is going to be a need for commitment for investment by entrepreneur types who say, "I'm willing to spend $50 million to $60 million and take a risk with an new upstart company. I think they'll be able to find those."
David Carter, executive director of the University of Southern California's Sports Business Institute, said there is a lot more sponsor and television dollars available to an upstart league today than there were in the past, but also more competition for potential fans' time and dollars.
A NFL fan might be as likely to spend Friday night playing his Madden video football game as watching a new league on television.
"The landscape is different. Not better or worse, but just different," he said about a new league's chances. "I think it's foolhardy to be dismissive of anyone with the keen interest and deep pockets to make a run at it."
Ehrhart has had some discussions with UFL officials, as well as both groups of folks looking at spring leagues. The failures of his previous efforts aren't enough to scare him away from trying again.
"I think there's always room for more," he said.
Whether or not he's right, I'm looking forward to seeing them try. Football fans, even those who dismiss the new league's chances, should too. Sports are always better when outsiders come in and shake up the status quo.