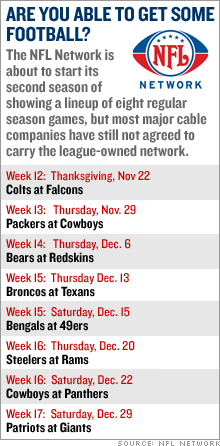 NEW YORK (CNNMoney.com) -- Michigan-Ohio State. Yankees-Red Sox. Duke-North Carolina. Cowboys-Packers. When bitter sports rivals backed by massive resources face off against one another, fans are typically the winners.
But not in the latest battle dominating sports pages - league-controlled sports networks vs. cable companies.
Proof of that will come at 8:15 p.m. Thursday night when the majority of football fans will miss out on the much anticipated clash between the Cowboys and Packers, because it will be on the NFL Network, which is not available in most homes served by the nation's leading cable companies.
No longer satisfied with simply selling the rights to games for millions of dollars, the National Football League, Big Ten conference and other leagues are setting up their own networks that can bring them millions more in cable subscriber fees, even during the offseason. The leagues are building up entities that could eventually be worth billions.
But their plans for additional riches have run up against the power of the nation's major cable companies, which control what the majority of U.S. homes get to watch. The cable operators, facing increased competition from satellite and telephone companies, have so far said no to paying hefty subscriber fees to carry the new networks.
It's tough to find heroes in this battle. As the two sides present their cold-hearted business arguments as some form of sacrifice for the public good, you find yourself wanting to see both sides lose. And if they don't come to a deal, Washington could resolve the standoff for them and change regulations in a way that hurts a system that has been so lucrative for both the leagues and the cable industry.
But the chance of Washington settling the dispute grew more distant this week when the cable companies proved they weren't the kinds of compliant media companies the NFL is used to rolling over. A cable lobbying effort blocked a proposal before the Federal Communications Commission that would have imposed greater regulatory control over the industry and given all manner of networks greater leverage when negotiation to get space on the dial - and dollars - from the cable behemoths.
Even if you're disgusted with both sides, it doesn't mean you shouldn't have sympathy for the fans, who just want to tune into the games they want.
The game Thursday between the Cowboys and Packers, both 10-1 and fighting for home field advantage in the playoffs, is the kind of match-up that might be expected to draw a huge audience, especially with both teams' national fan bases.
A similar meeting between undefeated rivals Patriots and Colts on Nov. 4 drew 33.8 million viewers, and that game wasn't played in primetime, nor was it the only NFL game that day.
But the NFL Network, which is now in its second year of showing live regular season games, is essentially limited to households that get their television from satellite service, or from one of the phone companies trying to make inroads into that business or those who have one of the nation's smaller cable operators.
If you get your TV from a major cable company, as most U.S. households do, you need a digital cable package that gives you an extra helping of sports networks, generally at a higher cost, to watch the game.
The same type of angst for football fans could be repeated on Dec. 29, when the NFL Network will carry the game between the New England Patriots and the New York Giants. That's the night the Pats are expected to be trying to finish off the first undefeated regular season in 35 years, while the Giants could well be fighting for a playoff spot.
And it's not only the NFL Network causing these kinds of battles with the fans caught in the middle.
For example, on Nov. 3, Ohio State played the University of Wisconsin in a game that was the month's most popular cable program in football-crazy Columbus and watched by more viewers than ESPN's Monday Night Football two days later. The college game managed to come out on top even though the state's largest cable operators won't carry the Big Ten Network that aired it, while just about every cable and satellite household gets ESPN.
The cable operators concede that the networks are right about the popularity of the games they carry. What the two sides can't get past is the issue of where the networks should be placed in the cable lineup, and how much the cable operators should pay the networks for every household that gets the channel.
"There's a reason sports programming is expensive - people watch it," Mark Silverman, president of the Big Ten Network, said at a forum earlier this month sponsored by the Sports Business Journal. "Obviously not everyone wants to watch sports, but not everyone has children, and they're getting the Disney Channel and Nickelodeon."
But the cable operators are right when they complain that the per-subscriber fees demanded by sports networks have gotten out of line with the size of the viewerships they attract.
Cox, the nation's No. 3 cable operator, estimates that 40 percent of the subscriber fees it pays goes to the national and regional sports networks it carries on basic cable, while those networks have well less than 10 percent of the total viewership. The cable operators also see the new sports networks as their best chance to anchor a so-called sports tiers bundle of networks, and entice fans to pay additional dollars on top of their basic bill.
"You can always make the case that there are avid fans. In sports that's easy to do," said Melinda Witmer, senior vice president and chief programming officer for Time Warner Cable (Charts), the nation's No. 2 cable operator which, like CNNMoney.com, is a unit of media conglomerate Time Warner (Charts, Fortune 500).
"If you don't believe that 10 percent of our communities will pay extra for this programming, then why are you requiring [all cable households] to pay for it?" Witmer asked at the forum.
Fair enough: The cable operators are saying that they have to find new sources of revenue to pay for these new sports networks, rather than raising rates on all their customers and risk losing those who aren't sports fans.
The disingenuous part of that position is exposed, however, when you look at how the cable companies are relatively quick to give access to new sports networks that they have ownership stakes in.
Case in point: No. 1 cable operator Comcast (Charts) gave basic cable access to the Golf Channel, which it owns, as well as to Versus, another one of its networks that is trying to become the next ESPN (since Comcast failed in its attempt to buy ESPN owner Walt Disney (Charts, Fortune 500)).
Unlike the Big Ten or NFL Networks, Versus got that coveted distribution even though it has little in the way of top-tier sports programming. Versus tried and failed to buy the games that are now on the NFL Network, essentially leaving it with only the NHL - and its cold-as-ice ratings - and the Tour de France, which got miniscule viewership even when Americans knew who was in the race.
Similarly, Time Warner Cable has denied a place to the Big Ten Network in Ohio, where Ohio State sports are king, but gave access to a new New York sports network in which it has a stake.
For those who despair that there's no way out in this fight, there is the case of the Baseball Channel.
Major League Baseball's new 24/7 offering is set to go on the air in 2009 with about 47 million households, including the majority of cable homes with digital service. That's more than a league-controlled network has ever had, no matter how long it's been on the air.
The way MLB won what it wanted was by using Extra Innings, its subscription package of out-of-market games, as leverage with the cable companies. The league also reached an agreement to have cable and satellite take an ownership stake its new network.
The NFL probably would have been able to win the same kind of distribution for the NFL Network if it had played the same cards, Time Warner Cable's Witmer said after the forum. Instead, the NFL wanted to keep complete ownership of the network, as well continue collecting the $3.5 billion it gets from DirecTV (Charts, Fortune 500) for an exclusive deal for its own out-of-market package, Sunday Ticket.
"It might have shifted its overall price value equation," she said. "DirecTV has paid an enormous premium for the exclusivity of that product. We're hoping very much the Baseball Channel will be terrific, but no question, it was part and parcel of the Extra Innings package."
But the NFL and Big Ten conference, which are both used to getting their way in TV negotiations, aren't ready to give up even a minority stake in their potentially lucrative networks to get the distribution they want, or in the case of the NFL, give up the extra hundreds of millions it gets for granting exclusive rights to Sunday Ticket DirecTV.
Once again, this just shows that this is a dispute over price, not principal.
So how does this all play out? The next stop could well be in Washington. The NFL is poised to use its considerable lobbying might to seeks changes in the rules for how cable is regulated, forcing operators to arbitrate disputes over how much a cable company should pay for a network and how it should be offered.
"We need some sort of fair negotiation mechanism to get our channel to the fans who want it," said Seth Palansky, spokesman for the NFL Network. "We're just suggesting that the system is broken when, after four years, a fair negotiation can't take place because you haven't give them rights to the product on the terms they wanted or an ownership stake."
But the prospect of regulatory changes have other networks scared. They worry it could open the door for so-called a la carte cable lineups, where customers only pay for the networks they want, rather than a bundle of dozens or hundreds of offerings they now get. That in turn could choke off much of the money that companies like Disney, regional sports networks and even the big broadcast networks like CBS (Charts, Fortune 500) could pay in rights fees.
"There is one thing that all of us up here agree on. We don't view some form of governmental intervention as the best way to get to a deal," said Bob Thompson, president of Fox Sports Networks, which has an interest in the Big Ten Network, during the recent forum. "We're all in the business of doing deals. We've been through these skirmishes before, and we'll go through them again. And eventually we'll all figure something out that works for everybody."
He better be right. Otherwise it'll be the fans who keep losing from this bitter rivalry, one of the few in sports that makes you want to cheer against both sides.