Meet the new King of Beers
Boston Beer CEO Jim Koch is as surprised as anyone that his company is now the country's No. 1 independent, publicly-traded brewery.
Last Updated: August 8, 2008: 2:02 PM EDT
Interactive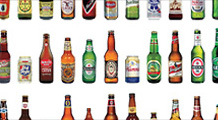 NEW YORK (Fortune) -- The pending acquisition of Anheuser-Busch (BUD, Fortune 500) has left some Americans crying in their beer over the loss of iconic brands like Budweiser to Belgian-based InBev. But the $52 billion acquisition is in keeping with this quarter's surge of international companies buying U.S. players. In the second quarter, acquisitions of American-owned companies by foreign businesses tallied $130.2 billion, making it the highest total for any second quarter recorded and 29 percent higher than the 2007 period, according to research firm Dealogic.
In the beer industry, the merger leaves Boston Beer Co. (SAM) as the country's largest, independent, publicly-traded brewery. Even with this new status, the brewery behind Sam Adams beer, founded by Jim Koch (pronounced "Cook") in his kitchen in 1984, has less than 1% market share in the United States. Anheuser-Busch commands about 50 percent of the U.S. market.
Koch's brewery might be young in comparison to the large beer conglomerates, but he comes from five generations of brewmasters and conducts serious quality control by tasting every batch of beer bottled. Koch recently spoke to Fortune about the state of the beer industry and Boston Beer's role in it. Edited excerpts follow.
Fortune: Did you ever you think you'd be the country's largest independent brewer?
Koch: That's like being the tallest pygmy. It's amazing to me that we've been able to go from invisible to infinitesimal to today we've gotten all the way to tiny. Someday I hope to get all the way to small.
Fortune: What's it like being an independent company when many breweries are falling under the umbrella of giant beer companies?
Koch: We can do interesting beers that these huge global brewing conglomerates are too big to be interested in. We make one beer that we sell 10,000 bottles of. It allows us to do the things that come out of an abiding interest and love of beer.
Fortune: Do you have any plans to capitalize on Anheuser-Busch's sale in your marketing plan?
Koch: No, I've always believed people should drink the beer for its inherent quality. To me, waving the flag doesn't make the beer taste any better.
Fortune: What will your role be?
Koch: Our destiny is to remain very small. We don't make a mass-produced or mass-marketed beer. We make a very flavorful beer that really only appeals to 5% of beer drinkers. If we were a car we'd be a Porsche. Everyone is familiar with it, but the market share is probably what ours is. We make quality, and that's really the American beer drinker's only hope going forward: to take pride in the quality of American beer because the quantity is owned by foreigners.
Fortune: Do you think more Americans will start drinking your beer?
Koch: We've been growing double digits for years. I believe this message that Americans can take pride in a world-class beer like Sam Adams is getting out, but it's slow. Last year I think we gained one-tenth of a percent of market share. It's literally one drinker at a time. But it took Anheuser-Busch almost 150 years to get to where they are.
Fortune: Will the merger push people toward Sam Adams?
Koch: I don't think so, and I don't think simple patriotism is a good reason to drink my beer. If people like the taste of Bud or Miller or Coors then they should keep drinking those beers.