Made (again) in America
The rising cost of labor and shipping abroad are driving manufacturing back to the U.S. So are the logistics of dealing with far-flung suppliers.
September 11, 2008: 12:34 PM EDT
Survey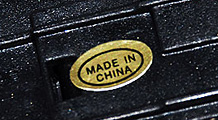 NEW YORK (Fortune) -- Talk of a reverse migration of manufacturing from China to the U.S. has been buzzing across union halls and factory floors, corporate boardrooms and Wall Street.
The cost of shipping outsourced goods from China to U.S. customers has doubled in just two years thanks to high oil prices, and labor costs in China are rising sharply.
"There's a shortage of technical and managerial talent," reports Anand Sharma, CEO of TBM Consulting Group. "To attract managers Chinese companies are talking about salary increases of 15% to 30% year-over-year."
Thomasville Furniture and Exxel Outdoors, a maker of camping gear, have both said they now are making products in the U.S. that they once outsourced to China; both have attributed the move to the soaring cost of transporting goods.
But other longtime outsourcers, such as Regal Ware Inc., a 500-employee maker of high-end cookware (sets go for as much as $4,000), have discovered that manufacturing abroad has another drawback: it isn't nearly as efficient as they had hoped.
"We either had too much inventory, or not enough" of the products Regal Ware outsourced to China, says Jeffrey Reigle, CEO of the Kewaskum, Wisc.-based company. "We figured there had to be a better way."
The better way, it turns out, proved to be right under his nose, at two Wisconsin plants where Regal Ware has produced stainless steel pots and pans for more than 50 years.
Cheap isn't everything
As part of a review of its manufacturing processes, Regal Ware managers decided they could solve inventory woes and serve customers better by largely abandoning their 10-year effort in China. (The company will continue to go offshore for kitchen items that its U.S. plants don't already have the machinery to make, such as pasta strainers.)
Cheap isn't everything. To be sure, Chinese suppliers don't have to worry about a wholesale exodus of customers. China's trade surplus in July, for example, grew 4%, and export growth climbed almost 27%.
And plenty of manufacturers will continue looking for ever cheaper places to produce. In fact, as the cost of doing business in China rises, many companies - including Chinese firms - are shifting their production to less expensive markets, such as Vietnam.
But Regal Ware's experience suggests that companies need to think beyond simply chasing the lowest cost supplier. CEO Jeffrey Reigle says the main reason for bringing production home was getting better control of the supply chain.
The Lunar New Year holiday, for example, posed an annual challenge: Factories in China typically shut down for several days around the holiday and workers stream to their home provinces. Inevitably, some workers opt to stay home, forcing factories to spend valuable time restaffing.
"It was always a bit of a nightmare trying to juggle around the holiday," Reigle recalls.
About three years ago, the company, with the guidance of consultants TBM, started evaluating its operations to become more efficient. A particular concern was how long it was taking to deliver cookware to customers. The overseas manufacturers emerged as a key bottleneck.
Since the company brought production home earlier this year, delivery times to one major customer, Reigle says, have gone from 30 to 60 days to as little as 24 to 48 hours. "We can be much more flexible when we have a supply chain we control," he says. Because of other strides in efficiency it's made, Regal Ware hasn't had to ramp up staffing yet.
Reigle declined to discuss how the shift in manufacturing has affected profits. But he cited the example of one customer that orders stock from Regal Ware but also buys directly from Chinese-based manufacturers. The customer says Regal Ware's prices are 8% to 10% higher than buying direct from China, but that its cash flow from Regal Ware products has increased 10% partly because the seller can turn over inventory more quickly.
Regal Ware's heightened efficiency has freed management to seek new sales opportunities. Reigle just returned from a trip to China, of all places, where he says he secured an order with a Chinese direct marketing company.
"We will be shipping American-made cookware to China by the end of September." he says. He adds with a laugh: "Talk about man bites dog."