Geithner's new friends on Capitol Hill
The Treasury Secretary is earning some key political support, but the real test comes when he asks for more bailout money.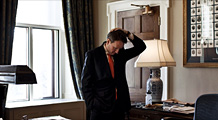 Obama's economic team is pushing through Congress the most expensive emergency spending package in the nation's history. And that's just the start.
WASHINGTON (Fortune) -- As Treasury Secretary Timothy Geithner's reputation rose from the ash heap on Wall Street yesterday, he also made headway with harsh critics in his other important audience - Congress. "This could be the beginning of a very constructive improvement in capital flows," Georgia Senator Johnny Isakson told Fortune.
Just last week, Isakson, a member of the Senate Commerce Committee, became the first Republican senator to call for Geithner's resignation. Isakson was shocked that the former New York Federal Reserve president - who essentially "wrote the check" to AIG last September - was completely unaware of the bonuses that caused a national uproar six months later.
Over in the House, GOP Florida congressman Connie Mack yesterday kept up his campaign on the airwaves calling for Geithner's resignation. But GOP Whip Eric Cantor of Virginia was more measured, saying that while he worries the new plan may have "fundamental flaws," he hoped it would address the sticky problem of how to price the assets that banks need to unload. "The markets seem to be reacting positively," Cantor noted in an interview.
President Obama likes to compare his Treasury Secretary to Alexander Hamilton - a public servant facing problems of historic magnitude. But in the past month, Geithner has been likened to Tiny Tim.
After the markets voted thumbs down on his first attempt at a bank rescue plan in February, the treasury secretary became the butt of late-night comic jokes. The mocking turned into calls for his resignation when he revealed that he learned of the taxpayer-funded bonuses going to AIG (AIG, Fortune 500) executives just days before they went out - and then was unable to stop them, or effectually explain them to Congress and the public.
Alabama's Richard Shelby, the Senate Banking Committee's ranking Republican, told Fox News on Sunday that his confidence in Geithner is "waning every day," and conservative critic Senator Jim Bunning of Kentucky said he didn't think Geithner was qualified for the job. (Neither senator had commented on the bank plan by Tuesday morning.) While Republicans have been vocal in their condemnations, waves of worry about Geithner's performance have quietly rippled through lawmakers in his own party.
President Obama felt compelled to defend his Treasury Secretary on CBS' 60 Minutes last weekend, saying he would refuse to accept Geithner's resignation even if it were offered. And yesterday, senior White House economic adviser Larry Summers appeared in the White House press room for a Bloomberg TV interview in which he insisted that Geithner had "provided extraordinary leadership."
This won't be the end of Geithner-bashing on Capitol Hill. His critics will be out again in full force today with a House hearing on AIG, which has ignited a populist fire that lawmakers from both parties have found politically expedient to stoke.
But the true measure of Geithner's performance should be the success or failure of his bank rescue plan, and that won't be evident for many weeks. "The next quarter, the next three months will be the sweet spot," says Scott Talbott, senior vice president for government affairs at the Washington-based Financial Services Roundtable, which applauded the plan.
The political good news for Geithner is that he can now count on some vocal defenders from across the aisle - which will serve as a helpful ballast against loud critics in the coming months. "I like what he's laid out," says Tennessee Senator Bob Corker, who was briefed in detail last night by FDIC chairman Sheila Bair.
Noting that the plan builds on the original proposal by former Treasury Secretary Hank Paulson to have the government purchase "toxic assets," Corker added: "But it is enhanced by using the private sector for price discovery and by leveraging government funds. It allows what's left of the TARP money to go further, and it doesn't add to inflationary pressures."
If the plan succeeds in reviving the banking sector, Corker predicts that Geithner's rocky start "will be a blip on the screen." That's a sentiment that Isakson seconds: "If the secretary of the Treasury will execute this plan judiciously and markets develop [for the assets] and credit begins to flow, you'll see a remarkable change in attitude toward the Treasury Secretary."
But the real test of whether Timothy Geithner has restored his reputation is whether he can persuade Congress to release the additional $250 billion in TARP funds that President Obama tucked inside his new budget. And on that - with bailout fatigue infecting both parties - he still has a long way to go. "If he went up there now, hat in hand, he wouldn't get the money," notes Talbott.