Chris Dodd's loyalty test
The senator's task is huge: rewriting the rules for banks. But which side of him will emerge - populist reformer or friend of companies like AIG? Now is his moment of truth.
Tracking the bailout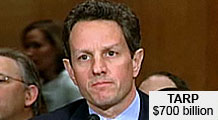 NEW YORK (Fortune) -- In the U.S. Senate, seniority is all: You wait your turn. No one knows that better than Democrat Chris Dodd, the senior senator from Connecticut. "I went through 28 years of sitting next to people who either had the constitution of mules or great longevity," Dodd told Fortune late one afternoon recently in his arch-windowed office on Capitol Hill.
On the Banking Committee, where Dodd has served since he was elected to the Senate in 1980, the mule in front of him was Maryland Democrat Paul Sarbanes. ("I think Paul's heart beats once an hour," says Rep. Barney Frank, Democrat from Massachusetts.) But when Sarbanes unexpectedly announced he would retire in 2006 and Democrats won control of the Senate, Dodd's path to power opened. "Just think," Sarbanes whispered to him one day during a lull in proceedings, his right arm draped around Dodd's shoulder, his left arm sweeping across the marbled committee room, "in six months all this is yours."
Chairman Dodd has had occasion to recall that exchange many times lately. Thanks, he imagines telling Sarbanes now. Did you know something at the time that I didn't know and you didn't tell me? Dodd, 64, chuckles as he tells the story, eyes flashing, eyebrows leaping beneath a stupendous senatorial puff of silver swept-back hair. Lately his amusement has turned to something more painful. The five-term senator, who has long strived to be known as a champion of the consumer, has been caught under a harsh spotlight as the author of the infamous AIG loophole in an otherwise tough amendment aimed at curbing bonuses for bailed-out bankers. The fact that Dodd himself wrote the tough parts, too, struck him as a cruel irony. "I'm angry about it," he declared at a March 20 press conference in his home state. "And angry that in a sense, I've been held up as sort of responsible for all this."
Yet it's no mystery how such a thing could happen to Christopher Dodd. The senator, who will play a pivotal role in salvaging the financial system, is, for good or ill, a man of contradictions and compromises. He has written consumer-protection legislation but has also helped himself to enormous campaign contributions from his state's insurance companies and hedge funds. He's the longest-serving congressman in Connecticut history, scion of a New England political dynasty, but he's been losing ground lately and may soon face his toughest campaign since he was first elected to Congress in 1974.
He's an idealist - a former Peace Corps volunteer - but he's been involved in dubious real estate deals with close pal Edward Downe Jr., an admitted felon, and may have received preferential treatment on his mortgage refinancing from Countrywide's Angelo Mozilo. He was a prodigal senator for several months, moving his family to Iowa in a quixotic presidential bid, but now has been entrusted to focus on the details of reinventing the U.S. financial system. He is one of the Senate's masters of procedure, but, man, he sure blew it with the AIG bonus loophole. "I feel badly for Chris," fellow Connecticut senator Joseph Lieberman told reporters, adding "There's a certain unfairness to this ... Part of the intensity now is that everybody is so anxious about the economy."
That intensity is building in Chris Dodd. What worries the financial industry is that the senator has become a wounded bear, one who will go out of his way to protect his reputation as a defender of the people and maul the banks in the process. And he has the power to do it. In the grand and urgent project of restarting the nation's banking machinery, it is Chris Dodd in the Senate who will have the final say, as much as Barney Frank in the House, Tim Geithner at Treasury, or Larry Summers in the White House. Which is why, all things considered, Dodd chose the banking role rather than presiding over, say, the Senate Foreign Relations Committee, a chairmanship that was his for the taking when Joe Biden gave it up in January. Despite Dodd's bumpy road so far, his old friend Ted Kennedy predicted in a statement to Fortune that his colleague will prevail: "I respect him now more than ever."
These are electrifying days on the Hill. As Dodd mused recently, a senator might serve for decades and still move the needle only 10 degrees right, 10 degrees left. Then comes an opportunity like the present. "I think there have been four or five times in our nation's history - the founding of the republic, the Civil War, obviously the Great Depression, World War II - where what we did as a country was determinative of whether we'd survive as a country," he said. "I think we're in that kind of moment again.
***
Dodd has been in the thick of every piece of legislation since the crisis began unfolding. It was Dodd who persuaded the ranking Republican on his committee, Richard Shelby of Alabama, to support legislation last summer that led to the government takeover of Fannie Mae (FNM, Fortune 500) and Freddie Mac (FRE, Fortune 500); Dodd who championed the Troubled Asset Relief Program (TARP) bailout in the Senate in September; and Dodd, in a caucus room in the Capitol in January, who got his Democratic colleagues to line up behind President-elect Obama's economic stimulus plan.
Then things really started heating up. In February, Dodd slipped an amendment capping bonuses for TARP beneficiaries into the $787 billion stimulus package, and Wall Street went ballistic. "I'm trying to save capitalism, while some people are trying to save a paycheck," Dodd scoffs. Six weeks later a different mob turned on the senator, accusing him of championing the loophole in the amendment to allow AIG (AIG, Fortune 500) executives to collect $165 million in bonuses. At first Dodd denied knowledge of the loophole; a day later he clarified his position to say he just hadn't realized the loophole's consequences and blamed the Treasury for asking him to allow it.
Geithner later conceded it was Treasury's idea, out of concern over lawsuits, but the damage was done, and Dodd was left raging about being made the scapegoat. He declined to speak to Fortune about the episode but declared at the March 20 press conference, "I'm disappointed, frankly, that those who requested this kind of a change didn't have the courage to stand up a couple of days ago and admit they were the ones who asked for it." Yeah, well. "That's not a good thing for a senior U.S. senator to say anyway, is it?" says Stuart Rothenberg, editor of The Rothenberg Political Report. "'I had nothing to do with that'? 'I forgot to tell you, I'm totally irrelevant up here.'"
Dodd will have to get past his bitterness quickly, because now the administration has asked for much more: vast power to take over not just banks but also struggling insurance companies, hedge funds, and private equity firms. All that is part of what Dodd calls the "big-ticket item" on his spring agenda - nothing less than rewriting the rule book on financial regulation.
***
Dodd is "first and foremost somebody with extraordinary political skills," says veteran Democratic consultant Tad Devine. "He likes the rough-and-tumble, the back-and-forth, and he's pretty good at it. But he doesn't burn so many bridges that he can't deal with other people in his own party or on the other side as well."
Maybe that's because as the second-youngest of six offspring, he's been negotiating all his life. His father, two-term senator and Nuremberg prosecutor Thomas Dodd, was a household name in Connecticut. After Providence College, after the Peace Corps, after law school at the University of Louisville and three terms in the House, Christopher Dodd came to the Senate as one of only two new Democrats elected, with 16 Republicans, in the Reagan landslide of 1980. Committee pickings were slim. "By the time they got around to us, there was one seat on agriculture, one seat on foreign relations, and two seats on banking," says Dodd. Since the other guy was from Illinois, "I took foreign relations, and he took agriculture, and we both went on banking."
Later Dodd added a seat on health, education, and labor - a notoriously "acrimonious" committee, he says - with Ted Kennedy. They were seriously rowdy bachelors together in the 1980s (when Dodd briefly dated Bianca Jagger), but that was a long time ago. "He fell in love and got married and has children," says Dodd fundraiser Tom Flexner, a former Bear Stearns vice chairman who is now at Citigroup, "and we're all older and more tired these days."
Most of the legislation for which Dodd is best known - notably, the Family and Medical Leave Act of 1993, which he wrote and co-sponsored with, among others, three Republicans - has dealt with family issues and consumer protection. When financial companies wanted to toughen up the rules for personal bankruptcies, "he was instrumental in holding off the banks for 10 years, during which 15 million families made it through the bankruptcy system while it was still less expensive and more efficient," says Harvard Law School professor Elizabeth Warren, chair of the newly formed Congressional Oversight Panel (COP), which monitors TARP expenditures. Opposing the bankruptcy bill "was a move that had no political payoff," Warren adds. "It made the banks angry."
However, Dodd also played a crucial role in the 1999 passage of the deregulatory Gramm-Leach-Bliley Act, which dismantled key provisions of the Depression-era Glass-Steagall Act, breaking down barriers among commercial banks, investment banks, and insurance companies. In fact, according to Ed Yingling, head of the American Bankers Association, Dodd was the bill's unsung hero. "It was about to die," says Yingling, "because [former Republican senator] Phil Gramm, on a side issue, was just hardballing it. There were seven or eight of us who were chief lobbyists for the industries. What we were saying was, 'We're running out of time. If we can get Chris Dodd in the room, we can work it out.'" They got Dodd, and Dodd got it done, but Dodd doesn't like to talk about it anymore. Not when he's trying to rebuild vital parts of the same regulatory framework he helped knock down. "I regret we didn't pay more attention to this at the time," he admits. "We're not going to go back and rewrite that. We want to be able to have those kinds of efficiencies in the system. But clearly the division between commerce and banking - that needs to be a bright line."
All his career, Dodd has had to finesse close ties to the very industries and individuals he oversees. His reputation, says Sarah Binder, a senior fellow at the Brookings Institution who studies Congress, is that he has "listened very carefully to the views of both Greenwich, Conn., where the hedge funds are located, and the insurance industry in Hartford." Which maybe isn't surprising, given that nearly a third of the $43 million Dodd has raised for his campaigns over the past 20 years came from the finance, insurance, and real estate sector, according to OpenSource.org. Among the big donors on Dodd's list: PACs and persons associated with Citigroup and AIG, as well as alleged Ponzi schemer Alan Stanford. "I've never cast a vote, taken a position, based on someone's contribution," Dodd insists. He donated the Stanford money to charity and says he will refuse money from PACs associated with TARP recipients. Unlike Barney Frank, however, Dodd will continue to accept campaign contributions from top executives at most TARP firms, just not AIG. "Barney and I may be in different positions politically," says Dodd, acknowledging his recent dip in the polls. "Barney may not have an opponent the next time."
What has irritated voters back home and boosted the prospects of challenger Rob Simmons, a moderate former GOP congressman who has pulled even with Dodd in polls, is a steady ticktock of disclosures about Dodd's potential conflicts of interest. The Senate Ethics Committee is looking into two mortgage refinancings he obtained under allegedly preferential terms from subprime lender Countrywide Financial. The way he acquired a country estate in Ireland and a condo in Washington has raised questions about the favors he may have received from wealthy friends. (In all these cases Dodd has denied he got special treatment.) The latest uncomfortable disclosure is that his wife, Jackie Clegg Dodd, served from 2001 to 2004 as a director of a Bermuda-based company that was closely affiliated with AIG. "We had the race as 'safe' when we started rating at the beginning of the [2010 election] cycle," says Rothenberg. "We've already moved it one category, to 'clear advantage,' and I don't think we're very far from moving it to 'narrow advantage.'"
Dodd moved to Des Moines with his wife and two young daughters in October 2007, part of his hard-fought but hardly noticed campaign for the presidency. Three months later he finished a distant seventh in the Iowa caucuses, behind "uncommitted." He dropped out the next day. The upshot: Just as the mortgage crisis was gathering, Dodd was otherwise engaged. "It was a bit of a distraction," says Frank, understating the obvious. Dodd likes to talk about the 79 Banking Committee hearings he presided over in 2007 and 2008. But it's clear that during a critical time his focus was elsewhere, and that Frank, who chairs the House Financial Services Committee, stole the spotlight while he was away.
"Dodd ran for President. It didn't work out," says a former Fed official, now a financial industry lobbyist. "It was very clear that Dodd wanted to be in the Obama administration - he wanted to be Treasury Secretary. That didn't work out. He's now back in his role as the chairman of the Senate Banking Committee, and he wants to be seen as a relevant player. We're hoping that manifests itself in constructive ways and not in just populist ways that will have lots of unintended consequences."
***
The legislative challenge Dodd faces has three parts: (1) to acknowledge after decades of steady deregulation that unchecked "faith in the marketplace" is no longer warranted; (2) to replace said faith with a modern system of rules and regulations that guarantees there will be no more catastrophic meltdowns; and (3) to somehow accomplish No. 2 without sucking all the creativity and imagination out of the American financial services industry.
Some of this has been tried before. After the S&L crisis, and again after Enron, Congress drafted and passed pieces of legislation to reform the system around the edges, notably the Sarbanes-Oxley Act of 2002. But the complexities have been too mind-numbing to streamline and modernize the patchwork of agencies that has sprung up since the Civil War to oversee aspects of the financial system. "It was too heavy a lift, with a lot of lobbying to keep the status quo and no populist aspect to it at all," says a Senate aide who's been working on those issues for 20 years.
That word - "populist" - holds a clue to what Dodd has in store. It is too soon to say what kind of legislative raw material his committee will be dealing with when the time comes. Treasury Secretary Geithner outlined his proposal on March 26 on Capitol Hill, but the details still have to be worked out. For Dodd, regulatory reform starts with consumer protection. He introduced a predatory-lending bill last session that would protect homeowners from mortgages they could never hope to repay, the principle being that consumers are the canaries in the coal mine when it comes to systemic risk. Protect them, and you'll protect the system. "It won't be a question of people making choices," Dodd says, describing what he has in mind. "There will just be banned activities."
Like the administration, Dodd wants to empower a "systemic-risk regulator" - probably the Fed, although Dodd worries about compromising the central bank's independence and may want to involve other agencies - to monitor the health of the financial system as a whole; incredibly, no institution does that now. He's looking at how to align Wall Street incentives with the long-term health of an enterprise rather than short-term personal gain (hence his emphasis on curtailing bonuses). And he wants to find a way to link all the parties in the loan-securitization process so that everyone has some skin in the game - no more rogue brokers collecting signatures on blatantly toxic assets and handing off the risk to the next guy.
But his starting point in all this is that what needs robust protection is not so much banks but the customers they serve. Whether that means a federal clearinghouse for exotic financial products - "so that people actually know what these things are" - or something like a financial products safety commission, akin to the Food and Drug Administration, he hasn't decided yet. The bottom line, as one staffer puts it, is that Dodd sees the current fiscal calamity as a "spectacular failure of consumer protection."
***
It's late afternoon on Ash Wednesday, the first day of Lent. Dodd is behind schedule. He has spent part of the day at the White House with a handful of congressional leaders discussing regulatory reform with President Obama and his economic team. Now Dodd must hurry or he'll be late for Mass. He rushes downstairs, exits the Capitol through a basement door, scurries past his waiting driver, and proceeds on foot the several blocks toward St. Joseph's on Capitol Hill. He needs the ash on his forehead.
"When I go home," Dodd says, crossing Constitution Avenue in the fading light, "people don't ask me about the warrants, or the accountability standards, or how much transparency there is, or what am I doing about systemic risk. I mean, some do, obviously, like community bankers and businesspeople who are knowledgeable. The average person looks at me and says, 'What are you doing? You're writing a check [for bailouts]? And 700 people at Merrill Lynch on average got $5.1 million? What are you people thinking?' You know? You cannot explain this to them."
So you go after the bonuses - that's his point. You build political capital. Then you do what you have to do to save the system. This is how it works. Only for Dodd, it's not working now. He tries to help the industry, he takes a beating. He tries to punish the industry, he takes a beating. "It could just be a case of bad luck," says an industry lobbyist, "all the cosmic tumblers clicking against him." For this he waited all these years?