Recharging Detroit
The future of the U.S. car industry hinges on cutting-edge battery technology. Can Motown catch up to the rest of the world?
Photos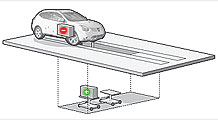 (Fortune Magazine) -- After years of churning out giant gas-guzzlers, lobbying against fuel-economy standards, and refusing to repent even while begging Congress for a bailout, the humbled and chastened Big Three gathered recently at the Detroit auto show to finally embrace the electrification of the automobile.
A main attraction was the battery that powers GM's Volt. The battery was an ugly thing, a hulking 6-foot tall, 400-pound, T-shaped monstrosity that stood upright at center stage in the auto show like a giant cross promising one last chance at salvation for the crippled American car industry.
The Obama administration has become a believer too, making clear that the best way to save the U.S. car industry is for Detroit to build clean cars. The recently passed stimulus package includes $2 billion in grants for advanced battery manufacturing, and the Department of Energy is disbursing $25 billion in low-interest loans to encourage companies to build green vehicles. President Obama's goal is to have 1 million plug-in hybrid cars on the road by 2015 - although that's only a fraction of the nation's 250 million vehicles.
Since nothing in the fleet of advanced electric vehicles soon coming our way - not even their simple, toylike motors - is nearly as important as their giant battery packs, a procession of politicians and industry leaders are proclaiming the arrival of a new, multibillion-dollar American battery industry that will soon generate thousands of green jobs across America's recession-ravaged heartland. In January, Michigan governor Jennifer Granholm signed a bill providing $335 million in state tax credits for car-battery makers locating in her state. "We want to be the battery capital of the world!" she said.
The question is, can America build a competitive battery business fast enough to compete with the Asians? The odds don't look good. For basic battery R&D, the U.S. is depending on a few small companies, such as Ener1 and A123 Systems. Asian giants like Sanyo, NEC, and LG have been mass-producing the batteries for years. Unless the U.S. changes its ways dramatically, it is likely to get creamed in the Great Battery Race - making it even tougher for Detroit's auto industry to stage a comeback.
***
A turning point occurred several years ago when lithium ion emerged as the chemistry of choice to power the next generation of hybrids, plug-ins, and all-electric vehicles. The rechargeable lithium-ion battery is a remarkable piece of technology - the main reason your cellphone fits into your shirt pocket - smaller, lighter, more powerful, and longer-lasting than anything that had come before. It's still very expensive and has safety issues (remember those laptops bursting into flames? That was lithium batteries overheating). But if lithium-ion chemistry can live up to its promise of transforming the automobile from gas to electric power, it may rank among the greatest technological achievements of the early 21st century.
The problem for the U.S. is that Asia's battery makers are now attacking the car market with a vengeance. Not even choked credit markets and plunging car sales could stop the stampede: Last fall Panasonic bought Sanyo, the world's leading lithium-ion battery manufacturer, for $9 billion, to supply Toyota (TM) with batteries for new versions of its popular Prius and other hybrids. Around the same time, Nissan and NEC Corp. announced a $1 billion joint investment in battery development. Japanese and European battery makers - but no Americans - were swarming into Bolivia looking for contracts to mine salt flats for lithium. (Enough lithium exists in the world to build 1.2 billion cars, enough to replace the global fleet nearly twice over, according to a recent report by Michael Lew of ThinkEquity, an investment bank.)
And when the Chinese battery powerhouse BYD, which entered the car business only a few years ago, boasted that it would become bigger than Toyota by 2025, few snickered (see "Buffett Takes Charge"). According to the investment management firm Alliance Bernstein, the global market for lithium-ion car batteries could reach $150 billion by 2030 - more than Ford's sales for all of last year.
Industrialists the world over understand what is only now dawning on Detroit: The handful of companies that end up controlling the battery industry will also control the car industry. Electric-car companies want to be located near their battery suppliers to save shipping costs. They also want to be near markets with the biggest potential - countries where high gas prices make the economics of buying expensive electric cars far more attractive. On both counts that means Europe and Asia, not the U.S.
Batteries will give car companies their competitive edge. They will determine how fast your car can accelerate, how far it will go on a single charge, how quickly it can recharge, and - since it can account for as much as half the cost of an all-electric vehicle - how much you'll pay for it. A battery for an all-electric car now costs between $10,000 and $20,000. This spring BMW will lease to a small group of customers in the U.S. an electric Mini whose battery has an impressive range of 150 miles but is estimated to cost a whopping $30,000 - that's for the battery, not the car.
Over the next few years, the market will basically divide in two: all-electric cars and plug-in hybrids. Renault-Nissan CEO Carlos Ghosn, a big supporter of purely electric cars, reflected the growing view that a sea change was taking place when he told reporters at a plant opening last summer that any car still using oil was "unsustainable." "I want a pure electric car," he said. "I don't want a range extender. I don't want another hybrid. It's going to be zero emissions."
If he's right, cars may soon no longer need an internal-combustion engine, transmission, muffler, air filter, spark plugs, or any other part from last century's age of the gas-powered engine. However, the limited range of most pure electric cars - 100 or so miles on a charge - make them ideal for city use or short hops in the suburbs. Because of that, they aren't likely to capture more than 1% to 5% of the global auto market by 2015, according to IBM Global Business Services. Toyota, GM, and other automakers are betting on plug-in hybrids that run on a combination of batteries and a conventional internal-combustion engine that keep going as long as you keep the tank full. Battery makers, meanwhile, don't really care about the mix of the fleet. They know the global car industry has reached a tipping point: It's going electric.
Because battery technology will become the core competency that defines the modern car company, it will hardly be the kind of intellectual property you'd want to outsource to a foreign auto-supply company. Sure, GM (GM, Fortune 500) can assemble those T-shaped battery packs for the Volt domestically. But the most crucial aspect is developing a safe, reliable chemistry and using that proprietary technology to mass-produce the hundreds of cells required for a single battery pack. Too bad for GM that the cells for the Volt actually will come from a Korean company, LG Chem.