Paging Doctor Broadband
The house call isn't dead - it's just gone online. How doctors are using the Internet to take the hassle out of health care.
Photos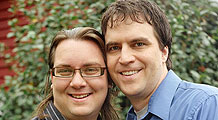 NEW YORK (Fortune) -- Over the past few weeks, Dr. Irving Harper, an internal medicine physician on the Hawaiian island of Maui, has seen scores of patients worried about the Swine Flu. He's talked to panicked patients with nothing more than sore throats or sniffles, and, in almost all cases, he's been able to reassure them that additional action isn't necessary.
And he's done it all via the Internet.
Dr. Harper is one of a growing number of physicians in the U.S. who provide online diagnoses and other medical advice using technology from American Well, a three-year-old upstart that aims to help employers manage health-care costs by reducing in-person visits to doctors and emergency rooms. In many situations, the company posits, an online "visit" can provide employees with the advice and reassurance they need -- as Dr. Harper's recent experience suggests.
"What this system brings to the table is a way to extend health care into people's homes," says American Well CEO Roy Schoenberg.
Indeed, many consumers have grown accustomed to conducting a slew of daily tasks online: We turn to the Web for matchmaking, tutoring, tax advice and customer service. So why not health care?
Here's how Boston-based American Well works: Qualified health care providers log on to register that they are available for consultations (their virtual "office hours," if you will) and are pooled by specialty (such as internal medicine, pediatrics or cardiology). At the same time patients call in or log on through their health plan's Web site and review profiles of available providers, possibly even their own doctor. The virtual visit begins when the physician accepts a patient's request to be seen, initiating a real-time interaction via Web-based videoconferencing, online chat, the telephone, or some combination.
A key component of the system is the patient's ability to give the provider access to his or her personal health records. These appear on screen in the form of files from the health plan with the member's medical history, and in some cases, a file from Microsoft's Health Vault, with whom American Well has a partnership. If neither option is available, the patient can take a guided assessment prior to connecting to a physician.
Based on the patient's profile and symptoms, the provider offers advice and may even prescribe medications. When the session ends, payment is deposited in the physician's bank account, while the patient is encouraged to forward the consultation notes to his or her primary care provider.
Last year the Hawaii Medical Service Association (HMSA) was the first customer to sign on with American Well. The system went live this year in mid-January with 140 physicians in 23 specialties registered. HMSA members pay $10 per 10-minute consultation ($5 for an additional five minutes). Nonmembers can also use the service for $45 per session. American Well collects a fee per transaction in addition to the upfront cost for licensing and deployment of the technology.
The concept just might be contagious. In April, Blue Cross Blue Shield of Minnesota came on board and has already begun deploying the technology to its employees who will give it a test run before a full rollout next year. Health care plans in several other states are also interested, as are drivers of health care reform in Washington, says Schoenberg.
"We looked at a few different models, nurse help lines or physician call back numbers, which are a part of what this offers," says Minnesota BCBS CEO Pat Geraghty. "But American Well seemed to have the most comprehensive approach and we liked that it really involved our provider network."
It's still too early to judge the success of online care, but HMSA providers and members are voicing their support. Physicians embrace the extra income and being accessible to their existing patients, coupled with the flexibility of setting their own hours outside the office. "I live in Maui. I have no intention of being at the office past 4:30," Harper says. Plus there's no scheduling, filing or chasing payments involved.
Toby Morris, an on-the-go contractor in Kailua on the island of Oahu, was concerned about an upset stomach that wouldn't go away. HMSA's online care connected him to a doctor on the other side of the island in Honolulu. "She eliminated the two things that would have sent me to the emergency room," Morris says. "It's so much more convenient for me to find out right away rather than plan an appointment days away."
While online care seems best suited for addressing flu symptoms, headaches, stomach pain and the like, it also has potential for other clinical settings, like follow-up visits after a transplant or monitoring chronic conditions like diabetes. These patients often face mobility challenges and need to be seen frequently. If a patient lives in a remote area--like the island of Maui or rural Minnesota--and needs to see a specialist, distance can be an obstacle. With online care as an option, there's a greater chance these patients will follow through with treatment.
Last but certainly not least among the benefits of online care are the cost savings for a patient's employer and health plan. "Employers are interested," says Geraghty. "Employees take up to half a day for a visit. If you could have an online transaction, it saves a lot of time and productivity."
Some health care providers, including doctors, worry about the risk of misdiagnosis or the chance that a critical symptom might be overlooked.
In cases where a patient really needs to be seen in person, the physician can advise them to go to urgent care or make an appointment with their primary care provider. To be sure there are other hazards as well, which will emerge as online care evolves.
But the greater gamble seems to be not exploring new treatment options like online care.
The U.S. faces an alarming shortage of physicians. As the Boomer generation ages, there's a need for more doctors just as many are retiring. If the Obama administration succeeds in providing universal coverage for Americans, demand for physician services will surge. An obvious solution is to find ways to better allocate the physician resources we do have and American Well's online care is a promising start.