Bing: My own stress test
The banks got into trouble because they were careless. So now they're assiduous. I liked them better before.
Recent Columns
Archive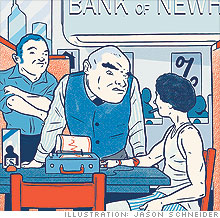 (Fortune Magazine) -- It all started when mortgage rates plummeted a few months ago. I read the papers and said to myself, "You're paying 6.75% on your loan for this apartment. Rates are in the high 4% range now. You should probably refinance." Since I always listen to myself on such matters, I decided to look into it. If I had known what I was in for, I would have slapped myself silly. Instead I let the bank do it.
The bank, you see, has to lend money. It has a huge department dedicated to doing that. But now, after having been stupid about it, the bankers have to pretend they are smart, at least for the time being. Each and every individual there has to fulfill his or her part of the loan-approval process in such a way that nobody will say to them one day, "Why did you approve this deadbeat?" They solve this problem by becoming assiduous.
In my case it began smoothly, as all nightmares do before they turn. I called George, the bank officer who had provided my previous loan. "You're preapproved!" he beamed. I thought, "What a nice bank."
A few days later I received a letter in the mail. It came from what they called a senior loan consultant in their Speedy Approval Department. I will call her Salim, for that is very nearly her name. Salim began by offering me best wishes. She then asked me for ...
"A copy of my child support/separation agreement to verify liability amount, a letter of intent for current residence and proof of monthly co-op fees, an explanation letter for the disputed tradelines appearing on credit report: Citi #54247459, #54675 and Ballys #2601437091005, evidence mortgage statement for property now held elsewhere in escrow, otherwise will require proof of taxes and insurance, a letter of explanation for the following deposit(s) made on 01/27/2009, including documentation as to the source of these funds, a copy of the signed sales contract for the sale of the property; satisfactory verbal verification of employment from borrower's current employer, a satisfactory and fully completed appraisal report for the subject property, supporting the proposed value of the apartment in question, a UCC-1 Filing Authorization to the Bank Attorney or Settlement Agent (attached), the Recognition Agreement, signed by you and the managing agent of your Cooperative Board, to the Closing Agent/Bank Attorney prior to closing, in triplicate, a copy of your Stock Certificate in the Co-op, a completed Co-op Project Questionnaire, 2 Years Audited Financial Statements and Tax Returns, the first two (2) pages of the Proprietary Lease, the ground lease, sponsor amendments, Master Hazard/Liability Certificates evidencing satisfactory coverage for: General Liability, 100% Replacement Cost, Fidelity Bond Insurance, Property, Rent Loss, Boiler/Mach and Umbrella, plus a copy of the preliminary title binder for the subject property."
After I attended to my nosebleed, I sat down and thought for a while. What had I gotten myself into?
Things went from bad to worse. Every document needed at least two pieces of paper for backup, which then required additional documentation. Sometimes things got "lost." I began to have trouble sleeping. Then one morning I got an e-mail from the Speedy Approval Department. Salim wrote, "There are issues pertaining to the Title of your building. The Loan will not be approved until they are resolved." I called my lawyer.
It appeared that two things were at work. First, a tenant in one of the 120 co-ops in my complex had a beef with his air-conditioning repair company. During a subsequent lengthy e-mail chain that eventually involved the general counsel of the bank, Salim stuck to her guns. An indemnification letter would not suffice. The tenant in question had to pay his air-conditioning bill. Second, there appeared to be a person in Staten Island by the name of Bing who had a lien against him. The fact that I was not that particular Bing was not considered germane. It took me nearly three weeks of interrogation to prove to them that this Bing had nothing to do with that Bing, and even then they were dubious.
Last week, when all seemed perched on the verge of success, I got an e-mail from the Speedy Approval Department requesting my appearance at a certain time and a certain date at Room 101 of the corporate headquarters. "For final adjudication of this matter," the note said. It was not signed.
That was a week ago. I'm happy to tell you that I did get my refinancing package through at last. And in the end, I don't think I had to sacrifice too much.
It's amazing what you can do without a pinkie.
STANLEY BING's latest book is "Executricks, or How to Retire While You're Still Working' (Collins), available at finer bookstores everywhere. He can be reached at bingblog@gmail.com. For more Bingstuff, go to his Web site, stanleybing.com.