Is Digg the Jan Brady of Web 2.0?
The once-hot site is undergoing a major upgrade to keep pace with Facebook and Twitter. Will users dig it once again?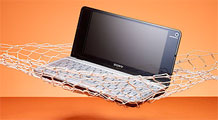 Netbooks are models of portability. But can you stare at those little screens all day? Our reviewer put three to the test.
NEW YORK (Fortune) -- Digg, the once-hot social news website, has become the middle child of the premiere web 2.0 companies.
Facebook has attracted an older, loyal following, and Twitter is the darling of tech and media circles. Now Digg is pushing through growing pains -- the company is adding a slew of new features and its executives are aggressively promoting the site -- in the hopes of winning more users and recapturing some of its earlier buzz.
CEO Jay Adelson says Digg's overhaul of new features will build a stronger experience for its current 36 million users -- and attract newcomers.
"I want Digg to be an international force in providing a global pulse of what's happening in the world," Adelson says. "All our focus is on users of the community and giving them what they want."
The features Digg has rolled out in the past few months reflect this: creating story suggestions, making it searchable and enabling a toolbar. But two of the projects under development -- fresh efforts to attract online advertising and a push to become a "real time" service (a la Twitter) -- seem squarely aimed at making sure Digg remains relevant to marketers and influencers alike.
During its launch five years ago, Digg was credited with redefining the way people read online news. Founder and chief architect Kevin Rose gave the power back to the people. A simple "digg" meant the reader liked the story and the piece with the most "diggs" made its way onto the home page. To date, about 20,000 stories are submitted a day, 150 of which make it onto the home page.
Traffic has soared, quadrupling from 2006, and now, most news sites let readers "digg" a story. It has definitely proven its place on the Internet, even creating what is commonly referred to as the "Digg" effect, where sites temporarily crash because Digg directs so many readers there. It was considered revolutionary.
Much has happened in the 2.0 world since. That's not to say Digg isn't loved -- the geek squad still chases and screams after Rose like he's Brad Pitt -- but Digg just isn't..."it" now.
"They don't have that sort of vibe of being the darling of Silicon Valley anymore," said Charlene Li, digital strategy thought leader of Altimeter Group. "The problem is people don't think about going to Digg. They go to Facebook and Twitter."
And that's the strange and tough position Digg is in. It's doing well -- with tens of billions of Digg button impressions a month -- but all day long the Internet world hears how great Twitter is at this or how wonderful Facebook did that. It's always Facebook, Facebook, Facebook, as Jan Brady would say.
Even though its reach has gotten broader and bigger through the years, Digg's growth or traffic numbers don't really stack up next to Facebook and Twitter. In May, Digg came in at the 301st most-visited site in the country, compared with Twitter at 42 and Facebook at five, according to Hitwise, an online traffic measuring company. (Google (GOOG, Fortune 500) is number one.)
It's not entirely fair to compare Digg to these two social media giants, which both CEO Jay Adelson and analysts say serve a different purpose. With Facebook and Twitter, that's a place to engage in conversation, while Digg is more a bookmarking and aggregation tool.
By comparing Digg to its bigger (and different) Web 2.0 brethren, it's easy to forget that Digg is the champ in its division -- and pounding the competition. Digg had almost 25 million unique visitors worldwide in May, according to ComScore figures, slaughtering its closest rival Yahoo Buzz, which only had 9 million visitors for the same month.
Digg stays above the fray because of its dedicated user base and strong algorithms that have made "tons of imitators fall by the wayside," Li says.
That's why they've gotten so much attention over potential acquirers through the years. Persistent speculation about possible deals with Google and Microsoft (MSFT, Fortune 500) penetrated the web (rumors ranged from $200 to $300 million), and then there was talk that Digg might go public. But Digg's done with all that for now, saying all the talk was too much of a "distraction" from work, and now Digg's concentrating on its new features.
Its lineup includes Digg Ads, which industry analyst Josh Bernoff says is "brilliant," where users can Digg or "Bury" ads in the same fashion that they do with stories now. These sponsored placements will rotate through what is commonly referred to as the "river," or Digg's home page. Some power users are already skeptical of how it'll change Digg's appearance and wonder if it'll actually work, considering how easy it is to Bury on the site. Either way, Digg's already got big names like Intel involved, and Bernoff says Digg Ads will finally give advertisers an opportunity to get direct, immediate feedback.
"If you have an ad that is pretty interesting or attractive, you'll have an opportunity to be recognized or promoted in every atmosphere," Bernoff says.
Rose says the Digg team is also developing an algorithm, based on current user patterns, that will "find the hot stories before they become hot" so it'll be more real-time, although they don't have a clear mobile plan as of yet. That's expected more in the next six months or so.
So will these features solve Digg's identity crisis? Analysts think it's the step in the right direction, but Digg needs to look further and be careful. Bernoff thinks the most important part of the equation is Rose, who should be celebritized more for the Digg brand, whereas Li says Digg should watch its growth because its most interested buyer, Google, doesn't typically buy big companies.
Regardless of how innovative these features may be or how much it's ruling the pack of social bookmarking, Digg should worry about its bigger competition. Only makes sense to, says Mikolaj Jan Piskorski, associate professor of strategy at Harvard Business School.
"Twitter is kind of like Digg, but on steroids," Piskorski says. "Twitter can replicate the functionalities of Digg. Suppose Twitter wanted to generate a Twitter page with the most tweeted links for the hour, then what does Digg do?"