Syfy: Not your father's sci-fi
The Sci Fi Channel gets more than a new name with its 'rebrand.'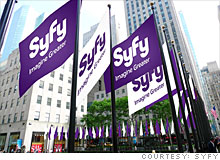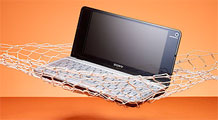 Netbooks are models of portability. But can you stare at those little screens all day? Our reviewer put three to the test.
NEW YORK (Fortune) -- At 6 a.m. today, the Sci Fi Channel officially became Syfy, and if fans commenting on its site are to be believed, science-fiction lovers everywhere went into a self-satisfied state of mourning, convinced that the corporate makeover of their fringe fantasyland was at last complete. As one fan wrote, "NBC is what happened to Sci Fi."
But on the Web, as in life, hard-core fans aren't always the best judge of business strategy. Syfy parent company NBC Universal's USA and Bravo networks have both undergone high-profile revamps in recent years, with what most would call positive results. And at the Sci Fi Channel, says network president Dave Howe, transformation has been a topic of conversation for years. "We were always talking about changing the name," says Howe, "because it didn't capture all that we could do. The network wasn't just about aliens, space, and the future, but that's what people thought when they heard Sci Fi."
Rebranding a successful network is no small undertaking, though, and so executives took only small steps, such as updating the logo in 2002. And whatever the limitations of the "Sci Fi" moniker, they didn't stop the network from growing, culminating in 2008 with its best year ever: Average viewership grew 7% to 1.3 million total viewers, making Sci Fi the No. 5 cable network with adults 25-54 and the No. 9 network among adults 18-49, according to Nielsen. (Female viewers, who make up 45% of total network viewership, also increased, with a 13% spike in women ages 18-49.)
These milestones, along with the spreading global dominance of sci-fi- and fantasy-themed film, television, and gaming properties, actually made the issue of rebranding all the more pressing, as Sci Fi looked to expand onto new platforms, into bigger businesses, and around the world. As the network explored its possibilities in gaming, mobile and films, "Sci Fi" proved problematic. Because the word itself was just an abbreviation of an existing genre, it was impossible to trademark. "That might not have been an issue when we started in 1992 and there were a handful of networks just on television," says Craig Engler, Syfy senior vice president of digital, "but today, you'd type 'Sci Fi' into Hulu, and, sure, you'd get hundreds of results. But not one on the first page was a Sci Fi Channel show." Hulu has since partnered with the network to rectify that, Engler says, but it's emblematic of Sci Fi's ownability problem -- one that execs couldn't fix without changing the network's name.
Then there was the question of global presence: Last year, Sci Fi had 15 channels primarily in the West. By the end of 2010, Syfy will reach 50 channels globally. In many of those places, "Sci Fi" is as much a nonsense word as "Syfy" -- and it presents myriad comical pronunciation possibilities to non-English-speakers, as Howe is fond of demonstrating. ("Skiffee," anyone?)
That may sound like a whole lot of spin, but the numbers have already begun to bear out the business case for this multimillion-dollar rebrand. According to Chris Czarkowski -- who, in a vote of confidence from NBC Universal, became Syfy's first dedicated ad sales representative last year -- news of the rebrand drew 12 new advertising clients to the network in the first quarter. "These are high-end clients who wouldn't have considered us before," says Czarkowski, citing Cheerios, Twizzlers, and embedded automotive and travel advertisers for network hits "Eureka" and "Ghost Hunters," which is cable's No. 1 show on Wednesday among adults 25-54.
For advertisers and viewers alike, the essential hurdle has been envisioning Sci Fi Channel as more than niche programming. That shouldn't be so hard given science fiction's increasing mainstream cachet with films such as "Transformers: Revenge of the Fallen" bringing in big box-office numbers, says Czarkowski, "but when I walk into a presentation and ask who's a sci-fi fan, only a few people will raise their hands. Then I'll ask what movies people saw in the last year. "Ironman?" "Dark Knight?" Do they like "Star Wars" or "The Matrix?" And all these hands go up. Then someone might say, 'Okay, but my wife or daughter doesn't like it.' And I'll ask, 'Well, did they see "Twilight?'"
It's those fans -- fans who don't even know they're fans -- that Howe hopes to attract with Syfy's "brand evolution." That's why the rebrand will launch with the premiere of Syfy's newest addition, "Warehouse 13," a show about two federal agents sent to a remote warehouse that holds the world's supernatural relics. "It's a human story -- about relationships, about isolation -- and when we tested it, people said they'd never expect it on Sci Fi," says Howe, who also counts the upcoming "Alice" miniseries (based on "Alice in Wonderland") and "Battlestar Galactica" prequel series Caprica among the network's diverse offerings. "It isn't about abandoning our dedicated fanbase," he says. "It's about including all those people who don't realize Syfy has anything to offer them. The point at which we change identity is when people don't see us so narrowly."
Of course, the Sci Fi Channel's notoriously vocal fanbase isn't necessarily inclined to believe Howe, so the rebrand has been a carefully orchestrated process of fan chats and focus groups that Howe says has muted the backlash a bit and brought new fans onboard. "We all thought we were going to get laughed out of the room when we walked in to the focus group to show this for the first time," Howe says. "But they loved it. They thought it looked cooler, more innovative, like a fun, modern brand they'd want to check out. It was an amazing moment, actually."
And even getting to the focus group stage was a slog, as execs -- anticipating the response to anything less than a stellar idea -- labored over potential names and logos. "I'm sitting in my office, bleary-eyed, staring at hundreds of S-C-I-F-I logos created by some of the best talent in the country, lamenting the fact that no matter what we do, how sharp a design we create, we can never really own a category," says Michael Engleman, Syfy vice president of creative. "I knew how important our roots are, and knew where we wanted to go in the future, and I asked myself a simple question. What if we could change the name without ever changing the name? Five minutes later, with a ballpoint pen and a piece of scrap paper, Syfy was born."
Since then, the logo has been at the root of a massive marketing plan. An entire nine-page document was devoted to the question of how to present it in press and advertising materials (in black, white, or purple -- and never, ever, in a box) and intercaps -- Syfy or SyFy? -- were the subject of heated debate. But the logo's most important role, says digital head Engler, has been as a symbol of a new, happier, more relatable Syfy. "It allows us to do so much more," he says. "The letters just look like they'd be great big plush toys, the 'y's smile at you, and the added dimensionality and expanded color palette inspire the design of all the branding, especially on the site. There was only so much that could happen with purple, black, and Saturn."
Endless opportunity, naturally, has also meant endless work for Syfy's rebrand task force, helmed by creative head Engleman -- from the minutiae of overhauling the network's stationery and stenciling, to huge projects, such as creating an elaborate two-minute "brand film" to introduce the new Syfy brand. (Called "House of Imagination," it stars a slate of network talent and visual effects by the Moving Picture Company, whose credits include "Watchmen" and "Harry Potter and the Order of the Phoenix.")
And there have certainly been bumps: After careful changeover negotiations with all the cable providers, the Syfy team was horrified to find last week that Time Warner Cable had mistakenly posted the new branding -- with (gasp) intercaps! And the week before that, as promotional cards for "Wyfy from Syfy" in New York City were hitting the presses, Engler -- looking over a prototype passed around the task force meeting -- noted they didn't actually include the new syfy.com address, sending the young woman overseeing them rushing out of the room to catch the printer. Then there was the announcement, a few weeks before that, that the Empire State Building would not in fact be purple for July 7. (There had been talk.)
Syfy was officially unveiled in the form of giant letters this morning at "Imagination Park" -- a Syfy creation featuring props like a giant View-Master, from the brand film -- in Manhattan's Rockefeller Plaza. Syfy will also be providing public Wi-Fi for a year in Rockefeller Plaza and, starting later this summer, in Union Square and other pedestrian hubs in Manhattan. While the service stresses Syfy's civic-mindedness, says Howe, it offers the additional upside of directing the million projected users to a Syfy-branded login page. And Syfy will be sponsoring "Movies with a View" at the Brooklyn Bridge this summer, as well as a retrospective of Tim Burton's work at New York's Museum of Modern Art starting in November.
And all this, the Syfy faithful hope, will be enough to woo both the sci-fi faithful and fresh fans around the world to -- as the new tagline goes -- Imagine Greater."