Cognizant stays hot
The IT firm grows while rivals suffer, but can it continue?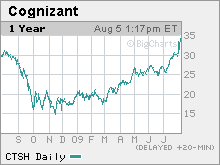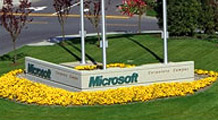 After a bleak 2008, equities are looking up. But whatever the market, our trademark long-term portfolio can help you build a nest egg for a secure future.
(Fortune Magazine) -- The economic downturn has been hard on information technology outsourcing firms, which in recent years had relied on Wall Street for growth.
Some, like $26 billion Infosys Technologies (INFY), expect to post their first-ever sales declines this year. Research firm Gartner forecasts IT spending to fall by 6% this year to $3.2 trillion.
But one firm is emerging from this slump in style, and analysts expect its stock to rise even after recent gains.
Cognizant Technology Solutions (CTSH), the only major U.S.-based outsourcing and offshoring firm, announced Tuesday a 36% rise in second-quarter earnings to $141 million. The stock jumped more than 10% during the day.
Like its rivals, most of Cognizant's employees are based in India. But where many India-based outsourcing firms have been hurt this downturn by the decline of low-level financial work, such as processing mortgage applications, Cognizant has grown.
"I'm a firm believer that when we look back at this recession, whether it's 12 months or 24 months from now ... [we'll] say it was a key turning point for Cognizant to differentiate itself," said COO and CFO Gordon Coburn in a recent interview from his New Jersey office. Coburn expects sales to grow by 11.5% this year, boosted by strong clients like J.P. Morgan Chase and a booming health-care business.
The secret of Cognizant's success is twofold. First, most of Cognizant's business comes from mid-level outsourcing work -- e.g., testing a bank's new trading software. It fills the sweet spot between the most basic offshored work (like call centers) and the top-tier outsourced consulting work dominated by IBM (IBM, Fortune 500) and Accenture (ACN).
"We're in the best of both worlds," says Coburn.
Cognizant's other secret is avoiding fads. When some IT firms loaded up on Y2K work in 1999 -- then went bankrupt soon after projects dried up -- Cognizant was already exiting the market. It did the same before e-business projects vanished after the tech bubble burst.
"They've resisted the temptation to go after easy business," says Ajay Krishnan, who manages the Wasatch Ultra Growth Fund (WAMCX) and owns Cognizant shares.
Krishnan believes Cognizant, which had sales of $2.8 billion last year, has plenty of room to grow in what he estimates to be a $700 billion market for technology consulting and software management.
Margin Control
UBS analyst Jason Kupferberg notes that 15-year-old Cognizant has long kept margins at 19 to 20% and reinvested excess profits back into its business. That means earnings were crimped in the boom years, but it also means that before the downturn, Cognizant had trained employees in new areas of demand like healthcare to replace lost sales from Wall Street.
"I'm not talking about some new decision they made when they saw the economy imploding," Kupferberg says, "I'm talking about a general strategy and mindset that they've employed for as long as they've been public. Now they've got stronger client relationships than some of the India-based firms."
A recent concern for investors has been Cognizant's heavy reliance on financial services. Nearly half its sales last year came from the troubled sector.
In part, Cognizant has been lucky. Only a small percentage of revenues came from defunct banks like Lehman Brothers and Washington Mutual. "Dancing between the raindrops," is how Kupferberg describes its. And one of its largest clients is JPMorgan Chase (JPM, Fortune 500), which is emerging as Wall Street's most powerful bank.
Financial services revenues were flat in the most recent quarter after falling just 2% in the first quarter, "which was pretty much unprecedented [and positive,]" Kupferberg notes.
Still, Cognizant is likely to grow sales less than 50% in 2009 for the first time in three years. Analysts like Morningstar's Swami Shanmugasundaram are asking where future growth will come. "This model is not going to work forever," he says.
For now analysts say Cognizant looks like a smart buy. The stock trades at 20 times estimated earnings for the next four quarters, well below its five-year median of 35.
Citigroup's Ashwin Shirvaikar expects profits of $1.68 a share in 2009 and $1.88 in 2010 Cognizant is the only IT services stock he rates a buy. "They're a pure play on IT offshoring, the only real mega-trend this entire decade," he says.
And he predicts Cognizant will pick up more business at the end of this year, when banks and others look to save costs heading into the 2010 budget-making season. Says Shirvaikar: "You're going to see a lot of IT contracts then."