America's high-speed rail off to a slow start
President Obama may call a nationwide high-speed passenger rail network a priority, but it's going to take a lot more than $8 billion to make it happen.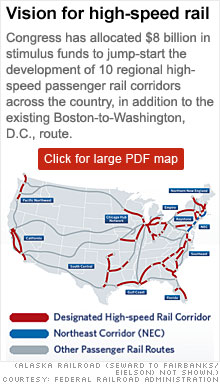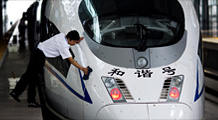 When China's $300 billion high-speed train system is completed, it will be the world's largest, fastest, and most technologically sophisticated. Photographer Benjamin Lowy captures the epic project and reveals its human side.
NEW YORK (Fortune) -- Though Thomas the Tank Engine earned a loyal following of American children in the 1980s and 1990s through his popular PBS television show, real trains have long been out of favor with the American public. Even Thomas was a British import.
Indeed, the fact that an early 20th-century steam locomotive -- and not a sleek, high-speed model -- so captured the modern young American imagination is an apt commentary on the state of train travel in the United States: The country lags years behind some of its peers.
America has 457 miles of high-speed track from Boston to Washington, D.C. In Japan, by comparison, trains netting speeds up to 188 miles-per-hour cross 1,360 miles of track; France features 1,180 miles of rail to support trains that can travel up to 199 miles-per-hour; and, as Bill Powell's article, "China's Amazing New Bullet Train," shows in the latest issue of Fortune, China aspires to dart even farther ahead with its $300 billion high-speed rail project.
But President Barack Obama hopes to bridge this gap, emphasizing the importance of developing a nationwide high-speed rail network in several of his speeches. Just a month into his tenure, the President successfully urged Congress to dedicate $8 billion of February's stimulus funds towards the system's development.
"What we need ... is a smart transportation system equal to the needs of the 21st century," Obama said in a speech in April, the same month the Federal Railroad Administration released its prospectus for the high-speed program, "Vision for High-Speed Rail in America." "[We need] a system that reduces travel times and increases mobility, a system that reduces congestion and boosts productivity, a system that reduces destructive emissions and creates jobs," Obama continued in phraseology typical of his rhetoric. But it remains to be seen whether the U.S. government can translate "talk" into "walk" when it comes to high-speed rail.
"No one expects we are going to begin, let alone complete, the high-speed rail system with $8 billion," says FRA spokesman Warren Flatau. But the stimulus funds represent the "groundwork for a more sustainable program of funding in the future."
Last month, 40 states -- both individually and in groups -- submitted 278 pre-applications for various stimulus-funded high-speed passenger rail projects, amounting to $102.5 billion in requests. Final applications are due August 24, and the FRA will begin distributing funds in September.
Though it has until September 2012 to obligate all monies, Flatau expects "ready-to-go" projects, such as system upgrades that will help existing trains travel faster, to be among the first to receive funds because they are most likely to deliver the government the "biggest bang for the buck" -- advancing both the high-speed rail system and America's recovery efforts through job creation.
In addition to the Boston-to-Washington Northeast Corridor, the federal government has targeted ten regions for high-speed rail development since the early 1990s. These include a California Corridor spanning from Sacramento to San Diego and, as of July 2, linking Los Angeles to Las Vegas; a Chicago Hub Network spreading in all directions from the Windy City to the greater Midwest; and a South Central Corridor that forks from Texas into both Arkansas and Oklahoma.
Though the corridor outlines have guided the planning process, Flatau says they do not necessarily represent the final plans for the nation's high-speed rail network. "Nothing has been predetermined," he says, citing environmental considerations and land rights as potential hurdles.
In July, Congress gave high-speed rail an additional boost when the House of Representatives set aside $4 billion of its $68.8 billion fiscal 2010 transportation and housing appropriations bill to aid the high-speed passenger rail program, which awaits Senate approval. Secretary of Transportation Ray LaHood may still choose to devote $2 billion of this money to the proposed national infrastructure bank, which will make loans for future transportation projects if Congress approves its creation next year. Regardless, $2 billion for high-speed rail amounts to twice the $1 billion President Obama initially suggested the federal government would spend on the program each year.
The President has stressed his hope that the U.S. will someday boast a high-speed rail system to rival its European and Asian counterparts and transform transportation in this country in much the same way that the Interstate Highway System did since the 1950s. But when it comes to high-speed rail, a few billion dollars only goes so far.