Arena Resources drills for an oil recovery
With a strong balance street, the oil and gas producer is poised to bounce back when energy prices go back up.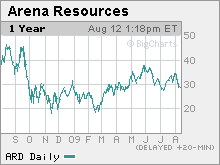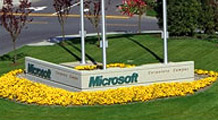 After a bleak 2008, equities are looking up. But whatever the market, our trademark long-term portfolio can help you build a nest egg for a secure future.
NEW YORK (Fortune) -- Arena Resources has pleased investors with rocket-fueled growth, but the oil and gas producer seems to have hit a wall.
Falling energy prices have cut into the company's latest quarterly results, with revenue down 56% and income down 42% from the previous year, while oil prices fell 54% and gas prices dropped 61%. Its stock is down about 21% over the same period.
But Tulsa, Okla.-based Arena's results beat Wall Street expectations as drilling costs fell along with oil prices; and the company had a strong enough balance sheet to weather the downturn. Arena has more than $68 million in cash and a $150 million credit line that it has yet to tap. And it has no long-term outstanding debt, in large part because it funds its acquisitions with cash flow.
Now energy prices may be moving in Arena's favor. The decline in oil consumption that began last year should ease up by the end of 2009, the Energy Information Administration said in its July monthly report; and a rebound in global growth would stabilize and increase demand and prices for oil and gas.
"The price of [West Texas Intermediate] crude oil is expected to average near $70 per barrel through the second half of 2009, an increase of about $18 compared with the average for the first half of the year," the EIA wrote in its report.
The EIA predicts that natural gas prices, which are expected to remain below $4 per thousand cubic feet (Mcf) until late this year, should increase to just below $6 per Mcf in 2010 if economic growth increases industrial consumption of natural gas.
Against this macroeconomic picture, Arena (ARD) said during its earnings call last week that it plans to increase capital spending in 2009 by $20 million to $85 million in response to the rebound in oil prices. Among other things, it has added a second rig in its largest field, the Fuhrman Mascho field, and is planning 40 more wells there, bringing the number to 120.
Every time the price per barrel of oil increases by $1, it generates about 10 cents in incremental cash flow per share, Neal Dingmann, an analyst at Wunderlich Securities, wrote in a recent report. "With costs under $20 [a barrel] to produce oil... we believe Arena provides investors some of the highest exposure to oil price moves."
Arena's business model allows it to keep production costs low. Rather than spend a lot of money looking for new oil and gas fields, Arena acquires U.S. properties that other companies no longer want to explore, but which still have reserves and can provide immediate cash flow. Since its founding in 2000, Arena has bought oil-and-gas producing fields in Texas, Oklahoma, Kansas, and New Mexico, further explored these proven properties, and extracted even more resources.
The company is trading at a price-to-earnings ratio of 16, versus 17 for the S&P 500, according to Morningstar. While Arena's valuation is only slightly less that of the S&P, it is a substantial discount to the company's five-year average P/E of 29. The average Wall Street estimate predicts that Arena's earnings will decline by more than 62% in 2009, but grow by nearly 54% in 2010.
For investors who believe that we're in the midst of a global recovery and that energy consumption is about to zoom higher, now might be a good time to buy Arena.