Renovating Home Depot
That's part of CFO Carol Tomé's job, and after the housing bust it's tougher than most - but the lessons are valuable for anyone.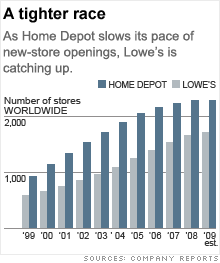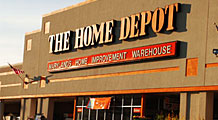 When your company depends on housing - and housing goes bust - it's time to try something different
More
(Fortune Magazine) -- Think the recession has been tough on you? If you're in the housing sector, like Home Depot, this is the downturn's fourth year.
The company's revenues are down, and the stock has dropped 36% over that period -- but revenues have held up at its rising competitor, Lowe's (LOW, Fortune 500), and its stock hasn't suffered as much.
All of which makes life more than interesting enough for Carol Tomé, 52, Home Depot's CFO since 2001. Her boss, CEO Frank Blake, thinks highly of her; he has expanded her responsibilities to include the company's growth initiatives and real estate portfolio, and he has called her "the central nervous system of the company." Analysts think she could be a future CEO.
Born in a log cabin hospital in Jackson, Wyo., Tomé (pronounced toe-may) is very likely one of the few Fortune 500 CFOs who knows how to brand cattle. Her father owned a bank, and as a university student she intended to work in it -- until he sold it. From a career perspective that was probably a lucky event. She talked recently with Fortune's Geoff Colvin about the outlook for housing, the state of the U.S. consumer, leadership in tough times, and much else. Edited excerpts:
Home Depot has as great an interest in the housing sector as any company in America, so you spend a lot of time developing an outlook on housing. What's the outlook now?
We look at every housing indicator you can imagine, and the statistic that we seem to be most correlated with is private fixed residential investment as a percent of GDP.
The 60-year average is 4.8%. At the height of the homebuilding market, that number stood at 6.3%. At the end of the first quarter of 2009 the number stood at 2.7%, so there has been a huge contraction, which has certainly impacted our business. Between 2006 and 2009 our sales will be down about $15 billion.
So I look at the number 2.7% and 60 years of data and say, Hey, it's logical to assume that the worst is behind us. Could there be continued contraction? Sure, but that serious, significant decline that we've experienced should be over. That gives us some comfort that recovery will happen. The question is when.
And what's the answer?
We don't know. I wish I could give you a definitive date, but we don't have it.
We've also seen that the housing crash is highly regional. What have you learned?
We've seen great variability across the country, and one thing that we are looking at very closely is foreclosures. In states like California, where we saw foreclosures accelerating, our comps -- same-store sales -- in the first quarter were worse than the company average, but in states where foreclosures are decelerating, like Indiana, our comps were better than the average.
If there's a silver lining in any of this, could it be that foreclosures are a good thing for Home Depot? Anybody who buys a house in foreclosure almost certainly needs to fix it up.
There is always a silver lining. When homeowners come into a foreclosed home they need to do some work. They often need to clean the house, and we've got a wide variety of cleaning products. They need to replace the carpet, paint, replace the faucets, perhaps the window coverings -- so yeah, we see a real opportunity there.
Housing is at the center of this recession. Do you have an economic forecast?
For the home improvement sector we were forecasting a contraction in 2009, and that's turning out to be true -- with the first half worse than the back half, and that's turning out to be true. As we build our plans for 2010 and beyond, there's a lot of inconsistency in what we're hearing, a lot of wanting to believe that the recovery is soon upon us. Our approach is to be more conservative. If we're wrong and the upside happens before we plan, that will be great.
Home Depot spends a lot of time and effort studying the U.S. consumer. What's the state of the U.S. consumer today?
For the consumer shopping in our space, their spending patterns have changed dramatically. There's been a real shift away from discretionary big-ticket projects to the core repair and remodel. In this year's first quarter, tickets of $50 or less were basically flat year over year. But tickets of $500 or more were down by double digits. People are coming into our stores, but they're shifting how they're spending.
We also know that credit is an important part of the value proposition, and the U.S. consumer's ability to get credit is lower than it was a year ago. The credit quality of our customers is quite high, but we think perhaps consumer credit will keep tightening.
So that's your environment. How has the company responded?
First we wanted to make sure that we kept our associates, the men and women on the floor of the store, totally engaged. In an environment where a lot of companies were cutting back, we said no. We are going to invest in those associates. We're going to pay merit increases, pay bonuses, make contributions into the 401(k) plan. We're going to be singularly focused on them so they can take care of the customers.
We introduced something we call power hours inside our stores. In the hours when traffic is heaviest we stop all activity that is not customer facing -- pack-down activities, say -- and spend 100% of our time taking care of customers.
Meaning everybody in the store?
Everybody. Even if you're in the receiving area, if you're in the vault, you come out on the floor. It's a wonderful experience. We hear from 100,000 customers a week more or less. They rate us on a number of attributes, and our scores are better than they've been in three years. So the voice of the customer is telling us we're doing the right thing.
A lot has happened from an expense and capital allocation perspective as well. We made some really hard decisions last year, including the closing of 15 stores. We removed 50 stores from our new-store-opening pipeline. We exited our [high-end] Expo business, 34 stores that we closed earlier this year. We reduced our support staff by over 2,000 people. We made the right choices to take care of the customer and preserve the company for the long term. Part of the choice that we made was looking at our square-footage growth and saying, Hey, this country is over-stored. We're going to rationalize square-footage growth and reallocate capital into activities inside our stores that should help the customer experience.
Adding stores used to be something that Home Depot did on a mammoth scale. Now that has almost come to a stop within the U.S. That's a strategic choice. Is there a danger that you may be at a competitive disadvantage some years down the road? Because you have a strong though smaller competitor in Lowe's (LOW, Fortune 500), which is expanding more aggressively.
You can't win the game by square-footage growth. You win by the customer experience, making sure that service is there and the products are there at the right price. We realized over the years that you could continue square-footage growth because there's plenty of real estate out there, but you'd dilute returns. That is not in the best interest of the customer or the shareholder.
We have a three-legged strategy, and you will recognize this from Jim Collins's book "Good to Great." What are we passionate about? We are passionate about our customers. What are we the best at? Product authority. And what drives our economic engine? Productivity and efficiency. It is no longer driven by square-footage growth.
We're still going to open stores -- we're opening 13 stores this year. But it's not about that any longer. It's about how do we get more sales per square foot in the existing stores? We do that when the market recovers, and we do that by capturing market share. The market share focus is something we are starting to show great results on.
In a recession practically every company has to decide what it's going to cut and what it absolutely will not cut. How did you decide?
We really let the customer make some of the decisions for us. Investing in the associates was a decision that I mentioned. Reducing our support staff was a hard decision. We lost 10% of our officers. They were personal friends of mine, they'd come to my house for dinner, and they are no longer there. That was hard. But it was the right thing to do for the company. In the first quarter we were $80 million under our expense budget. We're finding opportunities that you wouldn't believe -- we're so big that a small change can mean real money.
For example?
We have a pro desk inside our stores. The professional contractor is a very important customer to us -- 3% of our transactions and about 30% of our business. We serve coffee at the pro desk. By changing the brand of coffee -- not stopping the coffee, because coffee is important -- but by changing the brand we will save our company $500,000. It doesn't take too many $500,000 decisions to make a penny per share.
Another key strategic decision is pricing. In your space you have to decide whether you'll use everyday low pricing, the Wal-Mart strategy, or use promotions. You've been on both sides of that choice. What's your thinking now?
Our thinking is everyday value. Every product in our store has a role and intent, and they drive the pricing strategy. Two examples. Think about insulation -- we should be the destination for insulation. When you say, I need to put some insulation in my ceiling, we should be top of mind. So when you come into Home Depot (HD, Fortune 500) for insulation, we should be the very best price, the lowest price in town. That would be a destination category for us. Now think about batteries. Are we top of mind when you need a double-A battery? No, that's an impulse product for us. We will have a good price, but we don't have to be the best price.
Imagine the power of assigning role and intent to everything we sell. We said we would grow our gross margin, and in each of the past seven quarters in the U.S. our gross margin has increased. We're able to bring great values every day to the customer and still grow our gross margin.
Can you give more detail on that? Lots of people would love to know how you grew gross margin in this environment.
We've moved off the promotion, and when you don't repeat promotions from the prior year you get a margin benefit. We've also looked at our assortments and decided that for some categories we're happy where we are. We are the No. 3 retailers of appliances. We're happy being No. 3. Appliances are a low-margin category. If you don't increase the penetration of the low-margin categories, you can grow your gross margin.
When a company has a prominent competitor, like Lowe's, differentiation becomes really important. How is Home Depot going to differentiate itself?
Today one point of difference is that we have more stores and are more convenient, but that will erode over time if they continue on their path of opening stores while we are rationalizing our square-footage growth.
So then what is the point of difference inside the store? It is really that belly-to-belly experience between the associates and the customer. The customers who are shopping us today are saying they see a difference. Our challenge is to invite back those customers who may not love us because we've disappointed them. We need to invite them back so they can experience that point of difference.
From a merchandising perspective, I will tell you that if you go to our hand-tools or power-tools aisle, we've got a broader assortment than anyone in town. We have great prices, and we should always win on product. But what is the stickiness? The stickiness has got to be about the human experience.
What are the financial measures on which you reward store managers?
An interesting point -- we changed it for our store managers. They have a financial bonus and a nonfinancial bonus, and for the financial bonus you have sales and profit. We changed the weighting so it is more heavily weighted on profit, and in an environment where expense control is so very important, guess what happens -- they are all focused on expense control. The store managers understand it impacts their wallet. So we are seeing a tremendous performance across the board from an expense control perspective. You know, you can drive behavior based on how you compensate.
The Employee Free Choice Act, generally known as card check, is a huge issue for Home Depot, with 300,000 non-union employees. Does it worry you less now than it did six months ago?
We are worried about it because we think it is just wrong. It has morphed a bit [with a key provision weakened in the latest version], and that we think is very good news. But we think it's wrong.
Any expectations about what's going to happen with it?
No, but let me tell you what will happen. We will do the right thing for our stores. When we talked to our store associates and said, Why would you want to join a union, you know what we learned? It is really not because of our pay. It is because of the relationship they have with their boss. So the most important thing for us is to make sure that our store manager can call each of his or her associates by name without their apron on and know something about them -- to create that connectivity, the family within the store, which keeps any organizing activities outside, regardless of what might happen.
Financial organizations are traditionally very male, and there aren't many women CFOs in the Fortune 500. What's the key to becoming one?
The key is to surround yourself with the very best talent. I am currently blessed. I have the best financial team in corporate America, I believe, and with them we have done just great work.
You're the only senior manager at Home Depot who has worked for all four of the company's CEOs -- Bernie Marcus, Arthur Blank, Bob Nardelli, and now Frank Blake. They are radically different human beings. Tell me honestly -- what is the key to your longevity at the top of the company?
It boils down to a few things. I am really passionate about the business. I am not kidding -- you cut me, and I will bleed orange. I love the business. I also know the business. When I started in the company 14 years ago, I knew the company only as a customer. I didn't know it from a retail perspective or a merchant perspective, and I learned very quickly that I needed that knowledge. So I put on an apron and worked in a store. I know the numbers, but I know the drivers behind the numbers even more, and I think that has really helped throughout my career.
Bernie Marcus told me when I became the CFO, "Carol, I think you're charming, and you can use your charm on Wall Street." I was, like, okay. Then he said, "But I won't know that you're really doing your job until somebody calls you a bitch." I said, "Well, I can do that too." Listening to the advice that I get now, I might have taken Bernie's advice a little bit too literally.
What have you learned about leadership from the experience of these past two or three years?
I've learned a lot. I've learned that it is really about the power of the team and the importance of alignment. You've got to break down silos, particularly in an environment like this. The only enemy we have is the company headquartered in North Carolina [Lowe's]. We need to be aligned as a team, and we have made great progress in that regard.
I've learned that you've got to have a sense of humor. We've had some dark days, and the ability to just crack a joke or laugh for a minute really does help. It really is important to laugh at yourself and to say, Okay, I blew that, but that's okay. Pick yourself up and keep going on.
And never lose sight of the customer. At the end of the day it all comes back to the customer. The more time you can get out of the office and spend time talking to the customer, the better it is.
--Are you planning on buying a new house or investing in your current house during the next year? Send us your comments and see follow-up responses from C-Suite editor Geoff Colvin.