Texas bank hit by California dreaming
Although the failure of Austin-based Guaranty Bank looms, its problems reflect the housing bubble in the Golden State rather than issues at home.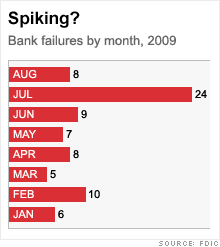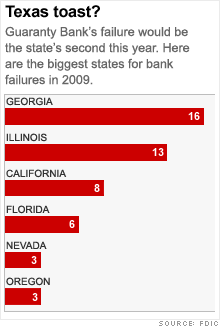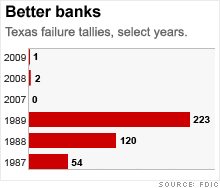 Map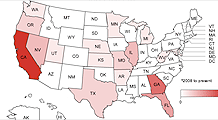 NEW YORK (Fortune) -- Bank regulators have a Texas-sized problem on their hands -- though it's easy to see much of the trouble resides farther west.
Guaranty Bank, an Austin-based savings institution with $13.5 billion in assets, is expected to be seized by the FDIC by the end of the week. According to multiple reports late Wednesday, Spanish bank Banco Bilbao Vizcaya (BBV) has won the bidding for Guaranty.
Representatives for the FDIC and Guaranty were not immediately available for comment.
A private equity group led by investor Gerald Ford -- who got a federal bank charter in November so he could buy failed banks -- also reportedly made a bid for Guaranty. Other banks said to have expressed interest were JPMorgan Chase (JPM, Fortune 500) and Toronto Dominion (TD), which made a failed bid for Florida's BankUnited when that bank was auctioned by the FDIC in May.
Guaranty's (GFG) closing would mark the second-biggest bank failure of 2009, after last week's collapse of Alabama's Colonial Bank, which was seized by the FDIC and sold to regional bank BB&T (BBT, Fortune 500).
Guaranty reiterated Monday that it doesn't expect to survive following its failure to raise new capital. The bank lost $174 million in the second quarter, according to its latest quarterly report to the Office of Thrift Supervision.
Shares of Guaranty, which counts corporate raider Carl Icahn and hotel mogul Robert Rowling as prominent investors, have plunged more than 95% in the past year.
Guaranty would be just the fourth Texas bank failure since the financial crisis started in earnest two years ago. But like so many of the biggest bank failures in this cycle -- including Washington Mutual and IndyMac -- Guaranty owes many of its problems to the excesses in the frothy California housing market.
Option adjustable rate mortgages make up almost a third of Guaranty's single family mortgage portfolio, according to investor presentations on Guaranty's Web site. Option ARMs figured prominently in the WaMu and IndyMac failures as well.
Guaranty also had $1.2 billion of loans to homebuilders, primarily in the overbuilt California market. Guaranty made some headlines this spring when it bulldozed 16 houses in foreclosure in an abandoned development in Victorville, Calif.
Guaranty's failure would be the second-biggest ever in Texas, according to Federal Deposit Insurance Corp. data -- trailing only the July 1988 collapse of First Republic Bank of Dallas, which had $17.1 billion in assets.
But as big as Guaranty's failure would be, it's still a far cry from the bad old days of the 1980s, when Texas banks failed by the score after a construction boom fueled by surging energy prices went bust.
Between 1980 and 1994, 599 Texas banking institutions failed. In 1989 alone, 223 Texas banks or thrifts were closed -- an average of four a week.
"We in Texas should have fewer problems than other states this time around, and of course it's nothing compared to the 1980s," said Dick Evans, CEO of Cullen/Frost Bankers (CFR), the San Antonio-based parent of Frost Bank, a $15 billion institution that acquired some failed banks during that period.
While Texas bore the brunt of the savings and loan crisis, it has escaped the worst of the current financial meltdown, in part because its housing market never got as bubbly as those in California and Florida.
The state ranks right in the middle of the pack in terms of foreclosures, with the 26th highest foreclosure rate in the nation, according to RealtyTrac.com. The top five are the housing bubble states of Nevada, California, Arizona, Florida and Utah.
What's more, the Federal Housing Finance Agency said this spring that Texas house prices dropped only 0.6% over the past year.
But while the Texas banking industry's problems pale next to those two decades ago, few are expecting a sharp recovery, either.
"It will turn at some point," Evans said. "But I don't see a lot of growth, and we've still got a lot of confusion out there. We could use a little bit of confidence."