Rio Tinto - China strikes back
Still smarting from its failed attempt to buy into the Australian mining giant, Beijing makes a new bid to secure its supply of iron ore.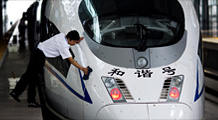 When China's $300 billion high-speed train system is completed, it will be the world's largest, fastest, and most technologically sophisticated. Photographer Benjamin Lowy captures the epic project and reveals its human side.
NEW YORK (Fortune) -- After officials in Beijing last month arrested four Rio Tinto executives for allegedly stealing secrets from Chinese steel companies, China took a brutal public relations beating internationally.
The outcry increased when China said that the businessmen -- including the head of Rio Tinto's iron-ore division in Shanghai, Australian passport-holder Stern Hu -- had been seized by the State Security Bureau and were suspected of stealing "state secrets." That meant they could be tried in secret and, more than likely, not even be able to offer any defense.
Then, on August 11, China announced formally that the four had been arrested, but it had dropped the "state secrets" charge and will apparently base the case on commercial bribery allegations. This was, correctly, viewed as something of a climb down, a tacit admission by authorities that they had overreached.
But it didn't mean Beijing still wasn't angry about Rio Tinto (RTP) having turned away from a $19.5 billion investment that Chinalco -- the state-owned aluminum company -- had planned to make in the Anglo-Australian miner. Beijing's tack now is not just to get mad. It's to get even.
Its fundamental interest in Chinalco buying into Rio Tinto was to break the stranglehold that Rio, BHP Billiton (BHP) and Brazil's Vale (VALE) have on global pricing for iron ore and other key commodities that China desperately needs -- and will need for decades. (Today, those big three account for over 70% of globally traded iron-ore sales.)
Beijing's outrage at Rio walking away from the Chinalco investment wasn't just a fit of pique -- though sources close to the government say there was some of that. It was that Rio turned around and announced a joint venture in iron ore with rival BHP. "This was China's worst nightmare," says a banker who has advised Chinalco.
It's not a nightmare the Chinese are willing to accept. Beijing is now pursuing a policy that could well end up scuttling the Rio-BHP deal -- or may, at the very least, diminish its negative effects over time. Earlier this summer, Chen Yanhai, an official at the Ministry of Industry and Information Technology, said publicly that the Rio-BHP iron-ore tie-up had a "strong monopolistic color." That was a clear warning from Beijing, but mining-industry analysts instantly took to downplaying the prospect that China would object to the deal on antitrust grounds.
But that was before the arrests of the Rio executives made it clear just how angry Beijing is. Two sources -- one a high-level adviser to Australian mining firms, and another close to China's Ministry of Commerce (which administers the country's new anti trust laws) -- say the prospect of Beijing actively opposing the Rio-BHP deal on antitrust grounds "is very real." Indeed, one banker close to the Australian miners says flatly that right now, if "I had to bet, I don't think this deal gets done."
The collapse of the Chinalco investment, and then the arrests of the four Rio executives, came against the backdrop of contentious iron-ore pricing negotiations between Rio and China's major steelmakers. Big Japanese and Korean steel companies got price cuts of about 33% over last year's inflated levels, but China, the world's largest consumer of iron ore, has been looking for reductions of over 40%. For months, the talks had gone nowhere.
Enter the interloper. Andrew Forrest is a 48-year-old former stockbroker, who is founder and CEO of a company called the Fortescue Metals Group, or FMG.
Though not widely known outside of Australia, Forrest is a descendant of one of that country's most famous mining families. His great-uncle in the late 19th century helped open up the same Pilbara region in western Australia where Rio and other global miners today scoop out the planet's purest iron ore.
To hear his backers tell it, Andrew Forrest -- who goes by the nickname "Twiggy" -- could someday be Rio and BHP's worst nightmare.
Last week, FMG announced a deal in which it would supply iron ore to China at a 35% discount from what Beijing's steelmakers paid a year ago -- a slight price cut, in other words, compared to the deal Rio negotiated with the Japanese and Koreans.
Some industry insiders argued that this was a mere "face saving" deal for the Chinese, and Rio seemed dismissive: "We do not see this pricing agreement as relevant to our pricing for fiscal 2009," a Rio spokesman said.
That statement was precisely worded -- and it's precisely correct. The deal with FMG has nothing to do with 2009's pricing struggle. FMG's current capacity to deliver ore is only about 45 million tons per year. (It will now deliver 20 million tons this year -- or about 5% of China's total expected demand in 2009.)
But sources close to the deal say this year has nothing to do with it. FMG, potentially, is a disruptive force in the global metals game. One banker estimates it has sufficient reserves in Pilbara to deliver eventually some 200 million tons annually to the Chinese -- enough to break the Rio Tinto-BHP Billiton stranglehold on the market.
Investing in the infrastructure to develop those reserves is now the subject of FMG's negotiations with Chinese lenders. FMG seeks some $5.5 to $6 billion in loans. If it gets that much it would refinance some existing debt, but more importantly, it would enable the company to expand production and build a rail spur and other infrastructure it needs to get its ore to market.
A source close to the deal says China may be pushing for an equity stake in FMG via the China Investment Corp., Beijing's sovereign wealth fund, but CIC's advisers have cautioned it's not clear the Australian government would sign off on that. (CIC declined to comment.)
Forrest and the Chinese have until September 30 to agree on the financing, under the terms of the pricing deal announced last week. But make no mistake: It has nothing to do with saving face. It is part of a concerted effort on Beijing's part to gain leverage over one of the world's most powerful companies. And it might just work.