Dell: Barometer for a recovery
Analysts and investors will keep a close eye on the computer maker's quarterly results to see if overall tech spending is on the rebound.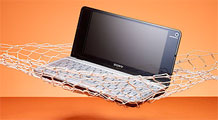 Netbooks are models of portability. But can you stare at those little screens all day? Our reviewer put three to the test.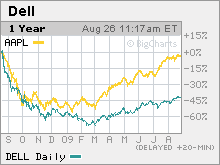 SAN FRANCISCO (Fortune) -- If you've been banging away at work on a computer so long in the tooth you feel like sitting on a saddle rather than on that Aeron chair, the much anticipated PC refresh cycle is looming.
At least that's the view of Broadpoint Amtech Analyst Dinesh Moorjani, who this week upgraded Dell (DELL, Fortune 500) from "neutral" to "buy" ahead of the computer maker's second-quarter earnings which come out Thursday after the market close.
More than any other computer maker, Dell has suffered from its dependence on the corporate market. Sure it's tried to woo consumers with pink laptops and the like, but the company's bread-and-butter has been businesses, whose wallets have remained resolutely shut during the recession.
Moorjani sees them cracking open soon. "Corporations cannot defer IT purchases forever," he told clients in a research note. "We anticipate a PC/server upgrade cycle in 2010 driven by the aging installed base, with upcoming hardware/OS transitions serving as catalysts." What Moorjani means, is that Microsoft's Windows 7 is coming and Dell can take that to the bank.
Since hitting a low of around $8 in late February, Dell's stock price has soared 80%, eclipsed only by Apple's (AAPL, Fortune 500) 87% rise in the same period (Shares of no. 1 computer maker Hewlett Packard (HPQ, Fortune 500) rose 42% in the six-month period).
But whereas Apple's jump was by sales of its products defying gravity in this recession, Dell's increase has been more a function of being beaten down so low it began to look like a steal, rather than any indication that its business was improving. If you look out over the last 12 months, Dell stock has significantly underperformed its peers, down 42% versus a drop of 4% for HP and a 14% decline for the Nasdaq (COMP).
Like HP and Intel (INTC, Fortune 500), Dell brass thinks the worst for the PC industry is behind it. In July, Dell said it expects revenue to come in slightly higher than in its fiscal first quarter, when sales slid 23% to $12.3 billion.
Analysts expect Dell to report earnings Thursday of about 23 cents per share on sales of $12.57 billion. That's still far below last year's second-quarter earnings of 31 cents per share on revenue of $16.4 billion.
Dell hasn't had much good news to report in the last year, and as a barometer for corporate spending in the coming months it's a company to watch. If Moorjani is correct, and all those wheezing PCs are on the verge of getting replaced, Dell and its stock could be in for a very good run. If spending doesn't come back, however, you can expect the beating to resume.