Sprint aims for recovery
The No. 3 cell phone company is offering better phones and improving service. Will the stock rise?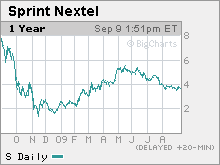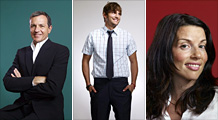 These tech-world luminaries - photographed during our recent Brainstorm Tech conference - aren't just changing the game; they've defined it. Photographs by Robyn Twomey.
NEW YORK (Fortune) -- Sprint's $36 billion acquisition of Nextel in 2005 has been a headache. Sprint Nextel has suffered from poor call quality -- especially on the Nextel network -- poor customer service, and a tepid product lineup.
In the second quarter, 1 million contract customers departed, and Sprint (S, Fortune 500) posted a $384 million loss. This year CEO Dan Hesse, who took over in late 2007, cut 8,000 jobs, improved customer service, and acquired the fast-growing prepaid phone operator Virgin Mobile USA.
Will the moves lift the stock? We talked to two analysts and got their takes:
The bull: James Moorman, Standard & Poor's
Sprint is a turnaround story. First, it is getting better phones, including the Palm Pre, a Sprint exclusive, and the BlackBerry Tour. That will help stem customer losses.
Customer service is improving -- for example, the time it takes to resolve problems has dropped. (Poor customer service really hurt its brand the past few years.) And its prepaid business, while less profitable than the contract business, is showing strong growth.
In the second quarter Sprint's prepaid Boost brand added a record 777,000 new customers. We still expect Sprint to lose contract subscribers through 2010. But we think revenue declines will slow down as the turnaround works. Sales fell 11% in 2008; we expect declines of 7.7% this year and 0.7% in 2010.
In the prepaid wireless industry, Sprint has been beaten up a little valuation-wise because investors perceive a price war going on. Right now Sprint trades at 4.4 times enterprise value to EBITDA. It's attractive to Sprint's historical levels. I'd say it's attractive to even the prepaid carriers, like a Metro and a Leap, which are trading at 4.8 and 5.2 times.
In the wireless market seven years ago we had our first price war. That was followed by a wave of consolidation. And then the wireless market got good again.
You're going to see ebbs and flows in a turnaround. Sprint's doing the right thing but it's a long process.
Sentiment is slightly negative toward the company right now: The stock trades well below historical levels, even accounting for more customer losses. That's what makes it attractive. We upgraded the stock to a "buy" rating in July.
We think it can rise to $6 in the next year.
The bear: Simon Flannery, Morgan Stanley
Sprint's core wireless business, where it gets 86% of sales, has a tough road ahead.
Sprint has lost contract subscribers in 11 of the past 12 quarters. In just the past year, it lost 4.5 million contract subscribers. The reasons include a slowing wireless industry -- 90% of the U.S. market already has a wireless plan -- and increased competition from Verizon (VZ, Fortune 500) and AT&T (T, Fortune 500), which has the iPhone. Sprint recently launched the Palm Pre, but until then its phone selection wasn't competitive.
The stock is not that expensive on a free cash flow multiple basis. But if you take our view -- we expect revenues and profits to continue to decline -- then the multiple increases over time.
Another important thing to note is its balance sheet. Sprint is below investment grade -- it has more than $16 billion of net debt outstanding. It's a significant debt load. To raise cash flow, Sprint has added very little capacity to its network lately. Capital spending was about 4% of revenues in the first half. But most of the wireless carriers are spending (as a percentage of revenue) in the mid-teens. Those spending cuts will be hard to sustain.
In its prepaid Boost business, Sprint has had tremendous success, especially with this unlimited prepaid model at $50. It added more 1.5 million customers in the first half of this year and it appears to be taking share from some of the other players, such as MetroPCS and Leap.
However, there's increased competitive intensity in the last couple of months as competitors have responded with price cuts and new offers. So the prepaid mobile phone industry is going to become more crowded in the second half of 2009. We think the stock can fall to $2.50 in the next 12 months.