SuccessFactors: Small cap, big plans
This software company's forte - employee management - is being sought after during the recession and after.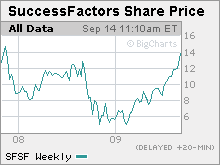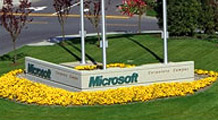 After a bleak 2008, equities are looking up. But whatever the market, our trademark long-term portfolio can help you build a nest egg for a secure future.
NEW YORK (Fortune) -- Since it went public in Nov. 2007, shares of SuccessFactors, an employee-performance software company, have traded all over the map.
If you bought in just after the IPO and hung in through the worst of the market's decline in the past year, you are still slightly ahead, up about 6%. To get there, however, you experienced a freefall during the market's November lows last year, with shares trading as low as $4.61, and a rocket ride back up since then.
The question investors in this $790-million-market-cap company ought to be asking themselves is, can that ride continue? There's reason to believe that it can.
For those unfamiliar with SuccessFactors (SFSF), the San Mateo, Calif.-based company sells a subscription-based service that, to date, has primarily helped companies conduct employee performance appraisals and set and assess employee goals. It's human resources stuff, and while not the sexiest corner of the software world, it has been a popular one during this recession.
In the second quarter of this year, SuccessFactors reported a year-over-year revenue growth of 44%. Thanks to big improvements in gross margin and lower costs, the company also broke even on an earnings per share basis (SuccessFactors has had a positive cash flow since the fourth quarter of 2008). With costs under control and revenue growing, SuccessFactors has been on a relative roll.
Goldman Sachs analyst Sarah Friar has a "buy" rating on the stock and last week raised her 12-month price target from $13 to $16. She sees two large trends keeping the wind at SuccessFactors' back.
One is the overall trend of companies large and small consuming their software via subscription -- the so-called software-as-a-service model that Salesforce.com (CRM) pioneered and which SuccessFactors is built upon. And small and medium-sized businesses (SMBs) make up about half of SuccessFactors' customers.
The other is the return, Friar says, of corporate spending on applications, with greater attention on employee management as both a down economy and a recovering one demands it.
"We are upping our numbers slightly based on stabilizing application spending and improved conditions for SMBs," Friar recently told clients, "combined with the company's continued diligence on cost."
That is the rosy near-term picture for SuccessFactors. Late last week the company brass revealed its longer-term product roadmap, which it is calling "Business Execution Software."
Fundamentally, it is a new set of applications that take SuccessFactors deeper into its customers' companies by marrying its employee performance and goals software with a new set of tools that help employees better align with, and execute on, overall corporate strategy.
If successful, it takes SuccessFactors from the HR office throughout the rest of the company. SuccessFactors thinks that will up its potential market from its current $16 billion to about $36 billion.
Those numbers are clearly theoretical at this point, but you gotta like the ambition. In the near-term, SuccessFactors is riding on an economic recovery and the need for better employee management as hiring ticks up. Longer term, however, if SuccessFactors can help companies execute strategy better with its new crop of software, its small-cap company status might be in for a big change.