Russia settles suit against U.S. bank for a pittance
After two years, a racketeering case is reaching what may be a profitable conclusion for Bank of New York Mellon.
Photos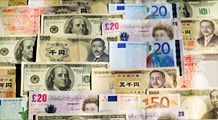 NEW YORK (Fortune) -- A bizarre and troubling civil racketeering case filed against the Bank of New York Mellon by the Russian customs service -- ostensibly brought under U.S. law but filed in a Moscow court -- may be coming to an unexpectedly rational end.
In remarks this morning to the State Duma, the lower house of Parliament, Russia's Finance Minister Alexei Kudrin announced that the case, in which Russia had sought $22.5 billion from the bank, would be settled for about six ten-thousandths of that sum, or $14 million, which Kudrin described as "trial expenses."
Once the case is settled, the bank has pledged to enter into a five-year, trade finance agreement whereby it would extend $400 million in loans to Russian banks at a rate of 2.5% above LIBOR, with debts coming due every six months.
In a report issued this morning by Rochdale Research, bank analyst Richard Bove is calling the settlement "a home run" for the bank, and the loan deal "a profitable piece of business" in itself.
Russia's lead lawyer in the case has been Steven C. Marks, an American plaintiffs lawyer at Miami's Podhurst Orseck. But Finance Minister Kudrin appeared to repudiate Marks' theory of the case in his remarks to the Duma, according to both American and Russian wire service reports, calling the evidence "insufficient to win this kind of case."
Marks did not respond to Fortune's messages seeking comment.
The bank's lead outside lawyers -- Jonathan Schiller and Damien Marshall of Boies Schiller & Flexner -- also had no comment, nor did the bank's executive vice president and deputy general counsel Matthew L. Biben, who has been overseeing the case.
Marks had theorized that the bank was criminally responsible for a scandal perpetrated in the late 1990s by one of the bank's vice presidents, Lucy Edwards. Edwards and her husband pled guilty in 2000 to having helped Russian depositors illegally wire transfer $7.5 billion out of that country via Bank of New York accounts.
Though federal prosecutors investigated the bank for complicity, they chose not to prosecute. Instead, in November 2005 the bank accepted "responsibility" for having failed to adequately monitor Edwards and agreed to pay the U.S. government a $14 million fine, representing ten times its revenue from the wire transfer fees ($1.4 million) generated by Edwards's scheme. (The $14 million the bank will now pay the Russian government is obviously a conscious echo of the sum paid the U.S. government.)
Marks had theorized that by entering into this non-prosecution agreement in 2005, the bank had admitted criminal culpability in Edwards' scheme. Though nothing in the non-prosecution agreement said that, a government press release issued at the time did mistakenly contain language to that effect. (In August 2008, more than a year after Marks filed suit, the Manhattan U.S. Attorney's Office corrected the press release -- deleting the language Marks frequently quoted -- and affirming in a separate letter that the bank had never admitted criminal liability. Nevertheless, Marks never altered his position.)
In May 2007, Marks, whose retainer agreement calls for him to receive 29% of any recovery, brought a civil suit on behalf of the Russian Federal Customs Service under the U.S. Racketeer Influenced and Corrupt Organizations (RICO) Act, seeking $22.5 billion. But rather than file it in federal court in Manhattan, the expected venue, he brought it in the Moscow Arbitrage Court, a Russian commercial court.
Marks' suit alleged, among other things, that Russia had been cheated out of tax and customs duties on the depositors' funds that had been transferred. (Russia never identified any taxes actually evaded, however. Indeed, when the scandal originally broke in 1999, Russian officials downplayed the gravity of what Edwards had done, suggesting that most of her transfers hadn't violated Russian law.)
Had Marks filed the case in Manhattan, it would have faced severe obstacles, including, first, an apparently expired four-year statute-of-limitations and, second, a federal judicial doctrine barring foreign taxing authorities from using U.S. courts to collect foreign tax and customs duties.
By bringing the case in the Moscow Arbitrage Court -- one of a very few instances in which anyone has tried to bring a RICO case outside the United States court system -- these problems were averted. Indeed, the choice of forum was deeply concerning for the bank, because many experts on Russian law believe that arbitrage courts simply lack the judicial independence to be able to rule against the Russian government in a high-stakes case. (For a feature story I wrote in Fortune about this case in September 2008, click here.)
The suit has now been seemingly stuck in the ordinarily fast-moving arbitrage court for more than two years, with the judge, for many months now, urging the parties to settle.
Piecing together wire service accounts from Reuters and Novosti RIA, Kudrin appears to have said the following in his remarks this morning to the Duma:
"Previously, the US Government had brought a case against Bank of New York for money laundering but never found the bank to be guilty of laundering. . . . As a result Bank of New York paid the Government for costs associated with the court case, for mistakes made by some of its employees. This was not a payment in recognition of having committed laundering; in this case the sum would have been much greater. . . . Subsequently, the Russian Federal Customs Service decided to try to prove in a Russian court that laundering took place in the United States with the alleged participation of Russian companies. This type of data or material, simply on the basis of the original legal proceedings in the United States, is insufficient to win this kind of court case. This is why at the moment, as far as I know, the two sides needed to settle, and to pay for certain costs."
Kudrin also characterized the bank's commitment to make the trade-finance agreement as an "act of good will, to demonstrate the bank's desire to work with Russia." He added, "guilt has not been proven and the settlement will be signed.
Read the complete Legal Pad archive