Clutch time for GM and Fritz Henderson
The 101-year-old automaker has a new CEO, a new board, new owners (that would be us), and a new attitude. Now it just needs to build cars and trucks that people want to buy.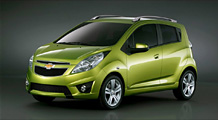 General Motors recently showed reporters and select members of the public what it plans to build over the next two years.
DETROIT (Fortune) -- If you want to understand how the old General Motors stumbled for 30 years until it collapsed into bankruptcy, consider the story of GoFast.
GoFast was a program started in 2000 by Rick Wagoner, then the company's president (and later CEO), to untangle bureaucracy. The idea was simple: When negotiations over an issue reached an impasse, all the interested parties would be put together in one room until they agreed on a decision.
Human resources was assigned to spread GoFast through the company. It trained GoFast coaches, arranged thousands of GoFast workshops, staged GoFast feedback sessions, and distributed GoFast coffee mugs. At one point, GM claimed savings of more than $500 million from GoFast.
But the program took on a life of its own. GoFast workshops were held to eliminate other meetings; eventually the number of workshops reached more than 7,000. In other words, GM held more than 7,000 meetings to discuss how it could hold fewer meetings. Managers might see their performance evaluations downgraded because they weren't holding enough GoFast meetings. "The whole premise of GoFast became going slow," complained one executive.
Don't expect to see many more GoFasts under Fritz Henderson, the man who succeeded Wagoner as CEO last March. It "wasn't helpful for decision-making," he says.
A Detroit rival describes the situation facing Henderson succinctly: "There is a competitive company inside GM. The question is, Can it come out?" Henderson is trying his best. He likes to circumvent rules to make quick decisions on his own. When Buick was mulling names for three new models recently, Henderson approved its recommendations overnight. (The process might have taken months at the old GM.) When potential customers gave a thumbs-down to a proposed Buick crossover in August, Henderson killed the program in a matter of hours.
"We need to be faster, without any doubt," he says in a recent interview in Detroit. "As a company we should take more risks. Part of it is how you behave. It starts at the top and moves down the organization. When people realize speed has real value, they will change."
GM's new board of directors has Henderson on a very short leash. It didn't choose him -- the government's auto task force did -- and he is under exceptional scrutiny. "He has to produce," says GM chairman Ed Whitacre, the plainspoken former head of AT&T. "We want him to succeed, but he's under the gun. Something has to ignite this company."
To make sure it was getting all the facts on the sale of Opel, the board held up the decision until it could thoroughly analyze its options. Henderson has gotten the message. "I think my job is always on the line, but that's okay," Henderson says. "In my case, there are no guarantees."
The city of Detroit wants Henderson and GM to succeed too. Since GM moved its headquarters downtown a decade ago, it has poured hundreds of millions of dollars into the area. Now, though, its Renaissance Center headquarters (developed, ironically, by Henry Ford II in the 1970s) stands one-third empty, and most of the shops and restaurants once patronized by GM employees have closed. There are persistent rumors that GM will move out of town; that would be an economic blow from which the city would be unlikely to recover.
For the next three years Henderson will be selling a lineup of cars developed under Wagoner's regime, which, short of cash, scrimped on product development. GM is introducing some attractive new models, such as the Chevrolet Equinox crossover and Buick LaCrosse. Early indications are that the new models are doing well, but GM is launching them at a slower rate than its competitors.
According to an analysis by Merrill Lynch's John Murphy, GM will be replacing an average of only 11% of its product line between 2010 and 2013, compared with 17% for Toyota (TM) and 25% for Ford (F, Fortune 500). Murphy believes GM's 18% to 19% market share target is optimistic, and a more realistic range is 15% to 16%. (GM calls his data worthless.)
There is no room for mistakes. "The days when GM would launch eight or nine cars, and two would be hits, four would be average, and the rest would be okay is just no longer the case," Henderson says. "We don't have the money to do that, and the market is far more demanding."
Yet GM finds itself in a better place than it has in a decade. The company that Henderson led out of bankruptcy on June 10 is smaller, nimbler, more focused, and less financially stretched. GM will have 34 assembly, powertrain, and stamping plants in 2010, down from 47 in 2008, and 68,500 hourly and salaried employees in 2009, down from 91,650 in 2008. It will market and distribute four brands with 34 nameplates, compared with eight brands and 48 nameplates a few months ago. Just as important, its overhead will be sharply reduced. Structural costs are projected to decrease from $51.5 billion in 2008 to about $30.4 billion in 2010. GM's U.S. hourly labor costs have been reduced from $7.6 billion in 2008 to an estimated $5 billion in 2010.
Something else has shrunk at GM too: its attitude. The old cocky, we're-GM-and-we-know-best way of thinking is beginning to disappear. "Bankruptcy was very humbling," Henderson admits. At times GM seems to be enjoying the unfamiliar emotion of humility. Around headquarters you feel as if you are watching an organization go through a 12-step recovery program. GM is somewhere between Step 5 -- "admitting the exact nature of our wrongs" -- and Step 8 -- "making a list of all persons we had harmed and being willing to make amends to them all."
For sure, there is no room for hubris. By the end of the year Henderson will have swept out 450 of the company's 1,300 executives, including a dozen of the highest ranking. He's replaced them with younger managers who weren't around when GM dominated the U.S. market. In one unorthodox move, he switched designer Bryan Nesbitt from the styling studio to the front office, making him general manager of Cadillac.
One holdover is Bob Lutz, who exchanged his job as head of product development for a new one running marketing and communications. Now 77, Lutz worked at BMW, Ford, and Chrysler before rejoining GM in 2001 and has been campaigning against GM's old, slow-moving, counterintuitive ways.
Lutz regales audiences with bureaucratic horror stories, like the one about the engineer who designed Cadillac ashtrays that met an ancient standard that they operate at -- 40 degrees, but were so rigid they could barely be opened. "GM had a zillion regulations that products had to meet," says Lutz. "Fritz hates to waste time and believes in a lean organization. He looks at the data and then decides."
Sometimes Henderson's speedy decision-making inflicts casualties, and earlier this year Lutz took a hit. Lutz had decided that the Australian-made Pontiac G8 sedan should be renamed the Chevrolet Caprice, since the Pontiac brand was being discontinued. But while Lutz may have decided, Henderson hadn't. He griped publicly that "there's way too much speculation" about the car, and noted, as an aside, "Bob Lutz says a lot of things, but he works for me." Lutz quickly backpedaled. In his blog on GM's FastLane website, he announced, "The G8 will not be a Caprice after all." Summing up the episode later, Lutz said, "I said yes, Fritz said no. It was a 48-hour job."
At 50, Henderson is the third-youngest CEO in GM's 101-year history -- and the first to get his job from the U.S. government. After accepting the resignation of CEO Wagoner on April 30, Steven Rattner of the Treasury Department's auto task force asked that Henderson replace him.
The government is now majority owner of GM. After investing some $50 billion of public money, it owns 60.8% of the company and nominated 10 of the 13 members of the board of directors, including chairman Whitacre. Another board representative came from the governments of Canada and Ontario, which have a combined 11.7% stake in the company, and the 12th was nominated by the UAW's Retiree Medical Benefits Trust. Henderson, the sole insider, was notified of the nominees but had no role in their selection.
Overseeing GM in Washington is Ron Bloom, who is a senior adviser to Treasury Secretary Timothy Geithner as head of the auto task force (he recently added the title of senior counselor for manufacturing policy). Bloom helped arrange GM's federal bailout and push the company through bankruptcy. From his years advising labor unions, he knows the auto industry inside and out, and while he promises not to meddle in GM's operations, he has no problem conferring with Whitacre or checking in with Henderson and other top executives.
Bloom wants GM to start paying the government back next year, and he will watch closely to see how the company performs under new management. "GM has to make great cars, not just okay cars," he says. "The current lineup is not all great cars. They understand what it takes, but now they have to do it."
If GM does, it will be the first time in three decades. When Henderson joined GM in 1984, the company still controlled 40% of the U.S. market, and the famous Sloan ladder was occupied by five brands, starting with Chevrolet and going up to Cadillac. Toyota accounted for just a sliver of the market, and Hyundai hadn't even arrived in the U.S. Besides being the sales champ, GM was the technology leader, its latest achievement being the development of the catalytic converter for exhaust emissions.
Today GM accounts for less than a fifth of U.S. car sales, and it is being challenged by Toyota and Ford for leadership. Hyundai, meanwhile, outpaces every GM brand in quality and outsells every GM brand except Chevy. Unlike Toyota, GM has not developed a successful alternative-fuel strategy and concedes that its much-heralded battery-powered Chevy Volt will be unprofitable for years.
Henderson has spent enough time around the company to know all the key players, but not so much time at headquarters as to have picked up a lot of bad habits. He grew up in Detroit, where his father, a Buick sales executive, worked for GM for 39 years. After the University of Michigan, where he got a degree in accounting and finance, he, like Wagoner, graduated from Harvard Business School, and then, again like Wagoner, went on to GM's renowned New York treasurer's office. That was followed by stints with GMAC, GM's old finance arm, and the former Automotive Components Group (renamed Delphi Automotive). Henderson's personnel file was clearly stamped "high potential."
At age 38, Henderson again followed Wagoner, this time to Brazil, GM's biggest market in South America. Three years later he took over all of Latin America, along with Africa and the Middle East (LAAM). He was already building a reputation as an unusually efficient and decisive manager.
Retired GM executive Warren Browne remembers Henderson asking his staff for 10% reductions in their budgets to cope with an economic downturn. Most agreed, but one manager protested. "You don't understand," he complained. "We have a heavy workload with all these product programs." Henderson looked up, and said, "I understand completely. Let's you and I spend two or three hours together, and I'm sure you can convince me." They did. "When the guy left," says Browne, "he was happy to escape with just a 30% budget cut."
After tours in Asia and Europe, Henderson was named president in March 2008, and CEO effective March 29, 2009.
Some worry that Henderson has been immersed in GM culture for so long that he will be unable to make the necessary changes. All his new appointees, for instance, have been GM veterans. Consultant Rob Kleinbaum, who worked for GM for 24 years, nine years as an employee, says that's too much. "There has been more of a reshuffling of people than a meaningful change of leadership. So while Fritz genuinely wants to make the changes, I am not sure he 'gets it' enough to actually do so. We could be seeing the old trait of just doing enough to get by but not doing enough to really solve the problem." Henderson says there are more changes coming in the next 60 to 90 days.
If life were like college, Wagoner would be the class president and captain of the basketball team, while Henderson would be the guy who collects the tickets, runs the concessions -- and makes money at both. By his own admission, he is less than imposing: Henderson is 5-foot-8 and has a chubby body and a receding hairline.
He certainly isn't a showoff. With a journalist riding shotgun, Henderson negotiated a driving course at GM's Milford, Mich., proving ground in a new Cadillac this August without knocking over any cones but at a speed that wouldn't scare your grandmother.
Appearances don't tell the whole story, though. Henderson played varsity baseball in college, and associates describe him as a physical fitness buff who runs and lift weights, is fanatical about golf, and drives a 2006 candy-apple-red Corvette. More stylish than the typical GM executive, he sports Hermès ties, owns a Patek Philippe instead of a Rolex, and is self-confident enough to wear a small brush moustache, the first GM CEO to do so since Harlow Curtice retired in 1958.
Henderson dispatches even the most mundane duties with a brisk, personable self-confidence that some find inspiring but others may find intimidating. Once you have completed your business with him, you find yourself graciously, yet firmly, dismissed. When the situation calls for it, Henderson can moderate his normal impatience, and adversaries praise his skills as a negotiator.
To those who work closely with him, Henderson is known as "the Machine," and it is easy to see why. During an online news conference with journalists this past summer, he typed 30 answers in 45 minutes on everything from engine options for the upcoming Chevy Cruze to the amount of tax-loss carry-forwards GM would enjoy -- and did so in carefully composed paragraphs without typos. He answered one question from Brazil in Portuguese. Between answers, Henderson traded quips with his aides. When a touchy question about government influence at GM came up, Henderson joked, "[Ford CEO] Alan Mulally gets the softballs. Where are the easy questions like 'What about the new Camaro?'"
Besides blogging, Henderson can tweet. When he finished with the media, he shifted to Twitter and answered 30 questions from employees in 30 minutes, this time in a 140-character format and again without a typo. When, after 11 minutes, his desktop computer shut down for a software update, he shifted over to a laptop without complaint. Henderson dodged several abusive questions, sarcastically referring to one particularly offensive one as "highly constructive," but sympathizing with the sender by noting, "It is good to take a shot once in a while."
In the end, Henderson's success or failure may depend on one factor he has no control over -- timing. By taking over as CEO during the depths of the recession, he has the wind at his back: The economy is picking up, auto sales are starting to recover, and GM has a strong lineup of new models to sell in the next two years. The key will be maintaining a sense of urgency and humility. Step 10 on the 12-step ladder is "Continue to take personal inventory and when wrong, promptly admit it."
The role of underdog is an unfamiliar one at GM, but as long as Henderson can maintain that kind of feeling, the once above-it-all automaker has a better chance of succeeding the second time around.