The Fixers: Prospecting for business in Detroit
It's Brian Holdwick's job to bring new firms to town. Here's how he gets it done.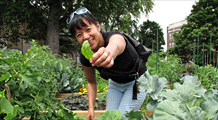 Detroit faces huge challenges but locals here say that they'll soldier on. From community gardens to tech start-ups, here's some of what's keeping the city going.
DETROIT (CNNMoney.com) -- It's Brian Holdwick's job to bring new businesses to Detroit. No easy task when nearly one out of every three Detroiters is now out of work.
Holdwick, 43, is head of business development at the Detroit Economic Growth Corporation, a non-profit organization that serves as the city's economic development arm.
For the last 11 years it's been his job to entice companies to set up shop in an area with high crime, high taxes, often on contaminated or derelict property.
All that boils down to this: it's usually more expensive to open a new company in Detroit than it is to open the same firm in a suburb 30 miles outside of town in a brand new industrial park.
"We recognize it costs more to do a project in Detroit than it does at a new site," said Holdwick, sitting in the organization's office overlooking downtown Detroit. "Our goal is to help bridge that gap."
To build that bridge Holdwick utilizes a variety of tools. Most of them are tax- based and come in the form of credits, often from the federal government.
Case in point, the renovation of the city's famed Book Cadillac Hotel. Holdwick says its renovation is the city's most successful project to date.
The Cadillac, opened in 1924 and sporting Italian Renaissance architecture, was once the tallest hotel in the world and a centerpiece of downtown Detroit. But like many buildings in a downtown hit by suburban flight, by the 1990s it was an abandoned, hulking mess.
"We used to avoid walking by it for fear the awning would fall off," said Holdwick.
Then, in 2006, plans to redevelop the Detroit Landmark materialized. A developer was interested in the project, but the economics still didn't work. So Holder's office did what they are designed to do: string together the necessary money to bridge the gap.
A total of 22 layers of financing finally came together on the $200-plus million project: The Westin Book Cadillac Hotel. The largest chunk in creative financing came in the form of a $29 million check from National City Bank. In return, the bank got to take a preservation easement originally granted to the developer.
Holdwick said National City may have realized a savings of twice that on their federal tax bill. The city, in addition to pulling together the financing, had to agree to stand by First National if the Internal Revenue Service challenged the tax claim.
It all sounds complicated, and it is. But this is how economic development gets done in old industrial cities.
Some may wonder why any company would want to go through all this just to be in a city, or if granting these credits is a worthy use of taxpayer money.
But development like this usually raises real estate prices, which increase tax revenue. Holdwick says downtown residential real estate averaged $140 a square foot when he first started. The Book Cadillac, when it first opened in 2008, was selling apartments on the upper floors for $305 a square foot.
"That was never seen before in downtown," he says.
Then there's the jobs it creates. The Cadillac, says Holdwick, created 400 jobs.
Dangle enough tax credits and companies will respond. Compuware, the billion-dollar tech company, recently moved to Detroit from an outlying suburb, bringing with it 3,300 jobs. Quicken Loans is slated to bring in that many when it moves shortly. The electronics firm EDS added 1,500 when it moved in a few years back.
All things being equal, Holdwick says, businesses find it worthwhile to jump through the hoops of moving into an old city because generally their employees want to work in an urban environment.
"People want that downtown experience," he says. "Young professionals want to go to a different restaurants everyday for lunch, or to a different bar for happy hour, they can't do that in the suburbs."
Going forward, Holdwick sees downtown and midtown Detroit continuing to develop, but says there has to be a critical mass downtown that can only be achieved if the sprawling city consolidates.
In Detroit, just under a million people live in a space that was built for a population of over 2 million. This presents huge challenges for even the most essential of city services.
"You just can't afford to pick up trash on blocks that have just one house," he said.
Still, he's undeterred in his work.
"I grew up in this area, and it's nice to be able to give back," he said. "I have no desire to move on."