The demise of the-lawyers-did-it defense
Now that an angry judge has rejected the proposed settlement between the SEC and BofA, a convenient catch-22 is likely to fall by the wayside.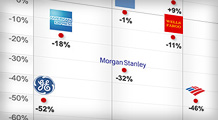 Key financial firms received a wide range of assistance during the past year. But scroll over their stocks and you'll find few winners – and plenty of losers.
More
NEW YORK (Fortune) -- Last June, when Bank of America CEO Ken Lewis was asked by a U.S. House committee why the bank hadn't disclosed seemingly important information about its upcoming Merrill Lynch acquisition in a proxy statement last November, he had a ready response:
"I'm not a securities lawyer," he said. "I don't decide on disclosures."
He was saying that his corporate attorneys made all those decisions, so if they made some mistakes, he couldn't be faulted for them.
He and other top officers at the bank offered essentially identical answers when the U.S. Securities and Exchange Commission and New York State attorney general Andrew Cuomo came knocking with similar questions. In each instance, the corporate attorneys who prepared the disclosures in question -- at two of the nation's most eminent corporate firms -- were never asked to confirm or deny their clients' characterization of events, nor to defend their own disclosure advice, having been insulated from such questioning by the attorney-client privilege.
But now, thanks to U.S. District Judge Jed Rakoff of Manhattan, the stonewall is crumbling. That's what, as a practical matter, is happening as a result of the stinging, now-famous rebuke Rakoff dealt to the SEC last week, when he refused to bless its proposed settlement with the bank. The deal called for the bank -- i.e., shareholders -- to pay a $33 million fine, but left unanswered the question of which bank officers were responsible for the alleged misrepresentations that prompted the suit.
The SEC's lack of investigative zeal is what got Rakoff's goat. "Overall," he wrote, "the parties' submissions ... leave the distinct impression that the proposed Consent Judgment was a contrivance designed to provide the SEC with the facade of enforcement and the management of the Bank with a quick resolution of an embarrassing inquiry -- all at the expense ... not only of the shareholders, but also of the truth."
Accordingly, the spotlight now turns to those offstage corporate attorneys, including Bank of America's team at Wachtell Lipton Rosen & Katz, led by a co-chairman of Wachtell¹s executive committee Ed Herlihy, and Merrill's team at Shearman & Sterling, led by John Madden, a former co-managing partner of that firm. (A source close to Wachtell Lipton says Herlihy was not involved in the actual drafting of the disclosure documents.)
Those lawyers have not previously testified before the SEC because, the SEC claimed, it lacked the power to force them to. It said that its hands were tied by the bank's attorney-client privilege. Judge Rakoff now seems poised to slice through those imagined restraints.
Here's the guts of the dispute. Last November the bank issued a proxy statement concerning its then-proposed merger with Merrill (which closed January 1). The SEC alleges that the statement was misleading because it appended a document that contained language assuring shareholders, who had to approve the deal, that Merrill Lynch would not be paying its executives bonuses before the closing unless they were approved in writing by Bank of America (BAC, Fortune 500) or noted in a separate "Disclosure Schedule." The SEC considers this assurance misleading because the "Disclosure Schedule" referred to was never, itself, disclosed to shareholders and, had it been, shareholders would have discovered that Bank of America had already agreed in writing to let Merrill Lynch pay its execs up to $5.8 billion in bonus compensation -- a sum amounting to 12% of Merrill's $50 billion price-tag. (Lawyers tell me that the Orwellian term, "Disclosure Schedule," used in this context to refer to a document that is not disclosed, is so-named because the parties are disclosing the matters contained in it to each other.)
Shareholders voted to approve the merger December 5. Not until after the deal closed would they learn that Merrill's losses for the fourth quarter had been $15 billion; that its losses for the year were $27.6 billion; that the government's bailout of Bank of America would, as a consequence, balloon from $25 billion to $45 billion; and, finally, that the Merrill executives had been rewarded between $2.9 billion and $3.6 billion in bonuses prior to the closing, depending on how one defines "bonus." (The bank and Merrill had agreed to reduce the bonus pool from $5.8 billion to this sum in late November, but shareholders hadn't been told about that either.)
Bank of America doesn't dispute this chronology, but its litigators have argued that the failure to disclose the size of the bonus payments was immaterial because other disclosures it did make, when subjected to certain inferences, computations, and extrapolations, would have caused -- and did in fact cause -- stock analysts to project that bonus comp would be paid in about the range that it eventually was paid, and some media outlets had publicly reported such analysts' surmises. (In my humble opinion, the bank's "everyone knew" defense is a loser. If information is material it's supposed to be typed out in English, not hinted at in an encoded jig-saw puzzle.)
In August, the SEC and Bank of America came to their proposed settlement -- the one that so greatly troubled Judge Rakoff. A former chief of the business crime and securities fraud unit of the U.S. Attorney's Office in Manhattan, Rakoff confronted the SEC lawyers with his concerns that same month, asking why they weren't going after any of the individual officers responsible for the alleged disclosures. The SEC responded with a circular argument that seemed to stoke Rakoff's fury all the more. The back-and-forth essentially was this:
SEC: We can't prove the individual executives did anything wrong because they tell us they simply delegated to their lawyers the task of handling the disclosure obligations.
Rakoff: Then go after the lawyers.
SEC: We don't know what the lawyers said, since the executives invoked their attorney-client privileges.
Rakoff: If the officers are saying they relied on counsel, they're automatically waiving the privilege. Plus, there's a crime-fraud exception to the privilege, so you could have asked me to order them to answer.
SEC: Not really. We haven't charged anybody with fraud. We just charged a lesser infraction -- filing a false proxy statement -- which does not require proof of a fraudulent state-of-mind, so the officers never had to formally invoke a reliance-on-counsel defense. Accordingly, neither the bank nor Merrill ever waived their attorney-client privileges either.
Rakoff: Why didn't you charge anyone with fraud?
SEC: We couldn't prove fraudulent intent.
Rakoff: Why not?
SEC: They said they relied on advice of counsel.
See why Rakoff got steamed?
Now that the settlement has been rejected, the case is going to trial, and this catch-22 -- which might have presented a modest hurdle during the administrative phase of the investigation -- is unlikely to hold. The trial is scheduled to begin March 1.
"Part of the SEC's problem, says Professor John Coffee of Columbia Law School (who is a friend of Judge Rakoff), "is that they had not dug very far in their prior discovery, consistent with what I will call their longstanding 'settlement culture.' Under criticism, this is slowly changing."
Good riddance.