The fixers: From engines to hip replacements
Lizabeth Ardisana is trying to bridge the old and new economies, connecting local auto parts makers to national medical companies.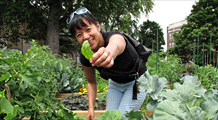 Detroit faces huge challenges but locals here say that they'll soldier on. From community gardens to tech start-ups, here's some of what's keeping the city going.
DETROIT (CNNMoney.com) -- What do an MRI machine and a Ford F-150 have in common?
If you're like most people, the answer is probably not much. But zoom out a few frames and a resemblance begins to take shape.
"It's got an interior, an exterior, a seat, electronics and a spinning thing," said Lizabeth Ardisana, head of a Detroit area staffing and marketing firm called ASG Renaissance. "It's essentially a car. It's more complex, it's more expensive, but it fundamentally doesn't take a different skill set than what we've been developing here for the last 100 years."
To that end she's been acting as a sort of bridge between Detroit's old and, hopefully, new economy. Arranging meetings between local auto parts makers and national manufactures of medical devices, she's helping business do what everyone in Detroit says they need to do: Diversify.
"If you can machine an engine head, you can probably machine a hip or a knee," she said.
Ardisana knows a thing about machining cars. A Texas native, she moved to Detroit in the 1970s for an engineering job at Ford. In the early 1980s, when Ford was going through a rough patch, she took a job as the parts and service manager at a local heavy truck dealership. From there her life took an interesting if tragic turn.
While working at the truck dealership she got interested in car racing. So with money borrowed from the bank she bought herself and open-wheeled race car and started a team in what's basically a minor-league version of the Indy 500.
But insurance isn't easy to get on an Indy car. When her car eventually crashed - paralyzing the driver - she was left with a heaping load of debt and obligations.
So she started her own business.
Now she's the head of a $25 million firm. Most of the company's business is in the staffing sector, where it provides technology and other highly skilled personnel to a wide range of clients. A smaller part of the firm does marketing and consulting work, including for big clients like Jaguar and Land Rover.
The contracts Ardisana generates as head of this firm help her effect change in Detroit. She sits on the governing board of the New Economy Initiative, a regional program to attract new businesses to Detroit. She's also working to revamp stretches of shoreline along the Detroit River.
She said her efforts to secure medical contracts haven't been met with much success - she's arranged 30 to 40 meetings and has only seen a few deals signed.
She stresses her firm doesn't have any direct financial involvement in the effort, but certainly subscribes to the riding-tide-lifts-all-boats philosophy.
"I'm just doing it because I think it's the right thing to do," she said. "But if the businesses are successful, I'll find ways to make it work."
She's also heading up a second attempt at diversification. As a Hispanic business owner, she's gotten together with other minority-owned business, mostly auto parts suppliers, to form a fund that buys other companies. So far they have bought two environmental engineering firms.
She also went to Europe recently as part of a delegation to see how old industrial towns over there have transitioned to the new economy.
She says the Germans have actually had a much easier time of it than Americans because they are more willing to simply close factories and lay people off - a trait she said that can be attributed to their stronger social safety net for out-of-work employees.
As for what Detroit needs to do? Work better as a region. It's a common theme heard in this city - that the city itself doesn't work well with the suburbs, and visa versa. She then rattled off a list of a half dozen local economic development organizations.
"I'm not seeing that they're all working together," she said. ''But there's no doubt about it, Detroit needs to change."