GM kills Saturn after Penske ends deal
Auto dealer terminates agreement with General Motors, citing concerns about supplies of the vehicle after GM stops producing Saturns.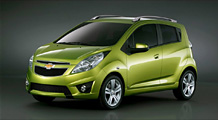 General Motors recently showed reporters and select members of the public what it plans to build over the next two years.
NEW YORK (CNNMoney.com) -- Car dealership operator Penske Automotive Group announced on Wednesday that it has cancelled plans to acquire General Motors' Saturn unit. As a result, GM said it will wind down the brand and dealer network, potentially putting 13,000 Saturn dealership jobs at risk.
The announcement comes nearly four months after Penske agreed to buy the rights to the 19-year old brand from GM when the automaker was in bankruptcy.
As part of the deal, GM would have continued making Saturn's three best-selling models -- the Aura sedan, as well as the Vue and Outlook cross-over SUVs -- for the rest of this year and next. Penske, which would have been the distributor but not the manufacturer of the vehicles, would have sold the cars on behalf of GM. Penske said it would find another third-party manufacturer to make new Saturns in 2011.
But negotiations with another, unnamed manufacturer fell through after an agreement was rejected by that manufacturer's board, according to Penske. According to a report in the Wall Street Journal, the manufacturer in question is Renault.
"Without that agreement, the company has determined that the risks and uncertainties related to the availability of future products prohibit the company from moving forward with this transaction," the company said in a statement.
End of a brand
As a result, GM said it would begin to wind down the brand and its roughly 350 dealerships nationwide. Penske's deal with GM was expected to be completed in October.
"Today's disappointing news comes at a time when we'd hoped for a successful launch of the Saturn brand into a new chapter," said GM Chief Executive Fritz Henderson in a statement. "We will be working closely with our dealers to ensure Saturn customers are cared for as we transition them to other GM dealers in the months ahead."
A spokesman for GM said the broken negotiations with Penske would have "no anticipated impact" on plant closures or job losses.
GM makes Saturns at plants in Fairfax, Kan., Lansing Mich. and Ramos, Mexico, all of which also make other GM brands, so GM doesn't expect that Saturn's closure will affect employment levels at those plants.
"In all three cases where [Saturn] products are produced, there are other products, and GM will shift resources to those," said the company spokesman.
The automaker said Saturn owners will still be able to have their cars serviced at GM dealerships after Saturn is shuttered.
A tough job
Some experts were skeptical about the risks inherent to Penske's deal with GM when it was first announced back in June. They argued that Saturn had led the auto industry with customer satisfaction, but that the brand sold poorly because the underlying car wasn't great.
As a result, auto industry experts said Penske had its work cut out for it in finding a manufacturer who could make a great car for the Saturn brand.
"The Saturn dealership network represented a unique opportunity for Penske," said Jeremy Anwyl, CEO of Edmunds.com. "The risk was sourcing product and that proved to be too much to overcome to complete the deal."
Penske (PAG, Fortune 500) is owned by former race car driver Roger Penske, who owns NASCAR and IndyCar racing teams and distributes Daimler AG's Smart cars in the United States.
Shares of the auto dealer fell 10% after hours.
-- CNN's Ekin Middleton contributed to this story