Auto sales fall as Clunkers rush ends
Without the popular government program and low inventories, industrywide sales in September plunge 40% from August.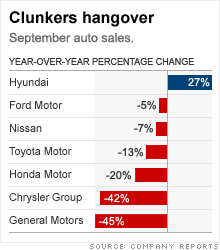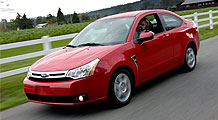 These are the most popular cars purchased under the Cash for Clunkers program.
NEW YORK (CNNMoney.com) -- The end of the government's popular Cash for Clunkers program and low inventories of vehicles led to a 40% plunge in U.S. auto sales in September compared with August, although year-over-year declines were more modest and generally in line with forecasts.
"The month never felt strong," said Mark LaNeve, vice president of U.S. sales for GM, in a call with analysts. "I think we're feeling the effects of a post-Clunkers hangover."
Overall industry sales came in at 745,997 vehicles in September according to sales tracker Autodata, down 23% from a year ago. That makes it the worst month since February in what has been a terrible year for auto sales, even with the four-week lift the industry received from the Clunkers program.
Cash for Clunkers, which paid buyers up to $4,500 for their used cars when they purchased more fuel efficient models, spurred strong sales from late July through the end of the program on Aug. 24.
But it likely pulled ahead sales that might have taken place in September and left dealers with limited supplies of vehicles to sell coming into the fall. With low inventories, automakers also scaled back on incentive offers to buyers.
"There were a lot of things working against sales in September, and very little wind at their back," said Jeff Schuster, director of global forecasting for auto consultant J.D. Power & Associates.
Ford Motor (F, Fortune 500) reported the best results of Detroit's Big Three Thursday. Its sales slipped only 5% from a year earlier, although they were off 37% from the rush it got from Cash for Clunkers program in August.
Still Ford's results were better than the 10% year-over-year drop forecast by sales tracker Edmunds.com.
Rival General Motors reported a 45% drop in sales compared to a year ago, and a 37% drop from August. Edmunds.com had forecast a 46% decline for the nation's largest automaker.
Mike DiGiovanni, GM's head of sales analysis, said that the negative impact from Clunkers on future sales would diminish in the next few months though. He estimated that only about 30,000 vehicle sales would be lost industrywide in the fourth quarter due to the impact of Clunkers.
DiGiovanni added that, despite a growing belief among economists that the recession has ended, it will take a much bigger rebound in the economy before auto sales truly bounce back.
"We're not going to be completely out of the woods until the job market improves," he said.
Toyota Motor (TM), which had the largest number of Clunkers-related sales, posted a 13% drop in sales compared to a year ago, but that was a 44% plunge from August. Toyota's sales were a bit worse than Edmunds.com's forecast of a 10% drop, but Toyota said that it believes sales should be stronger in the fourth quarter.
It did better than Japanese rival Honda Motor (HMC), which reported a 20% drop from a year earlier and a 52% plunge compared to August, more than twice as bad as the 8% drop in year-over-year sales forecast by Edmunds.com.
Nissan (NSANY) reported only a 7% slide in sales compared to a year earlier, but that was worse than Edmunds.com's prediction of a 1% drop. Nissan's September sales were also off 47% from August.
The one major automaker to post improved sales in September was Korea's Hyundai, which reported a 27% gain from a year ago. Still, Hyundai's sales were 48% lower than August's levels.
Chrysler's sales plunged 42% from a year ago, and 33% from August. Chrysler, with a heavier reliance on trucks than other automakers, did not get as much of a sales lift from the Clunkers program. But Edmunds.com had expected an even worse year-over-year drop of 48%.
"We believe the remainder of 2009 will continue to be a challenge for the U.S. automotive market," said Peter Fong, the lead sales executive for the Chrysler Group in a statement. "Credit markets have thawed slightly, but still remain tight, and consumer confidence, as we saw in September, is tenuous."
Ford and other automakers have ramped up production to try to replenish supplies, but inventories remained low throughout September.
George Pipas, director of sales analysis for Ford, said the company had an inventory of about 300,000 vehicles at the end of the month, up about 60,000 from the end of August. But he added that was an historic low and that some of those vehicles are still in transit to dealerships.