Dell looks for profit in Perot purchase
The PC maker aims to diversify its business with IT services. Will it be enough?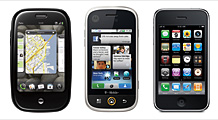 With the launch of Motorola's Cliq, the battle between mobile operating systems reaches new heights - and there may soon be a new leader. We survey the top players.
NEW YORK (Fortune) -- Dell is on its way to making its biggest acquisition ever with its agreement last month to buy IT services provider Perot Systems for $3.9 billion. The move would reduce Dell's reliance on the corporate PC and server business and give it a foothold in the lucrative services business, which is a crucial source of profits for rival Hewlett-Packard. But investors are skeptical.
While the stock has climbed more than 90% since its February low of $8, the stock dropped about 4% the day of the announcement.
The Bear: Shaw Wu, Kaufman Bros.
The stock is not inexpensive compared with Hewlett-Packard (HPQ, Fortune 500), which trades at a lower price/earnings ratio. Even Apple (AAPL, Fortune 500) was cheaper for a while. In 2010, we are modeling 6% earnings growth for Dell (DELL, Fortune 500), compared with 13% for HP and 15% for Apple.
And the quality of Dell's earnings has been somewhat questionable. It constantly takes charges, even when there isn't a good reason, like goodwill amortization from an acquisition. For example, in the second quarter it took $87 million in "organizational effectiveness" charges. One has to question if ongoing one-time charges are "one time." If they're recurring, they should be recognized as ongoing expenses. That's been tough for me to reconcile.
Dell is not as diversified as its peers in terms of product areas and geographies -- it is basically tied to sales of PCs in the U.S. Even some of their other businesses, like servers and printers, are very tied to the PC. Buying Perot (PER) helps address the problem, but it's not likely enough.
Its channel strategy is one of the reasons Dell hasn't been that strong internationally. With international markets you have to go through the channel. They haven't been as strong there because the infrastructure internationally, whether it is roads and/or delivery services, aren't as developed as in the U.S. They've been making some progress there, but still it's somewhat challenging because there's a conflict of interest. The fundamental problem there is when you look at their economic model they arguably make better economics selling direct.
The Bull: Dinesh Moorjani, Broadpoint AmTech
Dell is a great way to get exposure to a corporate PC and server upgrade cycle. It has disproportionately high exposure to PCs and servers. I think there is going to be a significant PC upgrade cycle in 2010 with the installed base of PCs aging. The upcoming launches of Windows 7 and Microsoft Office 2010 also will be important catalysts.
The acquisition of Perot will give Dell a real IT services business. Perot is focused primarily on the healthcare and government markets. The price tag is somewhat high, but there are a lot of revenue synergies that justify the premium. Don't be surprised to see more acquisitions in the services, storage, and software areas. These businesses have much higher margins than PCs.
Plus, Dell is doing a great job on costs. They still are in cost-reduction mode. One of the things they're doing for example is increasing the outsourcing to contract manufacturers. That's an ongoing process. I'm modeling 19% earnings growth for next year, significantly higher than my forecast of 6% top-line growth.
Dell has been working on expanding to indirect channel. That should lead to share gain in the long run. In 2007 it started to expand sales through retail channels. Historically it had never really sold through retail. They realized the direct sales model had diminished as a source for competitive advantage. The most recent development is in March 2009 Dell announced distribution agreements with two large distributors.