Alan, Fritz, and me: Letters from Ford and GM
Allan Sloan answers reader mail about his abandonment of Saturn, including notes from two particular chief executives.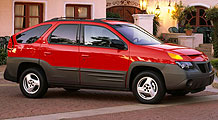 Over its history General Motors has made its share of bad products. Some were poorly built, some were badly executed, others suffered from lousy timing.
NEW YORK (Fortune) -- I've written a lot about car companies since I started covering business in the 1960s, but I've written very little about cars, because they just don't interest me much.
So I was surprised -- and fascinated -- by the volume and passion of e-mails and online posts responding to last week's column about my buying an Asian-nameplate SUV without considering an American vehicle, despite having bought American almost exclusively since the '60s.
I didn't trust General Motors, which orphaned my family's three Saturns, thus reducing their value; I didn't consider Chrysler financially viable; and I didn't look at a Ford (F, Fortune 500) because of a horrible experience my wife had with a Ford decades ago.
My most interesting e-mail came from Alan Mulally, Ford's chief executive, whom I had never met. He wrote: "Your thoughts resonated with me and are the reasons why I joined Ford three years ago. It is all about the customer and a long-term commitment to design, produce and support the very best vehicles in the world.
"I would welcome the opportunity to share with you our new Ford product line-up," he continued, going on to praise the vehicles. "And we would have fun!"
I called him, and we did have fun. He talked about feeling privileged to have a chance to help such an iconic firm, and he listened patiently to my story of how Ford sold my wife an imported Cortina in 1968, wouldn't help when we had trouble with it, and secretly told dealers they could return their Cortina parts inventory for full credit, making it difficult to get the car serviced or repaired.
He didn't say the magic words "We're sorry," but he did want to hear what happened. Now that someone at Ford has finally listened to me, my boycott is over. Next time, I'll consider Ford (though not Chrysler or GM unless something changes), provided that Ford continues to seem financially viable.
My other letters were split roughly 50-50 between people who wondered why I'd bought so many American cars and people who called me an economic traitor for buying an Asian-branded vehicle.
Here are excerpts, edited for clarity, and my comments.
"I guess I'm confused. You are boycotting GM because they decided to end the Saturn line. However, later in the article you say they lost $20 billion over 20 years. So you are [angry] that an American company recognized that it had a failing business model and decided to quit losing money? What would you rather they do? Continue to make cars and sell them at a loss? -- R.B., Centennial, Colo.
A fair question. GM's job is to take care of GM, my job is to take care of my family. GM didn't even bother to say "sorry" when it orphaned millions of Saturn, Pontiac, Oldsmobile and Hummer owners, or to offer us something (such as discounts on a vehicle from New GM) to show it valued us. Since GM doesn't care about me as a customer and could well orphan today's buyers, given its shaky finances, why should I trust it with an investment that costs more than my first house did?
"If you don't support American companies, then America will never grow. Yes, there are employees here in the U.S. building the parts for [your new] vehicle, but the bottom line is that the profit for this vehicle went to Asia. How does that help the bottom line for the United States?" -- J.K., Warrenton, Va.
"The profit from your so-called American SUV [assembled in Canada with a U.S.-built engine] could have stayed here in America. What do your family and friends (if you have any) think about you buying a foreign SUV?" -- T.A.D., Glen Burnie, Md.
A link that someone displeased by my decision to buy an Asian nameplate sent me (but that, alas, I can no longer find, or I'd give you the URL) showed that my new ride had more North American content than a Saturn Vue, the car I traded in. GM had no profits on Saturns. My family and friends wonder why I'd stuck with U.S. brands for so long.
"I am currently on my fifth Saturn, and all have run well and required little maintenance. But Saturn eliminated [U.S.-made] cars after 2007, and went with re-badged Mexican Opels. So, frankly, I don't know what my next car will be. I don't think it will be from Government Motors." -- B.A., Longmont, Colo.
"Chances are that the Asian nameplate SUV you recently purchased was made in Tennessee or Kentucky or Indiana or Ohio by American workers whose employer pays U.S. federal, state, and local taxes, supports other American businesses, and sponsors charities and local softball teams. Why would you consider such a vehicle an import? From my perspective, there is no virtue (only mindlessness) in buying American for the sake of buying American, particularly if the American-made product is inferior or more expensive." -- Dan Ikenson, Cato Institute, Washington
So is a vehicle made largely outside North America by a U.S. company more of an American car than a vehicle made largely in North America but sold by an Asian company? I don't know, but it's something to think about.
Thanks, everyone.
Update: Here's a letter from Fritz Henderson, GM's chief executive, that the company says it sent me last week, after my original column posted, but that I didn't get until Tuesday afternoon, well after I'd filed this column.
So here's Henderson's letter, which I think speaks for itself:
I was sorry to read your column ... where you describe you decision to trade your Saturn Vue for an SUV from an Asian-based manufacturer.
Throughout the auto crisis, you have provided your readers with valuable insight into the strategic decisions companies like GM have had to make. One of the toughest was the decision to focus our resources on four core brands here in the U.S. In the case of Saturn, Saab and Hummer, we worked tirelessly to find new owners for the brands. I was as disappointed as anyone when the deal for Penske to purchase Saturn, a deal that would have secured a future for the brand and its excellent retailers, fell apart at the last minute.
While I respect your recent decision, please be assured that we will do everything we can to win over Saturn customers to our core brands. We think that many Vue drivers will find the new Chevy Equinox and GMC Terrain to be attractive alternatives, and we are excited about the upcoming Chevy Cruze, which is already competing successfully with Asian small cars in Australia. And while many of our Chevy and GMC-Buick dealers already offer customer service that would please Saturn loyalists, we will continue to work with all of our dealers, through our new dealer agreements, to improve customer satisfaction across all of our brands.
We appreciate the rare second chance that taxpayer support has provided for GM, and we are working hard to build a new GM that incorporates many of the lessons learned from Saturn. We hope when your family's next Saturn is due to be traded in, you will give Chevy, GMC, Buick or Cadillac another look.
--Scott Cendrowski of Fortune assisted with this column.