A battery maker powers up post-IPO
Shares of A123 Systems have been on a rollercoaster ride since it went public. How much juice do they have left?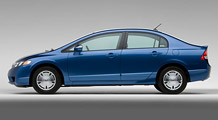 These five ultra-efficient vehicles have earned the Insurance Institute for Highway Safety's Top Safety Pick Award.
SAN FRANCISCO (Fortune) -- If you believe that the battery in your car will soon be bigger than the engine -- or replace it entirely -- you should keep an eye on A123 Systems.
The Watertown, Mass.-based company, which develops advanced lithium ion batteries for things like power tools and cars, went public toward the end of September after pulling an earlier IPO bid to wait for a better investing climate.
It found it, and shares in the company spiked 50% above the offer price on the first day of trading. The stock has been on a rollercoaster ride since. When the market slid the week of October 10th, shares of A123 (AONE) plummeted 17%. Overall, the stock is up about 8% since its public market debut on September 23rd.
Clearly, caution is warranted with this stock, as it is with all new issues. A123 is not a profitable company; it reported a loss of $89 million on revenue of $90 million in the year ending June 30.
And if it didn't land $249 million in federal stimulus funds to build a factory outside of Detroit to make its batteries, A123 would have been in an extremely tough spot and probably not much of an IPO candidate: Once a leading contender to be the initial supplier for the batteries in General Motor's forthcoming plug-in hybrid, the Chevy Volt, it lost out to a subsidiary of Korea's LG.
There's your warning. But consider that A123 is also one of the few U.S.-based companies competing in an industry that practically every automaker on the planet predicts will be huge.
Though it isn't cranking batteries out for carmakers yet, A123 does have relationships with a handful, most notably Chrysler (now owned by Fiat) Daimler and BMW. General Motors has left open the possibility of working with A123 in the future. In the meantime, Black & Decker and DeWALT are putting millions of A123 lithium-ion cells into power tools.
The electrification of transportation is coming in various forms, and batteries play a role in all of them. You have gasoline hybrids like Toyota's Prius. Plug-in hybrids like the Volt, and all battery-electric cars coming soon from the likes of Nissan and Renault.
Even hydrogen-fuel-cell cars require a sophisticated battery system, especially if they are to become a next-generation hybrid, running a fuel cell coupled with a battery, rather than a gasoline engine/battery combo.
The question that remains for A123 as an investment is how long will it take for all this technology to hit the mass-market road?
Consider the lesson of Ballard Power. Ballard (BLDP), which makes fuel cells, was once a high-flyer, but its shares are now worth about one-third less than when it went public in 1995 because fuel cells for cars failed to take off as quickly as was thought. They are finally getting there, though Ballard has exited the car business.
A123 faces a similar set of players, technological hurdles and issues of timing. If mass-market cars go electric soon, A123 could get a huge jolt. If not, you can expect a long, painful slog.