The hydrogen car fights back
President Obama is betting on biofuels and batteries, but that isn't stopping some automakers from investing in hydrogen-fueled cars.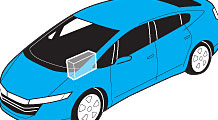 A look at the infrastructure needed to get hydrogen-fueled vehicles on the road.
(Fortune Magazine) -- The "Valley of Death," in auto-industry-speak, is a metaphorical desert where emerging technologies reside while car executives figure out which of the experiments ought to make their way into actual cars.
Every automotive leap forward has done time in the valley: turbochargers, fuel injectors, even gasoline-electric hybrids like Toyota's Prius. Hydrogen-fueled vehicles, the alternative-energy flavor of the month back in 2003, are the ones languishing today, along with hovercraft and other assorted concept cars.
But perhaps not for much longer. A number of auto manufacturers are renewing their push for hydrogen, and now it is looking as though hydrogen cars will make it out of vehicular Death Valley.
Last month Daimler (DAI), the German government, and several industrial companies announced a plan to build 1,000 hydrogen-fueling stations across Germany. Days later, Daimler CEO Dieter Zetsche showed off Mercedes-Benz's latest hydrogen-fueled effort, the F-Cell hatchback. Toyota (TM) this summer announced it would put hydrogen fuel-cell cars into production in 2015.
Honda (HMC), GM, and Hyundai all have hydrogen fuel-cell programs running, and Honda actually has put vehicles -- heavily subsidized by the car maker, to be sure -- in the hands of some real customers, as opposed to its own engineers. (GM today is focusing most of its, um, energy on the plug-in hybrid Chevy Volt, but the company says it still expects to have its fuel-cell technology ready for commercialization in 2015.)
"The automakers are making huge progress," says Joan Ogden, director of the Sustainable Transportation Energy Pathways Program at the University of California at Davis. "The popular notion that hydrogen is 20 years away -- and always will be -- is totally off-base."
Best in show?
Actually, hydrogen cars don't have a perception problem -- most people simply don't think about them at all.
It doesn't help hydrogen's cause that President Obama tried to cut funding (which Congress largely restored) for hydrogen auto research, a pet project of the previous administration. Obama's team favors battery-powered models. So do officials in other countries, environmentalists, technology pundits, and a few prominent auto manufacturers -- most notably Nissan and Ford (F, Fortune 500). And hybrids are already widely available, so consumers can judge the technology for themselves.
But hydrogen cars are about to get a bit more visible. Honda, probably hydrogen's biggest proponent, is leasing its hydrogen-powered model, the Clarity, to nine drivers in Southern California. Honda plans to make 200 Claritys available in Japan and the U.S. in the next two years.
The Clarity shows some of the improvements in hydrogen technology: It has a range of 240 miles, up from 190 miles on the 2002 model, and boasts a microwave oven-size fuel cell (that's where hydrogen combines with oxygen to produce electricity that then drives the car's motor). In the early days fuel cells were the size of filing cabinets, not exactly practical for tooling around town.
GM, Hyundai, and BMW are focused on testing hydrogen in Southern California, and soon Mercedes will be too. That is partly because many of the automakers have their R&D and design centers in the Los Angeles area, where four easily accessible hydrogen filling stations are already strategically placed close to key residential and commercial centers.
The U.S. has 64 hydrogen stations, which are owned and operated by energy companies, universities, local governments, transit agencies, and utility companies. Another 38 are well into the planning and development phase.
Actress Jamie Lee Curtis lobbied to get one of the first available models for environmental reasons, but she has become a fan of driving the Clarity. "I am not the most light-footed driver, and this thing is like a rocket ship," says Curtis, who leases the car for $600 a month. When asked what she will do when her three-year lease expires, Curtis pauses a moment. "Cry," she says. "Sob uncontrollably, and beg them to extend the lease."
Her husband, actor and film director Christopher Guest ("Best in Show"), is equally enamored, if less dramatic. "This is the best car I have ever had in terms of environmental benefits and range," says Guest, who drove a Prius until the Clarity was delivered. "I have thought about what would replace it, and there is nothing on the market that would remotely compare."
Environmental equilibrium
Despite Curtis's and Guest's endorsements (they are not paid by Honda, but the automaker subsidizes the cost of the vehicle, estimated at $300,000, as it does for every driver), hydrogen-fueled cars still face considerable hurdles to mainstream acceptance.
One major issue will be figuring out how to produce hydrogen in a clean enough way that it doesn't offset the environmental benefits of driving a car whose only tailpipe emission is water.
While you can produce hydrogen via electrolysis from any source of electricity, including renewable-energy sources like solar and wind, it's most often extracted from natural gas combined with steam, which forms hydrogen and carbon monoxide. The carbon monoxide is then separated from the hydrogen.
Hydrogen naysayers will immediately remind you that natural gas is yet another habit-forming fossil fuel. (The "reformation" of fossil fuels produces greenhouse gases.)
Proponents of hydrogen vehicles point out that hydrogen fuel cells are twice as efficient as gasoline engines, and even hydrogen produced by natural gas translates to 10% to 40% fewer emissions than gas-hybrid cars, according to studies from MIT and the Argonne National Lab. "The societal benefits of a fuel-cell fleet would be better than a plug-in hybrid and about equal with all-battery electric," says UC Davis's Ogden.
An even bigger problem for hydrogen: lack of infrastructure. To get more hydrogen filling stations installed, car makers will need financial support from corporate partners and local and national governments. Eight of the world's major automakers -- including Renault, Nissan, and Ford, which have scrapped fuel cells in favor of battery-electric options -- recently called on fuel companies and regulators to expedite the rollout of hydrogen filling stations globally.
None of this will be cheap: A study commissioned by the National Academy of Science concluded that the U.S. would need to spend $3 billion to $4 billion a year for 15 years to subsidize the cost of the cars and get a national infrastructure in place to make the transition to hydrogen. Not a pittance, but to put that number in perspective, corn-based ethanol receives about the same amount in annual subsidies.
Despite the challenges hydrogen cars face, car executives maintain that they will be part of the mix of technologies shuttling us around in the future, along with gasoline-hybrid and battery-electric models. "It's not a choice of one or the other from a technology perspective," says Charlie Freese, a GM executive who heads up that company's fuel-cell efforts. "Meeting our transportation needs and environmental goals is going to require a variety of solutions." For hydrogen cars, that kind of thinking sounds like a path out of the valley of death and onto the open road.