Rehab for the rich and famous
A rare look inside Utah's elaborate Cirque Lodge, where boldface names shell out as much as $77,700 for 30 days, in the hopes of staying clean.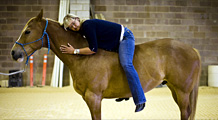 It's where the rich and famous go to get sober. Utah's Cirque Lodge offers a mix of therapy, luxury, and Rocky Mountain privacy. All photographs depict staff members, not patients.
NEW YORK (Fortune) -- I am standing face to face with a 1,200-pound quarter horse named Rio, trying with every nerve, muscle, and conscious thought to project a sense of calm authority. I know nothing about horses, but Rio seems to be buying it.
I have my right hand on his nose and, with gentle pressure from my thumb and a sharp glance to his right leg, I ask him to move that leg back a step. Rio complies.
I press gently with my other fingers on the left side of his nose and stare at his left leg. As if reading my mind, he moves his left leg back one step. We do this several times, communicating with the slightest of gestures, like a practiced pair of ballroom dancers.
Standing a few feet away from me is Dave Beck, a bona fide horse whisperer and director of "experiential therapy" at Cirque Lodge -- a deluxe rehab center in Sundance, Utah, where the rich and famous come to get sober.
Cirque Lodge will neither confirm nor deny the names of its guests, but its director of operations, Gary Fisher, tells me that "in eight years, we've probably had 30 or 40 clients that you'd know immediately." Actress Melanie Griffith checked in there in August. Lindsay Lohan, Kirsten Dunst, Eva Mendes, and Mary-Kate Olsen have all admitted logging time here.
Before I stepped into the paddock with Beck, I couldn't imagine what dancing with horses would have to do with beating addiction. But 90 mentally exhausting minutes with Rio made it clear that you can learn a lot from a horse: honesty, self-control, subtlety and -- what was hardest for me -- staying keenly focused in the moment with no thought of my deadline, the dying battery in my tape recorder, or lunch.
What lessons Rio doesn't make clear, Beck explicates with pithy, Zen-like sagacity. "You have to be morally correct," he tells me, to build a relationship with a horse. "If you are angry, frustrated, it all flows through the horse. If you are patient, kind, and willing to set boundaries, it flows through to the horse. It's through this building process that you work through your own stuff."
I came to Cirque to see what makes it the rehab sanctuary du jour for those who could afford to go anywhere, and what $1,595 a day (with a 30-day minimum) will buy in the way of treatment and healing experience.
It was a rare glimpse -- Cirque does not open its doors to reporters and I was not permitted to speak with current residents. Still, I learned a lot about what it means to be an addict and the unending, heroic work it takes to break free -- no matter who you are. And I got a feel for the weird juxtaposition of facing such staggering, personal challenge when, materially, you've got it all.
Even before you set foot inside the Cirque Lodge, it's monumentally obvious why people would come here. The Lodge -- a stunning structure of fieldstone, glass, and wood -- sits just up the mountain from Utah's Sundance Resort, a stone's throw from Robert Redford's Rocky Mountains estate.
With rooms for just 16 residents, it commands views that could literally lift you up when you've hit bottom. The word "cirque" refers to the round, amphitheater-like depressions found on the nearby mountains. From the Lodge, you can see the Cascade Cirque on 12,000-foot Mount Timpanagos, still sparkling with snow in mid-May.
Cirque's sprawling second building, known as the Studio, with rooms for another 44 (at $995 a day), is set ten miles away in the canyon town of Orem and gazes at the other side of the mountain. Its 110,000 square feet were built in the late '70s as a television studio for the Donny & Marie [Osmond] Show.
High-end rehab facilities tend to be located in spectacular spots. Malibu is home to Promises, Passages, and other rehab palaces-by-the-sea. The stunning red rocks of Sedona in Arizona provide a setting for the Desert Canyon Treatment Center.
It's not merely a matter of pampering, insists Fisher, "It's a question of what really stirs your soul. Some people are comforted by the ocean. Some like the solitude of the desert. We are the mountain guys. We have an incredibly sophisticated staff, but the mountain makes us better."
Stirring your soul is not a figure of speech for 12-step proponents like Fisher, Beck, and their Cirque colleagues, many of whom are themselves "in recovery" from addiction.
Step 1 in this approach, pioneered 70 years ago by Alcoholics Anonymous, is admitting you are powerless over your addiction, but the most famous step -- Step 2 -- is believing that a "higher power" will restore sanity to your life. That power could be God or some less conventional concept, but 12-steppers insist it's an essential part of recovery.
And that's where the soaring mountains or roaring tides come in, says Fisher, who joined the staff at Cirque in early 2000, shortly after it opened, and is 22 years sober himself. "The moment I got here I thought, 'If you have a hard time believing in something greater than yourself, it would be a lot easier to do it here.'"
Newcomers typically arrive at Cirque Lodge in a raw and shattered state, fresh out of detox -- a medically supervised process that takes three to five days if they are withdrawing from alcohol and sometimes weeks for a prescription opiate like oxycontin or the infernally addictive methamphetamine.
Despite Cirque's 5-star facilities, people are not thrilled to be there. Most have been sent on a last-straw basis by their family, employer, agent, or the legal system, says Fisher, and that goes for the celebrities, too: "These aren't people who have had a few run-ins with the paparazzi. These are people whose lives have been incredibly disrupted. Nobody comes to a treatment center as a career move."
New arrivals are evaluated by a psychiatrist and any medications are re-assessed -- at least half of the clients have a psychiatric disorder, such as depression, bipolar disorder, or eating disorders, according to Beverly Roesch, a clinical social worker who serves as Cirque's clinical director. Each newcomer gets paired with a counselor and with another resident who serves as their "ally/buddy" as they are eased into a customized program.
What Cirque then offers its clients is a busy mix of cognitive-behavioral therapy by day -- both one-on-one and in groups, classic 12-step support meetings at night, plus a rich diet of motivational lectures and readings, physical exercise and meditation, fine dining and flat-out pampering. Roesch is particularly proud of a program that invites spouses, children, and parents to participate in the recovery process for four intensive days, every third week.
Still, what distinguishes Cirque's program, staffers say, are the experiential programs that occupy about half the day: working with horses, dangling from the ropes course, hiking the canyon, cultivating the organic garden, throwing pots in the art studio. "Peak experiences wake people up," Roesch explains. "They start to come out of the haze and the numbness and reconnect." Experiential therapy, says Fisher, "is where we've carved out our piece."
This becomes obvious on a tour of the Studio, where the facilities seem wildly out of scale in size and ambition for Cirque's tiny population. A cavernous, 17,000 square foot room, once Donny and Marie's soundstage, houses what Fisher believes to be the biggest indoor ropes-and-challenge course in the country, with plenty of room left over for an archery range and a lecture and movie area.
There's a vast art studio with ten potter's wheels and bookbinding materials for residents to make their own journals. At the north end of the building, Rio and his friends have elaborate stalls, imported from England -- "the same stalls the Queen of England has," notes Beck.
There's an indoor equine ring -- complete with a pastoral mural -- for the months when it's too cold to work outside; a beauty shop; a recording studio (where recovering rock stars can get a musical fix); and a dining room with jaw-dropping views of Mount Timpanagos.
The rooms themselves are luxurious -- with marble bathrooms and Jacuzzi tubs -- but generally not private. At the Studio, it's four to six to a room; at the Lodge it's two to four with just two private rooms -- priced at $77,700 for the first 30 days. And for everyone, there are rules about making your bed and keeping things tidy (rules that Lohan flouted if the tabloid press is to be believed.)
And then there's the helicopter: a remarkably quiet, European-built seven-seater used to take residents on tours of the craggy mountains and canyon. That, too, is on my tour.
We lift off right from the Studio's grounds, cruise over crenulated rock formations resembling the ruins of some Brobdingnagian fortress, spot the occasional elk sheltering under the pines, and then land soft as a cat's paw on remote Wallsberg Ridge (altitude: 8,750 feet).
For the past five years, Cirque clients have been dropped here to reflect on their experience. Hundreds have contributed to a pile of stones inscribed with thoughts, fears, regrets, and aspirations. "This rock's name is denial," reads one, "I'm leaving it right here." Another bears this dedication: "To my boy. Daddy is coming home. May God hold you in his arms until I can."
The Cirque staff seems both awed and mildly embarrassed by the riches they have at their disposal. "Do you need a helicopter to stay clean and sober? The answer is no," Beck concedes. "But you can use it to get to a serene place where you can pray and leave a message where others have gone and feel part of that fellowship."
The riches, staffers are quick to say, are the largesse of Richard Losee, Cirque's founder, owner, and patron. A Provo native, Losee, 53, made his fortune in the family jewelry business and a chain of beauty salons. Tall, athletic, with raven hair and movie-star looks, he is wary as he ushers me into his magnificent, glass-walled office. Privacy and anonymity are at the heart of 12-step programs, and Losee isn't eager to have a reporter snooping around his retreat. As he sizes me up, I feel like I'm having my retinas scanned.
"I didn't go looking to be in this business," he says. "It came and found me." His early plan was to develop the Lodge as a high-end health spa -- a logical extension of his beauty business. Dave Beck, who had experience creating outdoor fitness programs for a wellness center in southern Utah, was originally hired to do the same for Losee's spa.
Then, overnight, the boss changed his mind. The inspiration, Losee reluctantly reveals, was nearly losing a close family member (whose name he won't disclose) to substance abuse. A devoted Mormon, Losee created Cirque as a kind of pay-it-forward monument to that relative's recovery: "He's the reason this place exists."
Fisher, who is intimately involved in running the business, says he can't imagine how Losee will ever recoup his massive investment but allows that Cirque operates in the black.
Perhaps the biggest question about deluxe rehab centers like Cirque is, Do they work? "There really are no good data on high-end rehab treatment," says Scott Walters, associate professor of behavioral sciences at the University of Texas School of Public Health and an expert on treating addiction.
Research on alcoholism -- by far the most studied addiction -- has not generally found an advantage for residential treatment over more cost-efficient outpatient programs, says Walters. That's why many expensive hospital-based programs, which prevailed until the 1970s, were dismantled.
Still, he concedes that today's residential programs may be dealing with tougher cases than the average outpatient program. Indeed, according to Gary Fisher, most of the people who come to Cirque Lodge have repeatedly failed outpatient treatment.
When asked about Cirque's success rate, Fisher refers me to the American Airlines Employee Assistance Program, which, he says, is Cirque's only corporate client. Fisher says American sends roughly 30 employees a year to Cirque for an average of 39 days each -- at a discounted rate -- and very carefully tracks the outcomes. He says American has found that 75% of Cirque graduates remain clean and sober during a two-year follow-up period. Unfortunately, the airline refuses to confirm this or even to confirm that it does business with Cirque.
A 75% success rate would be remarkable, according to Walters, though perhaps not impossible in, say, a small sample of highly motivated pilots and executives whose jobs and pensions are at stake and who receive excellent follow-up care. More typically, a good rehab program will achieve a year of sobriety or near sobriety with about a third of alcoholics and markedly reduce drinking in another third, Walters says.
The Cirque staff is frank about their limited success rate with some forms of addiction. "Our results with meth addicts are dismal," says Fisher. But Cirque doesn't get many. In the first year of operation, 70% of clients said their primary drug was alcohol. Now, 65% say it's prescription meds such as oxycontin.
Both the 12-step approach and cognitive behavioral therapy have substantial track records in battling addiction, but there is no research on the benefits of helicopter-hiking or equine therapy. Still, it makes a kind of intuitive sense that if you can get no kick from cocaine or champagne, you've got to find it somewhere else. Standing at the rooftop of the Rockies isn't a bad place to start.