Merck in a post-blockbuster world
In an exclusive interview published by Fortune, Richard Clark talks innovation, universal health care, and his company's pending merger with Schering-Plough.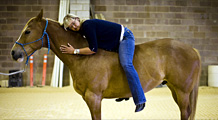 It's where the rich and famous go to get sober. Utah's Cirque Lodge offers a mix of therapy, luxury, and Rocky Mountain privacy. All photographs depict staff members, not patients.
NEW YORK (Fortune) -- When Richard Clark was named CEO and president of Merck in 2005, the drug behemoth was reeling in the wake of the Vioxx scandal, which in 2004 forced the company to withdraw the blockbuster painkiller for safety reasons.
Since then, Merck (MRK, Fortune 500) has shrunk in size and faced additional challenges, such as multiple lawsuits over Vioxx and other medications, and the expiration of its blockbuster statin Zocor (for lowering cholesterol) in 2006.
Under Clark, the company has sought to reorganize its research approach to embrace more acquisitions and collaborations; late this year, the company plans to merge with drug giant Schering-Plough (SGP, Fortune 500) to form the world's second largest pharma company.
Clark, who's been with Merck for 37 years -- most recently as president of the Merck Manufacturing Division -- recently took time out during a health care summit at the Cleveland Clinic to give his first one-on-one interview in two years.
In the excerpts that follow, he reflects on the state of his industry, the likelihood of universal health care, and the future of the Big Pharma business model.
What letter grade would you give pharma right now?
When it comes to intent and focus, and when it comes to a sense of better transparency, collaboration and better management, I give us a high grade.
Critics say that Big Pharma companies have lost the knack to innovate like they used to. Do you agree? If so, why is this happening?
I think different companies in our industry are trying different models to accomplish this. It requires an external view, a transparent view, and much more collaboration.
We need a very strong, science-based, well-resourced FDA; we need health-care reform; we need intellectual property protection on a global basis; the NIH needs to be resourced correctly; we need better science in our schools.
The focus on public health and the ability to make a difference in people's lives is the core of the pharmaceutical industry.
What does Big Pharma do best within this ecosystem, and what does it not do so well?
The heart and soul of any pharma company is basic research and intellectual capital. The second is in clinical development.
Not all good science is created at Merck, we know that. Perhaps 1% of it is at our company. We're much more externally focused than we ever have been.
Quite frankly, if you looked at Merck's scorecard maybe four or five years ago and how we were looked upon in dealing with biotech companies and the outside world and academia, it wouldn't have been as positive as it is today.
Because I think we've changed our paradigm, we've changed how our scientists are rewarded.
How is the blockbuster model shifting, or is it failing?
Now I see the model as a combination model. You can see novel compounds still coming out of the traditional model that will benefit a general population on a global basis. So it's not a model that needs to be totally disregarded.
Having said that, we have molecular profiling technology, genomic focus, RNAi (RNA interference) -- you can certainly focus more from a gene standpoint on a disease and determine how to treat it.
And that leads to a more personalized medicine or a subpopulation that you're aiming at with a particular mechanism or compound. It also allows you to eliminate or kill projects early.
This is a radical shift for Big Pharma, moving from the one-drug-for-one-target model. It was very lucrative, too. Is this a true sea change?
I've seen more change in Merck's laboratories in the last five years than in the previous three decades.
Not only are we changing the thought process around the science to focus more on subpopulations and targeting gene analysis, but we're also bringing in scientific leaders that give us a competitive advantage, along with our acquisitions of GlycoFi, Sirna, Rosetta, and other companies.
The proof is in the pudding: Will you see compounds come through the pipeline from a rapid and safety standpoint to meet the need?
How will health-care reform impact the pharma industry?
We support President Obama and what he's attempting to do with health-care reform. It's unacceptable to have Americans who don't have coverage, and they don't get the care they need. I'm cautiously optimistic that we will have health-care reform this year.
Our hope is that the health-care reform continues to support innovation, that it continues to be a market-based approach, and that intellectual property is protected around the world.
The next step is to make sure from a preventive and a wellness standpoint that we get ahead of the game, so that we don't treat just chronic disease in this country.
Do you see a widening of the pharma market with universal insurance coverage, or will reimbursements go down to save costs?
I think it will be neutral at best or slightly negative, depending on how we participate in discounts and rebates. The industry has signed up for an $80 billion reduction in drug costs over 10 years.
What are the pluses and minuses of the pending Schering-Plough merger, and are you still on track for completing the merger by the end of the year?
We're taking two very strong and successful companies and bringing them together. Both companies have a very strong pipeline, and they are complementary from a therapeutic standpoint.
From a business standpoint, Schering-Plough is about 70% out of the country; we're more in the U.S. It gives us a more global footprint and diversification. We're bringing in 40% of the Schering-Plough leadership into the company. And we're still on track to finish the merger by the end of the year.
Critics say Big Pharma is already too big, that it doesn't have the nimbleness and entrepreneurial spirit of smaller biotech companies. Is bigger necessarily better?
If you're bringing two large organizations together and not changing the business model, then bigger is not better. We're establishing new business units: biologics, vaccines, small molecules, consumer health, and animal health. We've built therapeutic franchises horizontally through the company.
So I have a general manager at each of the franchises: atherosclerosis and cardiovascular are our top franchises; also vaccines, infectious disease, diabetes. We're actually running these franchises as separate companies within the larger company. They have to show us where there are gaps in the research so we can build relationships and bring them into the company.
So we really are a combination of smaller units rather than one massive organization.
Merck has had some serious setbacks: the Vioxx episode, the loss of patents. What are the lessons learned?
One lesson we've learned is to make sure we're more externally focused, whether it's a basic research capability or relationships with the public and private sector. It's an important lesson that as a company you can become too arrogant at times if you don't step back and reflect on your position within the system.
Having a crisis allows you to change your thought process on your business model, it gets the organization aligned to move forward. When we went through the Vioxx situation we had no difference in employee turnover in the company than we did three or four or 10 years earlier.
In 2007, the FDA approved 18 drugs, and in 2008, they approved in the low twenties. What will happen five years from now with these changing models you're describing to increase the number of approvals?
We're going to see another cycle from a productivity standpoint. I'm very optimistic about the industry.