Solution to Detroit's jobless: Move
Motor City tops nation's largest cities with 17.3% rate, and economists say the only way to slash it is for the jobless to head elsewhere.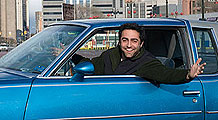 Detroit residents often are asked why they stay. 13 locals answer that question - and reveal their favorite treasures of the Motor City.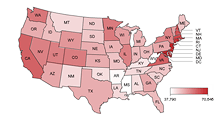 See where household income is the highest.
More
NEW YORK (CNNMoney.com) -- Detroit continued to lead the nation's cities of 1 million people or more with the highest unemployment rate in September, according to government figures released Wednesday.
And for Detroit's painful unemployment rate to stabilize and eventually decline, economists say the jobless will just have to leave the Motor City.
The Labor Department said the metro area ravaged by the auto industry's collapse reported a 17.3% jobless rate in September, up from 17% in August, and 8.9% last year.
Detroit also recorded the largest jobless rate increase from September 2008 with 8.4 percentage points, followed by Muskegon-Norton Shores, Mich., at 6.8 percentage points.
"Detroit's labor market situation has deteriorated substantially from what was already a weak level," said John Lonski, a chief economist at Moody's Economy.com.
He said that the suffering experienced by Detroit's big three automakers -- Ford (F, Fortune 500), General Motors and Chrysler -- than what overall auto industry experienced, the slowest pace of auto sales since the 1960's.
"The only way to contract the city's unemployment rate is through migration," Lonski said. "The jobs that were lost aren't coming back like they will in other cities after the downturn, so the unemployed individuals will have to go elsewhere to find jobs, and that will help shrink Detroit's overall workforce."
The structural challenges and the shrinking of the auto giants in Detroit will force the entire city to downsize, Lonski said, as opposed to other areas where the housing market took a toll on unemployment but is bouncing back.
One place Lonski says Detroit's jobless should consider relocating to is Texas, second to California as the most populated state and with an unemployment rate below the national average of 9.8%. Texas' major metropolitan areas also boast relatively lower rates, with San Antonio at 7.1%, Austin at 7.2%, Dallas at 8.3% and Houston at 8.5%, according to the government report.
Optimism beyond
Despite the crisis in Detroit, severe unemployment eased overall in the nation's metropolitan areas even while the nation's unemployment rate climbed to a 26-year high in September.
The report said 117 of 372 metropolitan areas surveyed suffered unemployment rates of at least 10% last month, down from 129 cities in August. The number of areas with unemployment rates higher than 15% fell to 13 in September from 16 metro areas in August.
The national unemployment rate rose to a seasonally adjusted 9.8% in September. Economists surveyed by Briefing.com expect that national rate to rise to 9.9% when the Labor Department releases its October jobs report on Nov. 6.
Overall, 133 cities in the Labor Department report had unemployment rates above the non-seasonally adjusted national figure of 9.5%, while 232 reported jobless rates below it, and 7 areas had the same rate.
Three areas in Michigan posted jobless rates higher than 15%, including Detroit.
Among other cities with populations of at least 1 million, California's Inland Empire, including Riverside, San Bernardino and Ontario, ranked second to Detroit with an unemployment rate of 14.2% in September.
El Centro, Calif. continued to have the highest unemployment rate of any metropolitan area at 30.1%, down from a revised 33.1% in August.
The second highest rate was in Yuma, Ariz. at 24.2%, a slight drop from 26% in August. Both El Centro and Yuma are cities near agricultural areas where extreme heat impacts the workforce, the Labor Department said.
The metro areas with the lowest unemployment rates in September were all in North Dakota, with Bismarck at 2.9%, followed by Fargo at 3.7% and Grand Forks at 3.8%.
Large cities with the lowest jobless rates were Oklahoma City, at 5.9%, and the Washington, D.C., metro area at 6.2%.
A southern Louisiana metro area that includes Houma, Bayou Cane, and Thibodaux was the only one to experience a year-over-year declining jobless rate because it was impacted by Hurricane Gustav in September 2008.