Playing through with one of golf's top execs
The PGA Tour's Ty Votaw has logged thousands of miles lobbying to bring golf to the 2016 Olympics in Rio. These are his secrets to teeing up the perfect trip.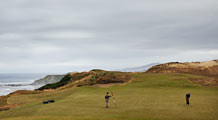 Golf architect Tom Doak's newest course channels legendary designer C.B. Macdonald.
(Fortune Magazine) -- It's been 105 years since golf was last an Olympic sport, but thanks largely to Ty Votaw, golfers will tee off in Rio come 2016.
Votaw took a leave from his day job at the Tour to head the committee for golf's Olympic bid, and in the process he racked up tens of thousands of frequent-flier miles.
Now that golf's gotten the go-ahead, he'll be spending more time back at the PGA Tour offices in Ponte Vedra Beach, Fla., but will continue to work with the IOC on course selection and eligibility criteria. (And in case you're wondering, pro golfers like Tiger can play.)
We caught up with Votaw just after he touched down from Copenhagen, where the Olympics announcement was made.
1. Days on the road: 173 since I started my Olympic assignment in July 2008.
2. Favorite hotel: The Evian Royal Resort in France, where the LPGA's Evian Masters is played each July, has a great view of Lake Geneva and the French Alps, as well as one of the best hydrotherapy spas in the world.
3. Travel companion: On shorter trips I always take my leather overnight bag by Glaser Designs.
4. Top golf course: Pebble Beach is probably the most beautiful, but Turnberry in Scotland was great this past summer for the British Open.
5. Italian fix: I'm always looking for a good Italian restaurant when I travel. I like Trattoria Dell'Arte in New York City for the food and people watching.
6. Packing tip: I pack my suits inside out so that the wrinkles happen on the inside, and then I rewrap them in the dry-cleaner bag.
7. Chill fighter: I'm a big fan of Peter Millar cashmere sweaters.
8. Old-school tunes: I have one of the first versions of the iPod ever made, and I never leave home without it. My son, Sam, 15, downloads all my music for me. I'm a huge Bruce Springsteen fan, but Sam turned me on to a band called Gaslight Anthem, which comes from the same part of New Jersey as Springsteen.
9. Jet-lag cure: As soon as I arrive in Asia or Europe, I head to the gym to help me get on the new schedule. I usually run 30 to 40 minutes on the treadmill in my Asics Duomax.
10. Must-see airport: The Copenhagen airport has hardwood floors all the way through. I've never seen anything like it.
11. Reading material: I clip a lot of articles from magazines to take with me when I travel, so sometimes I end up not reading something for two or three months. I've found that reading about something after it plays out gives me a whole new perspective on what has transpired.
12. My other clubhouse: I'm a Delta platinum multimillion-mile flier. The best Delta Sky Club in the U.S. is in Concourse E in Atlanta, and the top international one is in Frankfurt.